Sometimes our busy schedules can prevent us from listening to music or taking a break. That's why it's important to establish a few daily rituals that will help you relax and unwind. One way to accomplish this is by listening to music while you exercise, like walking, running, or doing yoga.
Listening to your favorite tunes while working out might also help improve performance and mood. The Mighty portable MP3 player is an affordable option for those who want the convenience of listening to their music as they go about their day.
However, many Amazon Music users have been asking, does Mighty work with Amazon Music? We are about to find out in the next section of this article. Also, we will equip you with tips on how you can play Amazon Music on Mighty MP3 player quick and easily.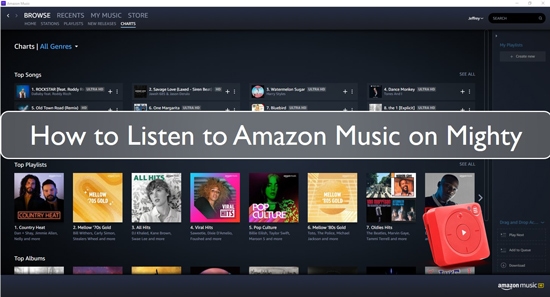 Part 1. Does Mighty Work with Amazon Music?
Even though it is pretty tiny and lightweight, the Mighty music player is one of the few MP3 players that support Amazon Music play. Besides, the player also supports Spotify music play. In fact, it is possible to play Amazon Music on Mighty without your phone or the Internet. All you have to do is sync your Amazon Music playlist on Mighty Player. That said, our next section will furnish you with a proper guide on how to connect Mighty to Amazon Music for Amazon Music Prime and Amazon Music Unlimited users.
Part 2. How to Connect Mighty to Amazon Music
As mentioned earlier, it is possible to play and enjoy Amazon Music on Mighty MP3 player. Unfortunately, most people are not aware they can make it happen. Therefore, we have done a little more research, and this section will equip you with two comprehensive guides on how to play Amazon Music on Mighty for both Prime and Unlimited subscribers.
How to Sync Amazon Music on Mighty MP3 Player
Courtesy of the recent collaboration between Mighty and Amazon Music, Amazon users can now sync Amazon playlists on Mighty Vibe. This means that with this music player, you can literally have access to over 70 million songs for Unlimited subscribers and at least 2 million songs for Prime users. To sync music between Amazon Prime Music vs Unlimited Music on Mighty Vibe, please go through the following steps.
Step 1. Connect Mighty to the Mighty Audio App
On your smartphone, go to Play Store and find the Mighty Audio app. Click on the app and install it on your smartphone. Then make sure that the Might Vibe music player is charged. Next, go on to launch the Mighty Audio application. Click "Create account" if you haven't used the application before. If you have, hit the "Log in" button and enter your credentials.
Typically, the Mighty's name will show in the Bluetooth section under the connection tab. Now, tap the "+" button next to the Mighty's name and select the "Play" button on your Mighty when the LED flashes blue.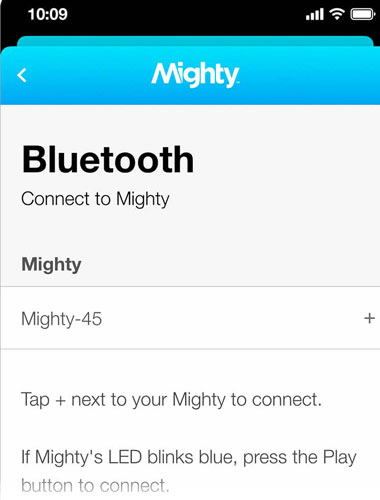 Step 2. Connect Mighty to the Wi-Fi Network
Now, the Mighty Audio app will show you all the available wireless networks available. Head on to select your Wi-Fi network and tap the "+" button next to your Wi-Fi network name. Finally, tap the Wi-Fi network, enter the password, and hit connect "OK" to connect Mighty to the network.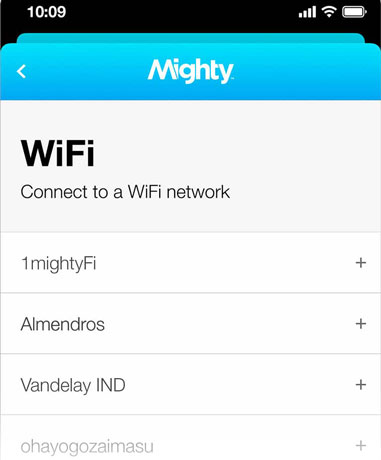 Step 3. Choose Amazon Music from Music Services
A new screen will show on your phone. You will see two music streaming options, i.e., Spotify music and Amazon Music. Select Amazon Music and follow the instruction on your screen to connect your Amazon account.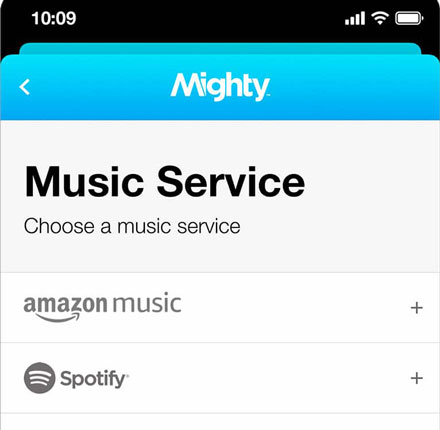 Step 4. Sync Amazon Music Playlist with Mighty
You can now access your Amazon Music tracks. Simply go to the browse section and check for your Amazon Music. Next, tap on the "+" button next to the playlist you want to play on Mighty Vibe. After that, tap Sync Now button to begin the syncing process. The selected playlist will appear with a checked pink mark in place of the "+" button.
Wait for the syncing process to complete. It is essential to note this process works for both Amazon Prime and Amazon Unlimited subscribers.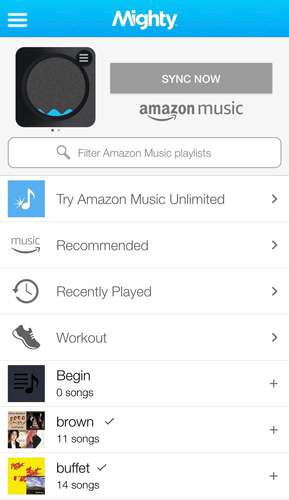 Tips: How to Fix Mighty Not Syncing with Amazon Music
Under normal circumstances, the Amazon playlist should automatically sync to your Mighty Vibe player, unless, of course, Mighty was completely offline during the entire process. If you don't hear anything on your headphones while in offline mode, that means the Amazon songs did not sync on Mighty. In such an instance, you need to follow the steps below to resolve the problem.
Step 1. First, connect the Mighty Vibe player to the Mighty Audio application and access the "Connections" screen.
Step 2. At the top of the screen, tap on the Wi-Fi logo and connect Mighty to your Wi-Fi network.
Step 3. On your screen, tap on the "Amazon Music" logo and disconnect from your Amazon account.
Step 4. Now, tap on the "Connect" button and try to reconnect the Mighty MP3 player to your Amazon Music account.
Step 5. Finally, tap on "Browse" and select the Amazon playlist you want to sync from Amazon to your Mighty.
This should fix your Mighty not syncing problem. If it does not, please try reinstalling the Mighty Audio application and follow the guide above.
Extra Tip: Save Amazon Music as Local Audio Files for Use Anywhere
If the method above does not resolve the Mighty not syncing problem, or you may want to continue listening to your Amazon Music even after the subscription is canceled, you need an alternative way to make it happen. Well, the only practical solution is to download the Amazon Music tracks and manually add them on Mighty from your desktop.
That may seem relatively easy, but considering that Amazon Music tracks are encrypted using advanced DRM protection technology, downloading music from the platform has proven to be an uphill task. However, it is very much possible and easy with the right tools. To download tracks from Amazon Music, you need an Amazon Music downloader software, and here we highly recommend that you try out the DRmare iMazonKit Music Converter.
The DRmare Amazon Music Converter is a professional Unlimited Music and HD Music converter software designed to download and convert Amazon Music tracks to playable and compatible audio formats such as FLAC, WAV, AAC, among others.
Besides converting Amazon Music tracks, the program offers lighting conversion speeds of up to 5X without compromising the sound quality of your Amazon Music. At the same time, the program works to retain all original ID3 tags of Amazon Music for easier reference.
DRmare Amazon Music Converter
How to Download Amazon Music for Mighty by DRmare iMazonKit Music Converter

In this section, let's see how to convert and download Amazon Music for Mighty and other devices via DRmare iMazonKit Music Converter. Here is the full guide for you to follow.

Step 1

Install DRmare iMazonKit Music Converter

Go to the official DRmare site, select the right DRmare iMazonKit Music Converter software version, and hit the "Download" option. Then, run the application to install it. After installing, hit the software icon to launch it on your computer. The Amazon Music app will show also.
Step 2

Register DRmare iMazonKit Music Converter

The DRmare iMazonKit Music Converter comes with a limited free trial version. Hence, if you want to access the full version, you must purchase a software license. Once you have purchased it, hit the menu icon on the right corner and select "Register". Then enter the registered email and the registration code to complete the process.
Step 3

Choose Amazon HD Music playlists to DRmare for Mighty

Go to the pop-up Amazon Music app to find the playlist that you want to download and convert. Then right-click on the target playlist to get its link. And then copy the link and paste it to the search bar on DRmare program. Next, press on the "+" button, it will load the Amazon Music into DRmare for you.
Step 4

Select audio format and other parameters for Amazon Music on Mighty

On the main menu, select "Preferences" to launch the settings window. Then click the "Convert" tab. From the available format options, please select one that suits you best. For example, you can set to convert Amazon Music to WAV, FLAC, etc. as you like. Besides, you can customize the music sound quality by altering the bit rate, sample rate, and audio channel.
Step 5

Download Amazon Music for Mighty

Finally, hit the "Convert" button to start the Amazon Music conversion process. After the download is complete, click on the "history" icon to find the converted Amazon Music songs on your computer.
Now, you can easily transfer the Amazon Music songs to your Mighty MP3 player without much hassle. You can either use a USB cable or Bluetooth connectivity to quickly transfer the songs.
Part 4. Conclusion
By following the steps above, you can easily download and convert Amazon Music to plain audio formats with DRmare iMazonKit Music Converter. There are some additional features like batch conversion, adding multiple files, deleting unwanted songs, and more in this tool.
Ultimately, the software allows you to download and convert Amazon Music for offline playback on Mighty MP3 player as well as other devices and applications! Just go ahead to download this DRmare application and enjoy a chance to enjoy unlimited Amazon Music playback on any device at any time!