Christmas is more than a time for shopping holiday foods, decorations and so on. With the countdown to Christmas in full swing, we are getting closer to the party season. It is a best time for you to reconnect to your best friends and family to have fun and entertainment. However Hosting the best and impressive Christmas holiday bash is not easy. It requires us to do some preparation carefully instead of leaving it to the lat minute.
Before you create your invitation list, it is better to plan what Christmas theme of party you are going to have. Here we have collected the top 8 best and fun Christmas party ideas which might offer you some inspirations.
View also: Best Christmas Movies for Kids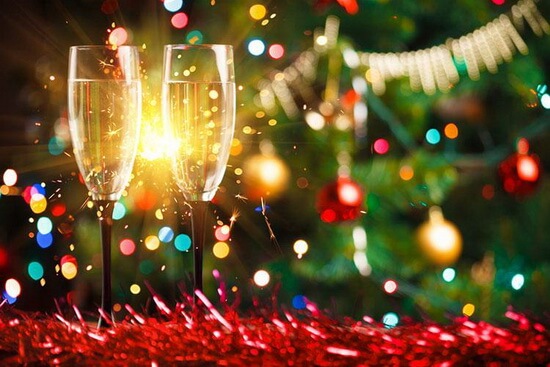 1. Winter Season Painting
In Christmas, usually it is rather code outside. Many people's social life is limited. However, you can invite your friends, neighbors and their kids to your home to have a painting party. Let them draw their own Christmas theme of pictures on the canvas and you might have a picture contest to make them get more involved in. You can also offer a hearty winter stew and some hot cocoa for the participants. Everyone will love this. It is the real time we can stop our busy work and stay together with our kids to do some unforgettable things together.
2. Gingerbread House Party
Kids and adults love making and decorating gingerbread house. You can hold a gingerbread house and homemade cookie party with candies, chocolate crumbs and everything you need to create these spectacular treats that can be used as holiday decorations. You can as well decorate your home with artificial sweets which will make the party more funny and attracted for kids.
3. Holiday Chocolate Party
Chocolate is romantic and warming. We can't miss it on every holidays. When December season is cold, homemade hot chocolate will make us feel warm. You can prepare different flavors of chocolates and cookies to make Christmas theme party food! Then Invite friends and family over for a simple social gathering with a hot chocolate bar. In addition, you can set up a long table with mugs, spoons, hot chocolate, and various toppings, such as lollipop marshmallows, cinnamon sticks and candy canes. For adults, you can prepare some liquor as well.

4. Christmas Movie Marathon
The best way to get into the spirit of Christmas is to watch a Christmas theme movie. Also, watching videos with family or friends will be of much more fun. So it would be one of the best Christmas party idea to invite your friends over for a Christmas movie marathon. You can set up a popcorn bar and make a special chocolate or cookie recipe for guests who curl up on with fuzzy blankets on the sofa to watch movies.
Speaking of the Christmas theme movies, iTunes is one of the best sources. If you are still looking for the best holiday movies, you can take a look at: Top 10 Best Christmas Films for Kids and Family or Top 8 Classic Christmas Movies.
One more thing you need to note is that iTunes movies are protected with FairPlay DRM, so usually you are limited to play them on computers and IOS devices. In order to watch iTunes Christmas movies on other devices such as smart TV, you can use the DRmare M4V Converter to help you remove FairPlay DRM. To learn more details, you can download the trial version and follow the detailed instruction to try it out: How to Play iTunes Movies on Smart TV.
5. White Elephant Gift Exchange
Receiving a gift and giving a gift are both happy things for everyone especially for the unique gifts. To have a best funny Christmas party, you can set a price limit and ask every guest to prepare a wrapped gift. When it is time to exchange the gift, we can write down each one's name on different small notes. Everyone can take a note randomly to get a gift of the person according to the name of the small note. This will be finny and it is also one of the best Christmas game we can play in this season.
6. Christmas Elf Party
Santa's helper is busy and work all year. Why not hold a party for them? Invite your guests to appear dressed as Santa's elves with naughty accents and other elements of the Arctic you might find out to dress up. You can even dress up as elves as a featured movie party. This party idea also perfect for both kids and adults is perfect, so you do not need to run two sub parties. It will surely offer a great happy memory for everybody.
7. Christmas Yard Decorating
Putting up Christmas House decorations could be fun as long as you are doing that with your friends together. Invite a few friends over to help for an afternoon and have cheery conversations with them. Also, provide an array of hats, and thermoses full of warm beverages, and let everyone get creative with our the decoration ideas. After the work is done, invite everyone to some warming soup, appreciate the decoration we have just done and stay for a happy Christmas dinner.
8. Snow Day Sledding
If you get snowed in, it would be much fun to play with the snow outside! Just image it will make us happy. You can pay attention to the weather forecast when heavy snowfall is predicted. Then set a possible date with family and friends to enjoy a sledding Christmas party. When the flurries start to fall, just have a few warm drinks, sleds, and head to the hill. Spend an afternoon sledding, then retreat back inside for a warm food when we are tired.
Summary
These are all the best tips to Christmas party we have brainstormed with people around us. They are proper for everyone including kids and adults, friends and family and so on. Is there one party idea above you'd like to have on Christmas holidays this year? From my point of view, there will be a great fun to select one or several of the different gatherings above to host. To guarantee a perfect Christmas party, you'd better make sure you have prepared all the things you need like guest list, food, costume, decoration and so on at least several days before the party. If you have any more better Christmas party ideas or any questions, please feel free to leave your comments to us below.