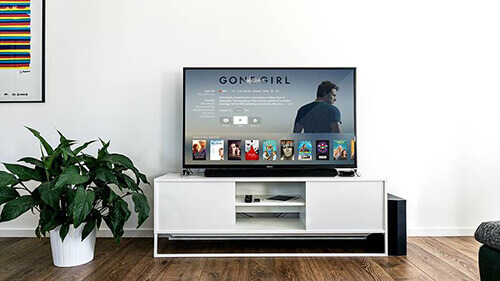 Since an increasing numbers of media companies are trying their best to attract the eyeballs of "cord cutters" who have discarded cable for streaming digital content over the Internet, the time when people have no choice but enjoying television entertainment with cable and satellite TV has gone with the wind.
Along with faster Internet connection, various streaming video devices, and explosive growth of mobile videos, the streaming video service has become an important part in our daily life.
If you are the one who would like to cut the cord but have no idea where to buy and stream digital videos online, the following review that lists some best video streaming services can help you a lot.
They are not free movie streaming sites, but anyway, you can find some free video contents. And if you are satisfied with the service, you can also pay to get access to the non-free media files you like.
View also: Top 8 Sites for Downloading 4K Movies
No 1. iTunes Store

Created by Apple Inc, iTunes store is a sophisticated multimedia content manage and one of most online digital store that serves kinds of digital content, including music, movies, TV shows, iTunes Extras, audiobooks, application, etc. Despite the lack of 4K offerings, you can enjoy all of the iTunes content in SD and HD at different prices, which are divided into two types, namely rentals and purchases. And Apple is going to make a new Apple TV that supports streaming 4K movies.
Also, iTunes Store allows offline downloads to both PC and mobile devices and you can authorize up to five computers for syncing iTunes content to watch with the iTunes-linked Apple ID. But watching iTunes movies and TV shows works well on Mac and Windows, but there is no support for Android platforms.
Best Solution to Make iTunes Videos Available in More Devices
Featured with various optional contents available in SD and HD at an affordable price, iTunes store is a smart choice for you to stream movies and TV shows over the Internet. However, with built-in FairPlay DRM technology, iTunes digital files have poor compatibility, which are limited to Apple ecosystem (iPad, iPhone, iPod Touch, and Mac and Windows-based machines).
With the purpose for making iTunes videos available in other portable devices and players, here, you can look at one of the most professional iTunes DRM removal tools, called DRmare M4V Converter. It can not only remove DRM from both iTunes rentals and purchases, but also convert iTunes DRM videos to other non-Apple devices directly at a 30X faster speed. Besides, DRmare M4V Converter enables you to convert iTunes M4V to multiple common formats, including MP4, AVI, MKV, MOV, MPEG and more with zero quality loss.
No 2. Google Play

Google Play is a pay-per-view video streaming service that is no difference for anyone from different countries. It aims to providing multiple up to date movies and TV shows that appear earlier than other services. Also, Google Play supports downloading to your portable devices for offline viewing. One of the most powerful features of Google Play is that it has solid integration into Android, and unlike iTunes it also works well with streaming boxes, such as Chromecast and Roku.
Therefore, there is no difficulty in streaming your Google Play's content to traditional television. With regard to price pick, it is up to a variety of factors, such as the resolution including HD or SD, sales promotion, the upload time and more, but the range of price would be from $1.99 to $14.99.
No 3. Amazon Instant Video

Supported by the online retail giant, Amazon, Amazon Instant Video is another movie streaming service that offers a huge selection of must-watch shows and movies to both rent and purchase. For $99 per year or $8.25 per month, you can access to any content in the library of Amazon Instant Video. It's worth mentioning that there are some wonderful accessories, such as you can get a free Kindle book each month and free two-days shopping on your purchases. Of course, it also offers to pay for it monthly at $10.99, whose features are same as annual pack. As for the supporting devices and platforms, it's available in iOS, Android and Windows platform. Wait, don't forget that Amazon Instant Videos will work fine with Amazon Fire TV, but Apple and Google's video offerings are shut out from it.
No 4. Netflix

As the standard-bearer of streaming video service, Netflix is able to provide tons of excellent on-demand TV shows, movies and comedy specials, plus original programming (like the Fourth Season of Arrested Development and Orange Is the New Black). With the optimized interface, you can choose your own price list according to your particular needs. You just need to pay $7.99 per month for standard–def videos on a single screen. For these high-def videos, the subscription fee is a little expensive, $9.99 per month, but it is possible to allow two people to stream content simultaneously. Offered by Netflix, the highest plan costs $11.99 per month, it allows to stream 4K UHD videos on up to four screens.
In conclusion
From what we mentioned above, with a high compatibility and original programming, Netflix is good choice for people who have a tight budget, since the subscription fee is one of the lowest in the market.
If you are an addict of Apple ecosystem, iTunes stores with high-quality purchasable and rental library must be the best choice for you.
But if you control many Android devices, Google Play could be best because Google Play is built for Android and it's compatible with almost all devices that run on Android.
For a frequent online shopper, you can select Amazon Instant Video since it gives free two-days shopping on your purchases.
Not satisfied with these 4 streaming services? You can also take a look at the HBO Now, Hulu, Playstation Vue which are also popular streaming video sources. Let's know if you have any questions.