Tidal is one of the music platforms that serve music lovers with the best sound quality tracks/playlists and so on. On Tidal, you can enjoy lots of songs, albums and more with your free or paid account.
In this article, you will study about the latest playlist in the Tidal application. Here, you can discover the best Tidal playlists in detail. Also, you will get a tool to help download playlist from Tidal on your computer. Please check the post below and learn more.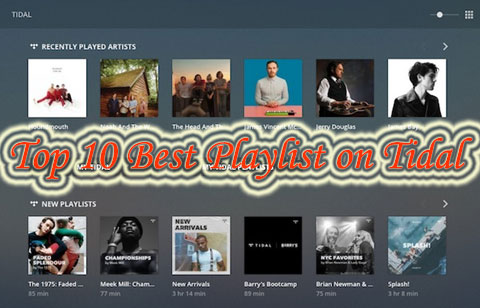 Part 1. Top 10 Best Playlists on Tidal for Best Sound Quality
The playlist on Tidal is well-organized for easy access and you can play them in high quality. Based on your listening habits, the Tidal app creates a playlist for you to add to your favorites. In this section, we will show the best audiophile playlists Tidal for you. Most tracks in those Tidal playlist has the perfect sound quality and creates immense pleasure without any interruptions.
To discover the horizons of Tidal best playlists, scroll down and read below.
1. Thoro Hip Hop
It is ultimate and prevails as one of the best hip hop playlist on Tidal. The tracks comprise of Masterpiece, Ugly, Outside, The Hurt Business, and more. Every hip-hop beat is unique and stands unique from other hip-hop collections in Tidal.
2. Hip-Hop Classics
In this playlist, you can find classic collections of hip-hop. It consists of tracks from ages that still survive as evergreen beats to entertain music lovers. The collections include Step in the Arena, Slippin, What's my name, Hello Good morning, and so on. The songs are impressive and nostalgic in this playlist.
3. Rising: Hip Hop
The Tidal highlights the new beats of the rising hip-hop alumni. This app updates this playlist every week to provide a better platform. The playlist contains Break Soul, Roaring 20s, Drift, In the Kitchen, and more. All these tracks are awesome and fresh for hip-hop lovers. It serves as one of the best hip hop playlist on Tidal.
4. Country Hits
This collection is one of the best Tidal workout playlist. It contains incredible beats which fit for running, climbing, jogging activities, and more. The tracks include All I Need Is You, No Body, and so on.
5. Extreme Music Workout
If you want to give out more energy in the workout, then this playlist on Tidal is the right for you. It works well and entertains you despite the difficulties of hard workouts. This collection comprises of Crossfit, Electro, and else.
6. Rap Playlist
It is the best rap playlist on Tidal. Here you can find the best rap songs which suit the requirements of music lovers without any compromises. This playlist includes Bounce back, Trap Queen, Goldie, and so on.
7. GYM Workout Music Series
In this playlist series, you can find a mix of beats to entertain you during the workouts. You can tune from breath-taking songs to melody ones as per your choice. Connect with the tracks like Phantom's past, and Intergalactic Pacha and enjoy the beats to the fullest.
8. Top 10 Hip Hop Playlist
In this album, you can listen to the best hip hop tracks on Tidal. All the tracks hail from an album Top 40 Hip Hop Hits. It contains beats like Right Thurr, Coming Home, Shake That, My Name is, and more. Every song is extraordinary and you will discover the new horizons of hip-hop tracks in this Tidal playlist.
9. Top Dance Running Playlist
Most athletes love this playlist on Tidal. If you want to burn more calories, then the tracks in this playlist help a lot. The collection includes Step Up, In the Dark, and so on. This Tidal workout playlist adds the best workout remix for music lovers.
10. Street Hip-Hop Hits for Workout
It is a unique playlist that satisfies hip-hop lovers during workout activities. It contains high and slow tracks and serves well for cardio exercises. The tracks comprise of Lemon, Nice for What, Gucci Gang, and more.
Part 2. Best Tidal Playlists MP3 Download - Tool Needed
Above are some best playlists on Tidal, you can search for them on Tidal and start to listen to them. Besides, Tidal subscribers can download Tidal playlists for offline listening. Yet, you can do that within the Tidal mobile app not the Tidal desktop app. So, any way to download playlist from Tidal on computer? Yes. Here you can check the best way below.
DRmare Tidal Music Converter is here for you. It can help download tracks/playlists/albums from Tidal on the computer. And you don't need to subscribe to a Tidal HiFi or HiFi Plus plan to make it. With this tool, you can convert Tidal music to MP3, FLAC and other plain audio formats. Also, you can reset the bit rate, sample rate and more for Tidal music playlists.
What's more, this tool runs the conversion process at a fast speed. And it can still keep the original quality after converting. Then you will get the local Tidal playlists on your computer. And you can transfer playlists from Tidal to other devices for use offline.
DRmare Tidal Music Converter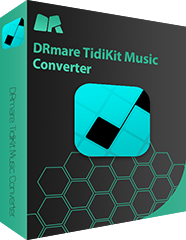 Download Tidal playlist for offline playback anywhere
All ID3 tags of the Tidal music playlist will be kept well
Convert Tidal tracks to AAC, MP3 and more audio formats
Play Tidal audio files offline anytime without any limits
How to Download Tidal Playlist to Common Audio Files
Below are the steps to convert and download the best playlist on Tidal by DRmare Tidal Music Converter. Please follow the steps and start.
Step 1

Download DRmare Tidal Music Converter and launch

Go to the official webpage of DRmare Tidal Downloader and download the right version. Then install the program by following the instruction wizard. After that, launch the DRmare tool. The Tidal app will display at the same time.
Step 2

Insert Tidal playlist to DRmare

Now, go to the pop-up Tidal app, and then find your desired playlist. Once found, drag it to DRmare main screen. You will then see all the tracks loaded into the screen. Or you can copy the playlist's link and put it into the blank box on DRmare. And then you need to tap the 'plus' icon to import playlist from Tidal to DRmare.
Step 3

Adjust output parameters for Tidal playlist

Hit the 'Preferences' option under the Menu icon at the top-right corner on the DRmare screen. A pop-up window appears displaying 'Output Format', 'Bit Rate', 'Sample Rate', and 'Conversion speed'. You can modify the parameters you like such as setting Tidal to MP3, WAV and so on. And then save the changes by tapping the 'OK' button.
Step 4

Begin to download and convert Tidal playlist

Now, it is time to start the conversion process by hitting the 'Convert' button. You must wait for a few minutes until the conversion process completes.
Step 5

Locate converted Tidal music playlist

Now, you can move to the 'Converted' icon at the bottom bar. Click on it. It will show you the converted Tidal playlist on the screen. And you can hit the 'search' icon at each song to locate the target folder on your computer.
Part 3. FAQs about Tidal Playlists
Q1: Does Tidal Have Playlist?
A: Yes. There are plenty of playlists on Tidal. They are created by lots of experts in the music industry.
Q2: Can I Organize My Tidal Playlist and How?
A: Yes, you can. To organize the Tidal music playlist, you can open the playlist that you want to manage. Then hit on 'Sort' and choose the method you want to organize.
Q3: Can I Create a Playlist on Tidal?
A: Yes. You can find and add a track to a new playlist. To do that, click on the '...' icon next to the track and choose 'Add to Playlist'. Then you can go to edit the info for your playlist and hit on 'Create New' once done.
Q4: How to Download My Tidal Playlist?
A: If you have a Tidal HiFi or HiFi Plus account and use Tidal on mobile, then you can download playlist from Tidal. Otherwise, you can seek help from DRmare Tidal Music Converter. It can help download and save Tidal content on the computer for use anywhere offline.