To celebrate this year's Halloween, Apple this week has launched its Halloween movie sale on iTunes Store with big discounts for more than 50 horror movies, including both classics and modern films. Price for classic titles is set as $4.99 each while the morden ones at $9.99 or under, saving you between $5 and $10 depending on which collection you purchase from.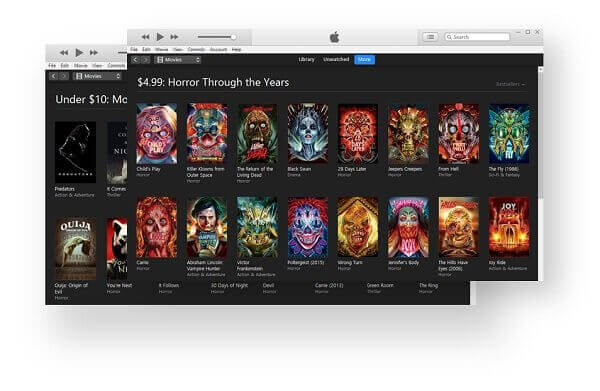 As for the $4.99 classics sale, you'll find it in the section of iTunes store called "Horror Through the Years". It mainly contains essential horror movies from decades ago such as Child's Play, The Fly, and 28 Days Later. At the same time, it provides several more recent movies as well, including Abraham Lincoln: Vampire Hunter and the reboot of Poltergeist. There are totally 18 titles included in the sale list. The big surprise brought by this horror movie sale is that two films, Poltergeist and Victor Frankenstein are offered in 4K HDR. Considering that most HDR movies in iTunes are now sold around $14.99 for each, getting a horror film in Ultra HD at less than $5 bucks is really a rarity.
Another remarkable thing about the "Horror Through the Years" is the collection features new artwork by artist Orlando Arocena. So you'll see each movie thumbnail has been enhanced with a day-of-the-dead-looking image, as a way to re-release the classic horror films in celebration of Halloween.
When heading to the "Modern Horror" sale section, you'll find a large collection of 34 modern horror films on sale for $9.99 and under. From there, most of the movies were released within the past few years, including Predators, It Comes At Night, Insidious, etc. For this section, Apple didn't provide any 4K HDR versions. The highest quality those titles will play in is HD only.
"Horror Through the Years" Movie List
Child's Play
Black Swan
Jeepers Creepers
The Fly
Carrie
28 Days Later
"Modern Horror" Movie List
It Follows - $7.99
30 Days of Night - $9.99
The Visit - $9.99
Green Room - $9.99
You're Next - $7.99
The Eyes of My Mother - $9.99
In addition to these two specific Halloween collections, Apple has also discounted Little Shop of Horrors to $7.99 in HD. You can easily find any horror discounts on the home page of iTunes movies store via either desktop or iOS.
More Halloween Promos
Before you decided to get those iTunes Halloween movies, you are suggested to browse DRmare Halloween special offers which will provide you big discounts on iTunes DRM M4V converter software that can help you easily remove DRM lock from any iTunes video and convert them for playback on any popular device. Or if you are seeking for more Halloween tips and tricks, go ahead and read on the following Halloween ideas.