Apple officially has opened a new iTunes sale, namely "Double Features" sale providing related HD two-movie bundles at only $9.9. There is no doubt that the special collection is a good chance for iTunes movie addicts to expand iTunes HD movie collection under a lower price. Let's take a detailed look at the unique features of iTunes "Double Features" movie sale as below.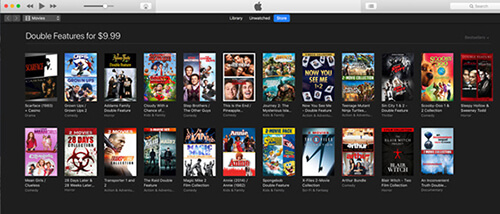 Part 1. "Double Features" Movie Sale – iTunes Special HD Movie Promotion
How can iTunes users know what are Double Features movies and they can get the $9.9 two-movie HD bundles? Please be well noted that the "Double Features" includes these films that are either part of a series, the original and rebooted versions of the same movie, the same genre, as well as in the same actors. For example, Annie (1982) and Annie (2014) are typical movie representatives of original version and modern remake. Also, it gives a great opportunity for views to compare both different movie versions. Apart from HD movies, TMNT: Out of the Shadow and Magic Mike XXL as the 4K movies are also added to the line of "Double Features" sale for $12.99, down from $19.99. As super movie lovers, nothing is happier than that they all have the chance to purchase two HD movies to iTunes library for the price of one. What's more, before this special sale has been launched, the bundles were prices between $19.99 and $27.99.
Part 2. List of Two-movie Bundles in "Double Features" Sale
In order to get these super cheap two-movie bundles, you can join the iTunes movie "Double Features" sale activity by scrolling down to the horizontal list of bundles marked, "Double Features for $9.99" with using iOS, macOS, or tvOS devices. Following is a full list of HD doubles in "Double Features" sale.
Sequel-based bundles: "The Raid: Redemption" and "The Raid 2", "28 Days Later" and "28 Weeks Later", "Grown Ups 1" and "Grown Ups 2", "Transporter 1" and "Transporter 2", "Sin City" and "Sin City: A Dame to Kill For", "Adams Family" and "Addams Family Values", "Cloudy with a Chance of Meatballs 1" and "Cloudy with a Chance of Meatballs 2", and so on.
Original version vs. modern remake: "Annie (1982)" and "Annie (2014)" and "Arthur (1981)" and "Arthur (2011)".
Same theme and star based bundles: "Sleepy Hollow" and "Sweeney Todd", "The Other Guys" and "Step Brothers", "Scarface" and "Casino", "Mean Girls" and "Clueless" and more.
More Tricks: Play iTunes Movies Anywhere without Limitation
Here, let's talk the restrictions existing in iTunes purchased movies first. In terms of this wonderful "Double Features" sale in iTunes store, it's limited in the United States currently meaning only iTunes users in the US can enjoy this discount. Besides this disadvantage, iTunes digital files, not matter for movies or TV shows are presented from watching on anywhere except Apple ecosystem only due to FairPlay DRM technology. However, most of iTunes movie addicts would like to play iTunes movies on various portable devices so that they can get a more convenient digital entertainment. Therefore, with the purpose of making iTunes movies available for favorite platforms, you should remove DRM protection from iTunes video purchases with a third-party application, DRmare M4V Converter, which can not only break DRM lock from both iTunes purchases and rentals and convert iTunes M4V to almost all common audio and video formats, like MOV, MP4, AVI, MKV, MP3, AAC, etc. If you are not familiar with removing DRM protection, there is a helpful source page for your reference: How to Remove DRM from iTunes Movies.