Los Angelos, CA, Dec. 17th, 2018 – To reward all customers, DRmare, a leading multimedia software company, has just launched free giveaway of the best-selling product DRmare Spotify Music Converter for Mac/Windows again in this Christmas 2018. This software is special for downloading songs from Spotify freely without premium subscription. Anyone who want to enjoy Spotify songs in an easier way can head to the official promotion page to get the wonderful gift for free.
Besides, there are tons of surprising discounts for all other software packages and bundles such as iTunes Video Converter, DRM Audio Converter.
This campaign is valid from now to the January 10th of new year 2019.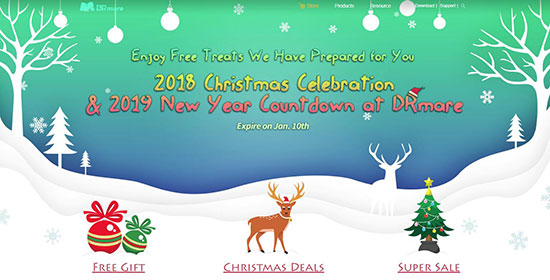 Music and video are an indispensable parts of daily life for almost anyone. Especially in all kinds of holiday parties such as birthday, graduation, Thanksgiving, Christmas and other ceremonies. But as streaming media is booming in the modern society, the chances to download and distribute digital files freely are fade away.This does affect the experience of enjoying media files. Thanks to the DRmare software, users now can convert media files from all the main platforms like iTunes, Spotify, Audible.
"We have been working hard to develop kinds of tools in the past few years. By providing such a free giveaway and special offer, we sincerely hope to help more customers to retrieve the privilege of enjoying any music and films in any way they like." Said Dave Jones, the sales director of DRmare software.
Get a Christmas Gift for Yourself or Anyone You Love
Spotify is the most popular streaming music platform in the market. It has over 75 million subscription users and 170 active users. The free account enables users to stream all songs with occasional ads.
Like to download songs offline without premium to listen in this Christmas 2018 and new year 2019? Now it is the best chance to get the magnificent tool DRmare Spotify Music Downloader. Or you can also get it for your friends or family members.
Just visit DRmare Software Christmas Free Giveaway page and one click to share it to Facebook or Twitter, DRmare will send a free one year license code of Spotify Music Converter within 15 minutes by email.
For a more advanced license such as lifetime license and family license, they are also available at 50% off.
Christmas and New Year Offer - Up to 60% Off for All Tools and Bundles
Interested in converting other media files such as Audible audiobooks, iTunes movies and so on? No worries. DRmare have surprising discounts for the other softwares and super sale bundles. The discounts are biggest ever.
Single Product Special Offer
DRmare iTunes M4V Converter - A professional tool to convert iTunes movies, TV shows, episodes, purchases, rentals, Extras, 30% Off
DRmare Audio Converter - A comprehensive tool to convert iTunes songs, Apple Music, iTunes podcasts, Audible audiobooks and so on, 30% Off
Super Sale Bundles
DRmare iTunes Video Converter + Audio Converter + Spotify Converter - 3-In-1 Package 60% Off
DRmare iTunes Video Converter for Windows + Mac Bundle - 60% Off
DRmare iTunes M4V + Audio Converter Bundle - 50% Off
DRmare iTunes M4V + Spotify Music Converter Bundle - 40% Off
DRmare Audio + Spotify Music Converter Bundle - 40% Off
To enjoy the discount, just go to DRmare Software Christmas & New Year Sales page directly. This special offer will be expired in January 10th, 2019 new year.
About DRmare
DRmare Software is a leading provider for digital media solutions. It has an innovative team who focus on video and audio encoding technology. Since establishment, it has developed 3 flagship products iTunes Video Converter, Audio Converter, Spotify Converter. These products quickly expand to the over 150 countries in the world and won over 8000,000 satisfied customers worldwide.