California, USA, October 24th, 2017 – The yearly Halloween is around the corner. It is a great time for having fun with family and getting special Halloween deals. As a leading and innovative multimedia software solution provider, DRmare Software has just announced a big discount promotion for its flagship products to celebrate the 2017 Halloween, which will be available for all the regular and new customers all over the world. These discounted products from DRmare are designed for removing Apple FairPlay DRM to make it easier for iTunes users enjoy any iTunes videos anywhere at anytime. Customers can enjoy a 20% ~ 50% discount to get DRmare M4V Converter for Windows, DRmare M4V Converter for Mac and the bundle as well as other offers from October 25th to November 5th.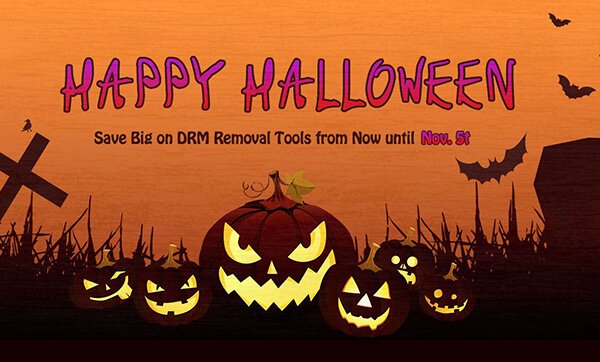 Having fun with family is a tradition in this wonderful holiday. Besides the Halloween candy, trick-or-treat game and carving jack-o-lantern pumpkins, watching Halloween horror movies such as the iTunes Halloween movies with kids is also a necessity for spending this spooky and cranky time. However, iTunes Halloween movies are limited to play on computers with iTunes players, IOS devices and other small screen devices only as they are protected by FairPlay. It is impossible to play iTunes videos on widescreen TV directly. Enjoying iTunes Halloween movies in front of a computer with the entire family won't be a good watching experience.
Luckily, DRmare M4V Converter is developed to solve this pain and DRmare have just rolled out a big promotion for this practical and powerful software. It has been updated and polished for multiple times with the best performance to strip iTunes DRM. By getting this dedicated DRM removal software, customers can batch import iTunes videos and one click to transform them to common videos losslessly. In addition, the converting speed is 30X faster, which is the by far the quickest speed in the world. After converting iTunes videos to other formats such as MP4, MOV, WMV, etc., the videos can be played from any devices such as mobile devices, game consoles, widescreen smart TVs and a lot more.
"We just want more video lovers to get access to our full-featured software to liberate them from the DRM annoyance and enjoy iTunes videos in a easier way, that is why we offer such a big discount for the DRM video converter products to all users," said Dave, the international marketing manager. During the Halloween promotion, customers can get each of the DRM converters at a discount price with at least 20% off. And if they buy the Windows and Mac version together as a bundle, the discount will be expanded to 50%. This means anyone just need to pay half price to get all the valued DRM removal products.
Customers who are interested in DRM removal software can head to the DRmare Halloween promotion page to learn more details and click the relative order link to buy with the big discount directly. To find out how the software works, customers can also refer to the online tutorials or simply give the free trial version a shot by clicking the download button here.
About DRmare Software
DRmare Studio is a top leading DRM solution provider for iTunes movies, TV shows, Extras and other digital media files. They have a young and talented R&D team who are passionated about digital media file technology. After several years development, they have developed the most powerful award-wining flagship products DRmare M4V Converter for Windows and Mac. These products quickly received many positive feedback from users all over the world. Their mission is to empower users with the ability to enjoy digital media files freely. As time goes on, they will continue to provide lifetime free update all the already released products as well as develop more products to remove DRM from Apple Music, iTunes audiobooks, Audible audiobooks, iBooks and so on.