Have you read Harry Potter? It is a series of great fantasy novels written by British author J.K. Rowling. Since the release of the first novel "Harry Potter and the Philosopher's Stone", the Harry Potter books are welcomed and acclaimed worldwide as the best-selling book series in history. Not only kids abut also adults love Harry Potter novels. Until now, they have been sold more than 500 million copies. Also, Harry Potter has been filmed into movies and recorded as audiobooks and derived with a lot of merchandises.
Do you want to download Harry Potter audiobooks for yourself or your child? Here are all the things you need to know.

Part 1. Everything You Need to Know about Harry Potter Audiobook
Harry Potter Audiobooks Plot
These novels told the fantasy stories of a young wizard Harry Potter with his friends Ron Weasley and Hermione at Hogwarts School of Witchcraft and Wizardry.
Harry Potter is an orphan child who lives with his relatives the Dursleys. His parents were killed by the Dark Lord Voldemort. At his 11th birthday, he found himself is actually wizard and received a letter to invite him to the Hogwarts School. From there, Potter struggle against Lord Voldemort and go through a lot of incredible and dangerous adventures with his friends.
Harry Potter Series and Age Guide
The series contains 7 audiobooks in total, covering many themes and genres including fantasy, mystery, drama, thriller, adventure, horror and romance.
Harry Potter and the Sorcerer's Stone, Book 1, age 7~9
Harry Potter and the Chamber of Secrets, Book 2, age 7~9
Harry Potter and the Prisoner of Azkaban, Book 3, age 7~9
Harry Potter and the Goblet of Fire, Book 4, age 10~11
Harry Potter and the Order of the Phoenix, Book 5, age 10~11
Harry Potter and the Half-Blood Prince, Book 6, age 10~11
Harry Potter and the Deathly Hallows, Book 7, age 12+
Stephen Fry vs Jim Dale
There are two main Harry Potter audiobooks narrators, Stephen Fry who narrates books sold in UK and Jim Dale who narrates books sold in the USA. Both did amazing performances. You can listen to the samples to see which one you like better. In general, more users think Stephen Fry version is better. The disadvantage is that it seems Stephen Fry version is only available from CDs on Amazon.
Part 2. How to Listen to Harry Potter Audiobooks from Any Devices
Can I Stream Harry Potter Audio for Free Online
Overdrive is one of the websites which offer reliable service for you to borrow audiobooks for free. If you have a library card, you can give it a try.
For other websites, I'd rather not recommend. When searching Harry Potter from Google, I found a lot of pages which boast free download online. But that is not true after entering the web pages. Most of them asking for paying a membership. Even if some provide free streaming online, there are a lot of pop up Ads. The listening experience is not good at all.
Buy and Download Harry Potter Audiobooks from Audible
Many sources sell the Harry Potter series audiobooks. Among them, iTunes and Audible are two of the top choices for most users. If you are an Apple fan, buying audio from iTunes would let you have a seamless experience to enjoy them on your iOS device such as iPhone, iPad or iPod Touch. But if you are an Android fan, Audible is a better choice. The price is cheaper. A new user can even get 1 month free trial with 1 credit to get one book for free.
Here I will show you how to buy Happy Potter on Audible.
Step 1. Go to the Audible official website and login with your account info.
Step 2. Type the keywords on the search box and click the search button to find the books you want.
Step 3. Click "Buy" with 1 click.

Can I Convert Harry Potter Audiobooks to MP3
No matter where you buy the audiobooks, they are all protected with copyright and DRM. iTunes audiobooks are in M4B format and Audible are in AA or AAX format. You can't transfer them to unauthorized devices such as MP3 players, portable speakers, home TVs or so on.
If you want to play Harry Potter without any limitations, the best way is to convert them to MP3 files with DRmare Audio File Converter for Mac/Windows. It is very easy to use with only 3 steps. In addition, it supports up to 30X faster speed and lossless converting technology, so you don't need to worry if it takes you a lot of time or reduce the output quality.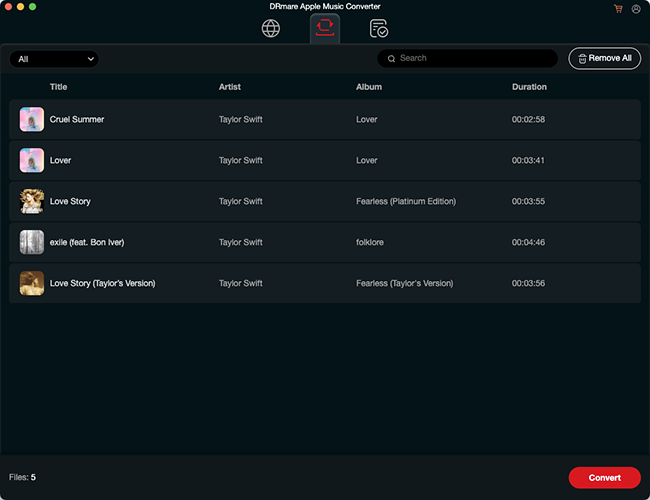 Step 1. Launch DRmare software and then import the Harry Potter audiobooks from iTunes on your computer.
Step 2. Select the most popular format "MP3".
Step 3. Click "Convert" button, it will convert and export the audiobooks to the default output folder of your computer.