Samsung and Apple have been in competition on the premium smart phone market for a long time. Both dominants the best smart phone market with the best Android phone and best iPhone.
In the August of this year 2017, Samsung has released its ultimate big-screen flagship Galaxy Note 8 while Apple rolls out the formidable phablet iPhone 8 Plus with evolutionary glass back design in September. They have best camera phones and run fastest. It is sure that there is going to be a fierce match between iPhone 8 Plus and Galaxy Note 8.
So which one is a better phone? Here we will do a review of iPhone 8 Plus and Galaxy Note 8 side by side.
View also: Watch iTunes Movies on Galaxy S8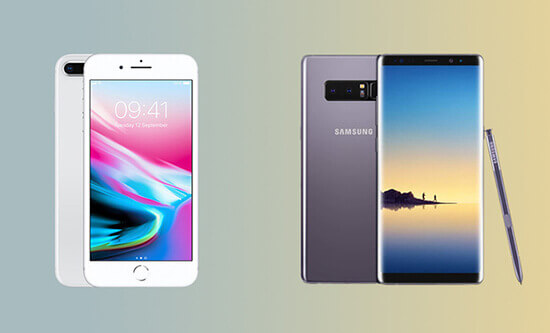 Part 1. Galaxy Note 8 vs iPhone 8 Plus: Parameters
The two phones are equipped with the most powerful hardware, such as the most powerful Apple CPU or Snapdragon 835, high resolution dual rear cameras, large display, latest operating system IOS 11 or Android 7.11 Nougat and so on. Following is a list of the details:
| | | |
| --- | --- | --- |
| | iPhone 8 Plus | Galaxy Note 8 |
| Processor | Hexa Core Apple A11 Bionic | Octa core Snapdragon 835 |
| Memory | 3GB | 6GB |
| Internal Storage | 64GB/256GB | 64GB, supports up to 256 extension |
| Display | 5.5 inches LED, 1920*1080 pixels | 6.3 inches OLED, 2960*1440 pixels |
| Dimensions | 6.2 x 3.1 x 0.3 inches | 6.4 x 2.9 x 0.34 inches |
| Back Cameras | Dual 12-MP cameras (wide angle: f/1.8; telephoto: f/2.8) | Dual 12-MP (wide angle: f/1.7; telephoto: f/2.4) |
| Front Camera | 7-MP (f/2.2) | 8-MP (f/1.7) |
| Video Shooting | 4K at 60 fps; slo-mo: 1080p at 240 fps | 4K at 30 fps; slo-mo: 720p at 240 fps |
| Operating System | IOS 11 | Android 7.1.1 Nougat |
| Battery | 2675 mAh with fast charging | 3300 mAh with fast charging |
| Network | 4G: Available (supports Indian bands) 3G: Available, 2G: Available | 4G: Available (supports Indian bands) 3G: Available, 2G: Available |
Part 2. Galaxy Note 8 vs iPhone 8 Plus: Main Features Comparison
As the list shows, the parameters between Galaxy Note 8 and iPhone 8 Plus are more or less the same. We may not tell which one is better until we have a deeper look at the difference between them.
Appearance Design
Samsung has spent much efforts in redesigning its flagship mobile phones. The Galaxy Note 8 has a sleek frameless glass and metal design, which looks very sharp and futuristic in the edge. For iPhone 8 Plus, it doesn't change so much compared to last year's iPhone 7 Plus except that it has evolved the new glass back. Both are known as the best phablet phones with big physical size. You can't easily insert either phone to your jeans pocket. A small annoyance of Galaxy Note 8 is that it put the fingerprint sensor way out of reach in the back. For iPhone, the fingerprint sensor is right in the front and it can be used easily.
Display and Camera
The iPhone 8 Plus features a 5.5-inch LCD while the Galaxy Note 8 has a 6.3-inch AMOLE display. Both are set to 1080P resolution by default with rich color gamut. As for the Galaxy Note 8, you have the option to set a higher Quad HD resolution. The big difference between the two phones is the screen aspect radio. iPhone 8 Plus is 67.5% while Galaxy Note 8 reaches 83%. That makes Galaxy Note 8 looks much better.
Referring to the cameras, both have same dual 12MP rear cameras and similar front cameras. When comparing the photos took by the two phones, we found the pictures shot by iPhone 8 Plus have more realistic and warm colors for its true tone feature while the Galaxy Note 8 takes sharper and eye-poping photos with the live focus and camera beauty function.
Performance and Storage
When it comes to the performance, Apple has the peerless powerful A11 Bionic processor which beats Samsung's octa-core Snapdragon 835 chip. No matter in the benchmark test or real use test, iPhone 8 Plus performance much better than the Galaxy Note 8. Especially in the heavy use such as exporting videos in a video editor, iPhone 8 Plus takes only about half the time of Galaxy Note 8's.
iPhone 8 Plus come with two versions of storage 64GB and 256GB without extension support while Galaxy Note 8 only has 64GB but supports to extend with an SD card up to 256GB.
Video and Audio Playback
Both iPhone 8 Plus and Galaxy Note 8 support to shoot 4K video and play HDR (high dynamic range) content. The iPhone 8 is better in taking videos as it supports to shot 4K movies with 60fps while Note 8 only supports to take 4K 30 fps videos. But as the Galaxy Note 8 has a much more bigger screen-to-body ratio screen, you will have a more immersive experience when watching movies on Galaxy Note 8.
As for the audio, iPhone features crystal-clear, clean music and you will hear that the sound of Note 8 lacks sort of definition. So it is better to listen to the speakers of iPhone. The problem is that iPhone doesn't offer 3.5mm ear jack any more, you have to use an adapter for standard headsets. Until you use the AirPods from Apple, I would not recommend iPhone 8 plus to listen to music.
Special Features
iPhone 8 Plus comes with the latest IOS 11 system with Siri, supports relatively more latest quality games and digital media files. Also, it supports a new AR app which can help you place virtual furniture in your room from IKEA and an app enables you to learn about the heart with a 3D human standing in front of you and so on.
Galaxy Note 8 is also well known for its special features. Such as the Bixby, IRIS scanning and facial recognization feature, S-pen which can help you take up to 100 pages or memos and the App Pair which helps you to improve your working productivity and make it easier for multi-tasking.
Part 3. Summary
From what we have talked above, we found that iPhone 8 Plus has a higher performance and a litter better video and audio playback feature compared to Galaxy Note 8. The camera is almost the same. For the other parts like design, special features, display, Galaxy note 8 is better. In a word, the Galaxy Note 8 has a slight overall edge and and the price of it is higher as well. The question to which phone to pick mostly depends on personal preferences. Both are very gorgeous phones, you should pay attention to both phones.
For the users who enjoy iTunes movies or playing latest games all the time, it is suggested to go with the iPhone 8 Plus. And users who enjoy the better design, special features or care about the video watching experience should get the Galaxy Note 8. But please note that Galaxy Note 8 won't support iTunes movies like iPhone 8 Plus as they are DRM protection. If you do like to buy the Galaxy Note 8 but keep the privilege to play iTunes movies on Galaxy Note 8, the walk-around is to get an DRM removal tool DRmare M4V Converter to help you remove DRM. For more info, you can visit: How to Play iTunes Movies and TV Shows on Galaxy Note 8.