Spotify which was founded in 2008 in Stockholm, Sweden is the undisputed leader in the digital audio streaming area. But more and more audio services are starting to complete with Spotify such as the Apple Music launched in 2015 and Amazon Music Unlimited released in 2014. Both newcomers have been growing quickly after their launch especially the latter one which has seamless integration with the smart speakers Amazon Echo/Dot/Tab/Show/Plus.
Some people may ask what are the differences between the streaming services? Does Amazon Music Unlimited have its edge in some aspects? Is it better to choose Amazon music Unlimited to Spotify?
To answer these questions, we'd like to do a side by side comparison between Spotify and Amazon Music. You can take a look at it to before you make the ultimate decision.
View also: Apple Music vs Spotify: Which One to Choose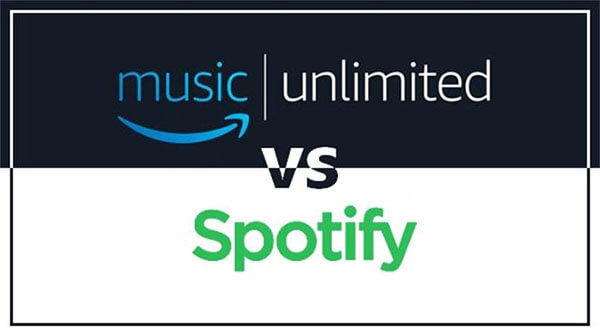 Part 1. Difference Comparison between Spotify and Amazon Music
Price
Music is not new to Amazon. Before releasing the Amazon Music Unlimited, Amazon has already provided the Prime music free of charge for its Prime members. This new Unlimited service costs $7.99/month or $79 per year. If you are not a Prime member, you have to pay $9.99/month. Students can enjoy the discount price $4.99/month. The best part is that Amazon has a special offer $3.99/month for echo users.
Spotify has an easier price structure, free tier service with advertisements or Premium membership which costs $9.99/month. Similarly, students can purchase a subscription for only $4.99/month.
Amazon Music vs Spotify: Supported Devices
Amazon Music is available in the United States, Germany, United Kingdom and Austria. You can play Amazon Music Unlimited on many platforms and devices including iOS/Android phones, Mac/Windows computers, Fire TV, Fire tablets, Sonos/Echo/Bose portable speakers and car stereos from BMW and Mini.
For Spotify, it is available anywhere with over 140 million active users. You can play Spotify songs in at least 60 countries and almost any devices such as iOS, Android, Amazon devices, smarts TVs, Roku, PlayStation, Xbox, Sonos and much more with the mobile app or the web based player.
Song Library
Spotify has more than 30 million songs yet the bit rate of the songs can be up to 320Kbps with extreme song quality. For Amazon, it doesn't disclose such an exact number for their songs but instead say they have "tens of millions". Also, we don't have an exact bit rate on the files. Someone online says it is supported to be 256Kbps. But as a newcomer, Amazon does spend much effort in optimize their music library.
Amazon Music Unlimited vs Spotify: Special Features
Spotify is well known for its curated mood based playlists, you can easily discover the right music to listen at the right time. The best music discovery features include "Discover Weekly", "Release Radar", "Daily Mix". They are personalized playlists to help you get the new songs based on what you listen to before. Amazon Prime Unlimited also recommend audio files based on your listening history but it actually doesn't work as well as Spotify because users can't really find new music they really like sometimes.
What makes Amazon Music Unlimited superior is that it has a better integration with the Amazon Echo and smart assistant Alexa, you can ask Alexa to play the music directly without extra settings. On the other hand, if you want to play Spotify songs on Echo, you have to use the Spotify Connect to set up the connection first.
Part 2. Spotify vs Amazon: What Are the Common Things
1. Both services offer 30 days free trial and you can subscribe to family subscription for up to 6 members at the same price $14.99
2. Amazon Music Unlimited and Spotify both support offline download as long as you subscribe to the related services.
3. You can listen to personalized radio stations based on artists and tracks you like as well as create and share your own custom playlists from the two platforms.
4. You can play both music from multiple devices including iOS, Android, Windows, Mac and much more.
5. The two services are easy to use and the apps for desktop, mobile and web-based players are with easy appearances.
6. Both have a big music library, you can find almost any songs you want with high quality. You won't hear the difference unless you have superior headphones.
Part 3. Music Streaming Showdown: Amazon Music or Spotify
Both kinds of music should meet our requirements of daily listening. But which one works best for us? Unless you are made of money, you surely don't want to subscribe to them together. From the description above, Spotify is better in terms of music collection and availability while Amazon Music Unlimited has an edge in its relatively low price. For the special features, it is a tie because each has its own strong point. Overall, Spotify is better though the difference is very close.
The answer to the question which one is better has much to to with everyone's personal taste. In my opinion, if you are an Echo user, you should definitely subscribe to the Amazon Music Unlimited. But if you are a user who like to get best playlists or just want to listen music for free, Spotify is the unique choice.
Finally, though Spotify Premium allows users to download music for offline listening, it is not possible to transfer them elsewhere as they are encrypted DRM protection. If you do want to do that, you may download the Spotify Playlist Converter and follow this tips to extract music from Spotify. Do you have any other questions or suggestions? Please simply let's know on the comment section.