Samsung has just revealed the latest flagship Galaxy S9/S9 + on the Mobile World Congress (MWC) tech show in Barcelona. This is only a few months later than the cutting-edge iPhone X is available for ordering. Undoubtedly both Apple and Samsung make best phones: the best Android phone and best IOS phone. That is why we'd like to compare both all the time.
Some users argue iPhone X has many advantages over Galaxy S9 Plus while the other think vice visa. Do you think Galaxy S9 Plus will beat iPhone X? Let's do a detailed comparison review for you.
View also: iPhone 8 and iPhone 8 Plus Review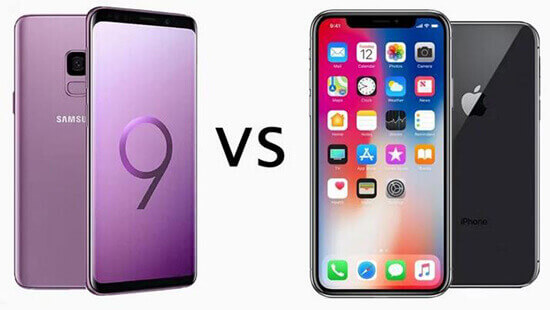 Part 1. Galaxy S9 Plus vs iPhone X: Phone Specification
It is tough to tell which phone is better considering that both have the most advanced hardware in the market. But the tech specs comparison should give you an overview of both iPhone X and Galaxy Plus, just take a glance at it.
| | | |
| --- | --- | --- |
| | iPhone X | Galaxy S9 Plus |
| Core Processor | Apple A11 Bionic M11 co-processor | Exynos 9810 processor |
| RAM | 3GB | 6GB |
| Internal Storage | 64GB/256GB | 64GB/120GB/256GB (expandable up to 400GB via micro SD) |
| Screen Display | 5.8 in OLED Super Retina Display (2436x1125, 458ppi) | 6.2 in Quad HD (2960x1440) 18.5:9 Super AMOLED Infinity Display |
| Primary Camera | 12Mp wide-angle, f/1.8 with OIS + 12Mp telephoto, f/2.4 with OIS | 12Mp f/1.5-2.4 camera with OIS + 13Mp telephoto camera |
| Front Camera | 7Mp | 8Mp |
| Video Recording | 4K 60fps/Slo-mo 1080p 240fps | 4K 60fps/Super slo-mo 720p 960fps |
| Software System | IOS 11 | Android 8.0 Oreo |
| Connection | 4G LTE/Wifi 11ac dual-band/Bluetooth 5.0/NFC only for Apple Pay | 4G LTE/Wifi 11ac dual-band/Bluetooth 5.0/NFC |
| Battery Life | 21 hours | 35 hours |
| Authentication | Face ID | Fingerprint scanner |
| Color | Silver/Space/Gray | Coral blue/Lilac purple/Midnight black/Titanium gray |
| Release Date | November 2017 | March 2018 |
| Dimensions | 143.6 x 70.9 x 7.7 mm | 158.1 x 73.8 x 8.5 mm |
| Other Features | Water resistant/Wireless charging/3D Touch/Siri | Water resistant/Wireless charging/Active edge/Bixby/3.5mm headphone jack |
| Price | Starts at $1000 | Starts at $839 |
Part 2. Galaxy S9 Plus vs iPhone X: Feature Comparison Side by Side
Price
It is well known that iPhone is expensive comparing to other Android phones. iPhone X is the first phone which costs $1000. The higher version costs even up to $1149. Samsung's Galaxy S9 is only $739 for standard version and $839 for the plus version. You can preorder from Samsung's official website. If you'd like to save your budget, Galaxy S9 Plus is a better deal.
Design and screen: iPhone X notch screen vs curve infinity display
The iPhone X represents the 10th anniversary version with an 5.8 in OLED notch screen display. This makes it a larger screen phone but still fits one-handed operation very well. As for the Galaxy S9/S9 +, it doesn't change much compared to its predecessor Galaxy S8. This is because the original design is nearly perfect. The plus version has a 6.2 inch Amoled infinity screen. But actually the screens are all supplied by Samsung, so there is no big difference though the one for iPhone X has the true tone feature. If you are after a big screen phone, Galaxy S9 Plus should work better for you.
Cameras
iPhone X and Samsung Galaxy S9 + are the best camera phones of 2018. Both have the 12Mb rear cameras with optical stabilization, 4K 60 fps video recording. When using the back cameras of the two phones to take phones, I found that the photos taken by Galaxy S9 Plus is slightly better than that of the iPhone X. As for the front camera, iPhone performs better for its portrait mode which supports background bokeh to make the pictures look more sharp. So I think this part is even for both phones.
Operating systems: Android vs iOS
This is basically a fight between the Android OS and the iOS. It is hard to tell which system is better because both are the best for its own loyal users. One thing we can't deny is that Apple still have the best apps and high quality digital media contents in the world. The Siri voice assistant responses faster than the new Bixby assistant as well. So regarding to the system, iPhone X beats Galaxy S9 Plus.
Performance
When using both phones, they run very fast and smoothly. To find out the difference, I go through a benchmark testing for both phones. Apple A11 Bionic M11 coprocessor remains the king. It has a significantly higher rating to the Samsung's Exynos 9810 processor. So if you are a heavy game user, we'd highly recommend the iPhone X.
Authentication: Face ID vs Touch ID
iPhone X adopts the most innovative Face ID (face scanning) originally. It doesn't have touch ID and it takes you some time to get used to it. But after that it should work greatly. You don't need to worry about the security issue etc. The S9 Plus offers similar facial recognition which is less sophisticated than Face ID and the fingerprint scanning as a backup. In my opinion, Face ID is a new trend, I'd opt for iPhone X for its advanced face identification.
Other features
Both have similar features like water resistant, wireless charging. Besides, iPhone X has the gimmick feature like 3D touch while the Galaxy S9 Plus has the active edge and traditional 3.5mm headphone jack. This is a really great feature if you'd like to watch movies or playing games with external voice. I'd prefer Galaxy S9 Plus in regard to the special features.
Part 3. Is It Time to Swap to Galaxy S9 Plus
Are you ready to swap your Android phone to iPhone X or replace your iPhone with the latest Galaxy S9? We can't simply tell which one is better because each one has its own strong points in different parts. Besides, it has much to do with everyone's taste. But you surely won't be disappointed in buying either one though.
In my opinion, if you are a long time Android phone user, you should definitely swap to iPhone X so that you can experience the great Apple's ecosystem to achieve more fun or new things. On the other hand, if you are really fond of the Galaxy S9 Plus, you can go ahead to preorder it now. The only thing you need to note is that iTunes digital media files such as the iTunes movies, TV shows, Apple Music, audiobooks are combined with the DRM protection. So if you have many iTunes contents, you'd better remove the DRM protection before you transfer them to your new Android phone.
DRmare Converter for iTunes Video/Audio is a dedicated tool to help you disable DRM copyright from the digital video or audio files.You can take a look at it or download the free trial version to evaluate it out for free. For more info, you can visit: How to Play iTunes Movies and TV Shows on Galaxy S9.