How to add music to Canva videos? Can I upload my own music to Canva? Lots of Canva users search for this kind of question on Google. Before resolving the question, we would like to talk something about Canva with you.
Canva is an online graphic design tool. You can design social media posters, videos, logos, and so on for free. Its functions, especially video editor, are used frequently because of the rise of short video platforms. You can design videos by adding background music and special effects. Then, you can sell their products or launch them on short video platforms to get benefits.
Although Canva provides abundant music for editing video, many users still want to add other music from music software, such as Amazon, Spotify, and Tidal. This kind of music software is protected by digital rights management which means you cannot add music to Canva directly. So this article mainly resolves the problem of how to add Amazon music to Canva video.
As we know that Amazon is a very famous brand and people commonly use its software. For example, Amazon Music provides a good deal of music and podcasts with high quality in its library. Therefore, many people who use Amazon Music and Canva at the same time always want to sync Amazon Music to Canva.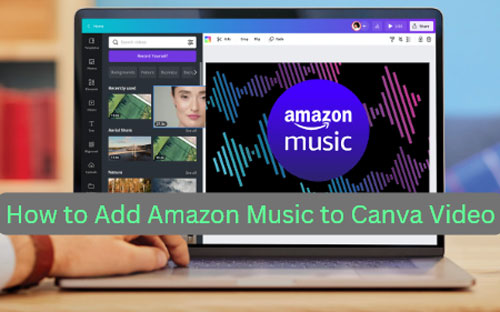 Part 1. Add Amazon Music to Canva Video via DRmare iMazonKit Music Converter
In order to deal with adding Amazon music to Canva video, we decided to introduce DRmare iMazonKit Music Converter for you. DRmare Amazon Music Converter is a professional conversion tool that can help you download and convert Amazon music to MP3, FLAC, WAV, AAC, M4A, and M4B. You can convert them to MP3, M4A, and WAV to Canva because Canva supports users to import music with MP3, M4A, OGG, WAV, and WEBM.
Besides, it keeps full ID3 tags of converted music so you can classify and find lots of music easily. If you want to listen to Amazon music offline on your devices, it can help you achieve this target by downloading and converting music to a local folder.
DRmare iMazonKit Music Converter Notable Features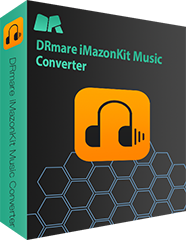 Convert Amazon music to MP3, M4A, and WAV for Canva
It supports a variety of output formats like MP3, FLAC, AAC, etc.
Keep lossless audio quality and original information
Audio name can be modified before conversion
Part 2. How to Import Amazon Music to Canva Video
We are going to show you the operation of DRmare Amazon Music Converter in detail to lead you to convert music.
Step 1. Search for DRmare Amazon Music Converter on Google Chrome. Its product link will be put at the top list. Click it and you will turn to its product page which shows specific introductions about DRmare Amazon Music Converter. If you want to download the product, you should choose Windows or Mac systems and then click the "Download" option to load this converter.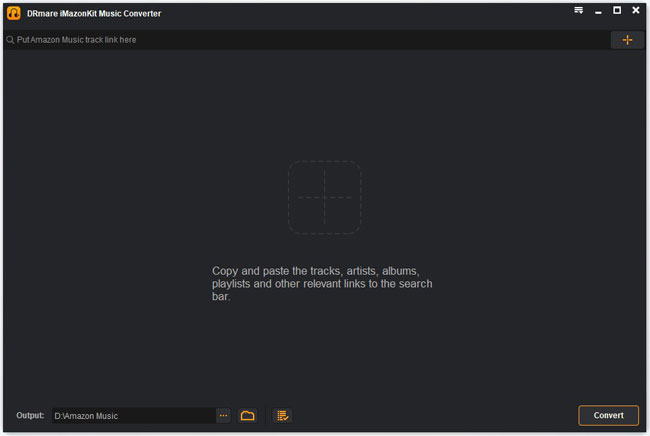 Step 2. Open DRmare Amazon Music Converter and click the menu logo at the top right list. You can choose "Buy" or "Register"> "Buy Now" to buy a plan. They will lead you to buy a plan automatically. After successfully purchasing a plan, return to the "Register" option to register your account.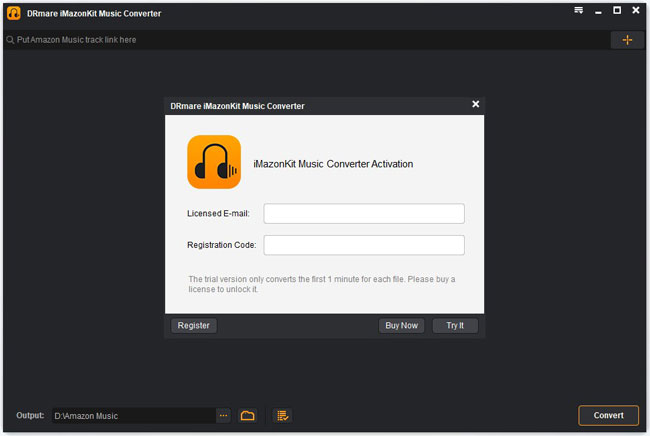 Step 3. Click "Preferences"> "Convert" on the menu list to decide format, channel, sample rate, and bit rate. You are allowed to customize them for your will. If you plan to convert music for Canva, you should make sure the output formats should be MP3, M4A, or WAV.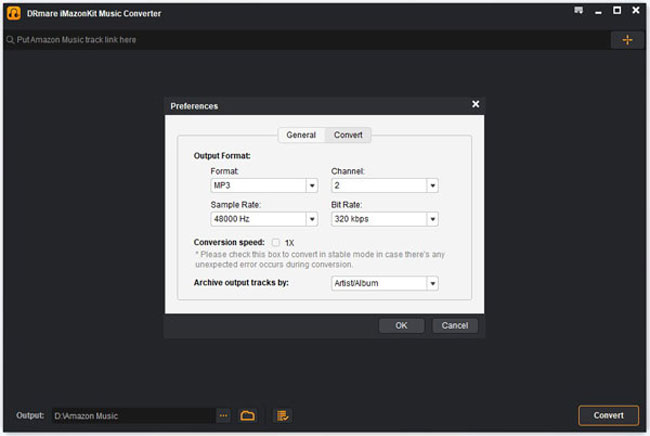 Step 4. There are 2 methods to load Amazon music. The first method is dragging music from Amazon Music to the main page of DRmare Amazon Music Converter. Or you can copy and paste music links to the search bar. Then, click the "Plus" logo or press "Enter" on your computer to load music. Finally, you should decide the output location and click "Convert" to convert Amazon music.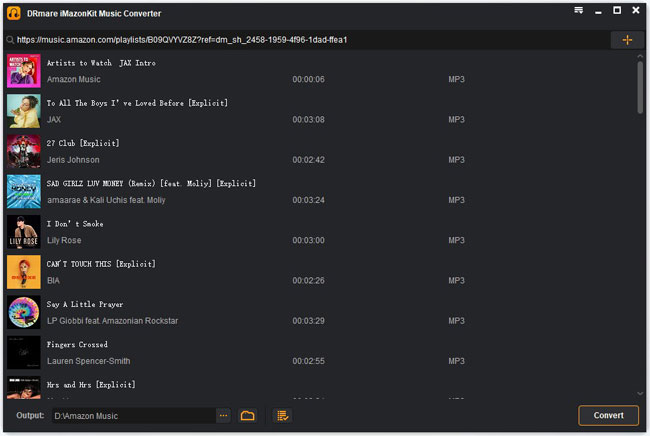 Step 5. Click the "converted" logo to find converted history after you converting music successfully. It helps you find your local Amazon music files easily by clicking the "Search" logo.
When you finish the conversion steps, it means that you have downloaded Amazon music to your computer. Then, you are able to upload it to Canva video. You can import them on desktop. Also, you can add them on mobile. The upload steps are as follows.
Upload Amazon Music to Canva Video on Windows/Mac
Step 1. Open Canva on your Windows or Mac computer and sign in with your account. Choose "Create a design" at the top right side and click "Video".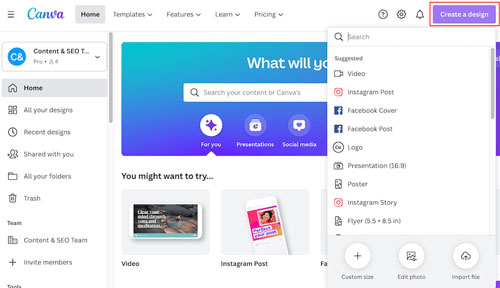 Step 2. Click the "Uploads" option on the left-hand side. Choose the "Upload files" button to select music from your local Amazon music files.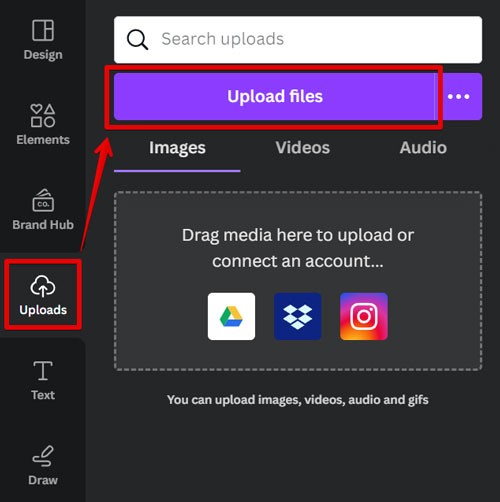 Step 3. After uploading music successfully, you can find them in the "Audio" list of "Uploads".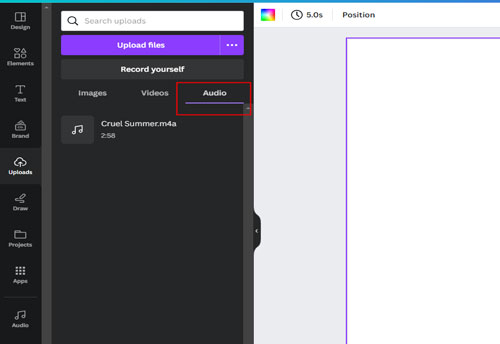 Upload Amazon Music to Canva Video on Android/iOS
Step 1. Use a USB cable to connect your Android or iOS device to your computer. Sync the local Amazon music files to your mobile.
Step 2. Open the Canva app on your mobile phone and choose the "Video" option.
Step 3. Click the "Plus" logo at the bottom of the Canva Video Editor. Click "Upload files" to upload music from your local Amazon music files.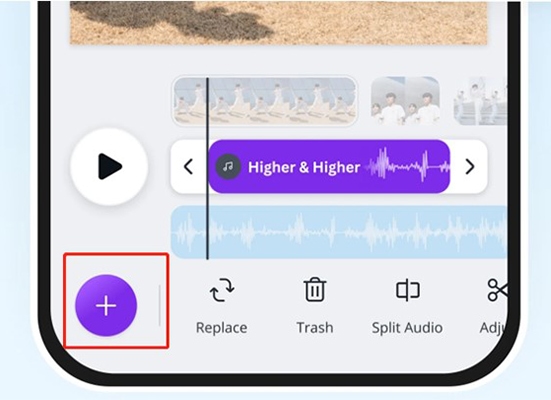 Step 4. You can find the uploaded music in the "Audio" list of "Uploads".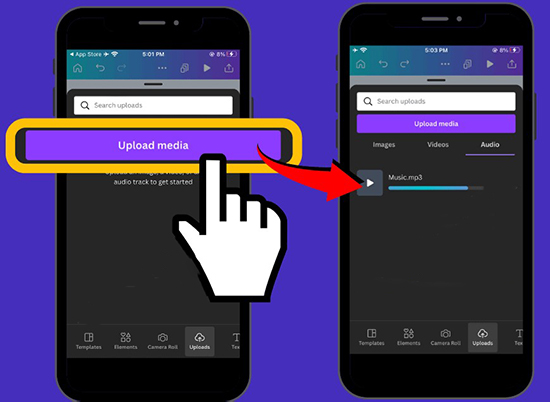 Part 3. FAQs about Canva
Q1: Does Amazon music upload to Canva for free?
A1: You are free to upload converted Amazon music to Canva but you need to download and convert Amazon music to your computer at first.
Q2: Is all music on Canva copyright-free?
A2: Canva' music is not entirely copyright-free. Free and Pro account holders can use them for non-commercial use, but commercial use requires a license or you can use your own music. So pay attention to the licensing agreement when incorporating other people's music.
Q3: Can I sell something I made on Canva?
A3: You can sell them if they fit the terms and conditions of Canva. Please note that you can't sell standalone prints of Canva content, such as a printout of a stock photo without any other design elements on a t-shirt.
Q4: How do I know if the content is Free or Pro on Canva?
A4: When you're looking for content in the library, Canva provides abundant resources for you. They are free and paid on the platform. But if you see a crown icon pop up in the bottom right corner of the thumbnail, it means paid. If not, it's free.
Part 4. Conclusion
We had told you the specific steps about how to convert and add Amazon music to Canva video. DRmare Amazon Music Converter is very concise and easily-used. It enables you to download Amazon music for free and convert music to MP3, M4A, and WAV which are supported by Canva. If you worry that you cannot use DRmare Amazon Music Converter fluently, we also provide a free trial version for you to have a try. You are invited to share some improvement ideas after using our product.