They say music replenishes our souls, and the internet through online media streaming platforms like Plex and YouTube has made sure that we access our favorite tunes. Today, you can stream and enjoy your top favorite playlist on Plex courtesy of its diverse and huge music library- over 60 million tunes.
For convenience, you may want to listen to music offline and on more portable devices. To do that, you will need an audio capturing software to download music from Plex. And while they're a lot of audio capturing software on the market, we will in this article introduce to you an advanced and top audio capturing software alternative, DRmare Audio Capture, that will help download Plex music without much trouble. Let's get down to business.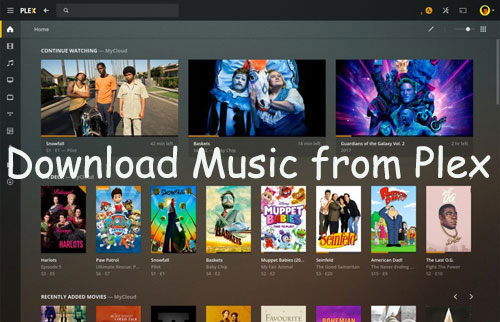 Part 1. Best Tool to Download Music from Plex
DRmare Audio Capture for Windows is a top professional and potent audio capture software designed to capture sounds from all media sources. With the app, users can easily capture music, radio sessions, podcasts from unlimited sources such as YouTube, Plex, Spotify, Tidal, Amazon Prime, etc.
The DRmare Audio Capture is also knit with advanced technology that not only allows you to download Plex music but extract audios from online music videos from YouTube, Netflix, Hulu, etc. Most remarkably, it guarantees clear and 100% originality for all recorded content.
The program supports batch recording, meaning that you can save a lot of time by recording different songs from different sources at the same time. DRmare Audio Capture is also fitted with audio editing to help fine-tune audio specs to your preference. You can easily cut, trim, mix, merge or even make changes to metadata info as well.
Besides, DRmare supports a wide range of audio output formats, including MP3, M4A, M4B, AAC, etc., so you do not have about playability after you download music from Plex server.
DRmare Audio Capture for Plex Music
Part 2. How to Download Plex Music Step-by-step
We cannot fail to acknowledge its intuitive interface and simplicity hence does not require any technical knowledge to use. In fact, below is a simple guide on how to download music from Plex using DRmare Audio Capture software.
Step 1

Install and start DRmare Audio Capture on PC

After installing, double click the DRmare software icon to launch the program. By default, you can record audio from Chrome, iTunes, IE Explorer, and Windows Media Player. But you can add Plex as your media source by clicking on the "Add" option. Alternatively, you can use Chrome to play music from Plex.
Step 2

Set output parameters for Plex music

DRmare Audio Capture lets users alter and fine-tune audio specs to the preference. To set your preferred specs for Plex music, click on the Format icon to customize your audio output. Here you can change bit rate, sample rate, codec, and channel. Users can also change the audio file to their preferred audio format including MP3, M4A, AAC, WAV, or FLAC.
Step 3

Play and download music from Plex

It is now time to download music from Plex! Click on the imported Plex application on DRmare software and play the songs you wish to record. The software will immediately detect and automatically start to record the playing music. You can make use of its batch recording ability by simply running more tabs on your browser to download music from Plex server. All the music will download simultaneously.
Step 4

Edit and save downloaded Plex music

After the Plex music download is complete, you can continue to edit your track by simply clicking the editing icon. The edit function allows for trimming, cutting, and enlarging audio files to your desire. After editing, click on the "Save" option at the bottom of the interface to save your tunes.
Step 5

Save and locate the Plex music tracks

Now, proceed on to DRmare Audio Capture main window and find the history icon to see your recorded Plex music. Here you can see which and how many Plex tunes you have downloaded. To find the specific tune on your computer folder, move your cursor and click on the "Search" icon.
Part 3. In Conclusion
With DRmare Audio Capture, you simply do not to go fetching for an online music downloader. The software is not only built to help you download music from Plex but also fine-tune your music to your preferred specs and formats. The software has a friendly user interface and comes at an affordable price. And DRmare offers lifetime support and update for your software. Try DRmare Audio Capture today, and you will certainly not regret it!