A road trip can be quite boring especially if you are driving alone to some destination a far distance away. How can you make the long drive less boring and more beautiful and memorable? A lot of people listen to some inspiring music or podcasts. Well, that helps. But the most amazing thing you can do on a long drive is to listen to a really cool audiobook. Unlike podcasts and music which are often short and keep changing, an audiobook can be long to cover several trips. The beauty with listening to an audiobook is that as you drive along to your destination your mind takes on a trip of its own, joining the author on the journey through the book. So, what are some of the best audiobooks for road trips you should have? Below are the top ten list you should consider for that road trip you have been planning:
View also: Top 10 Best Free Spotify Audiobooks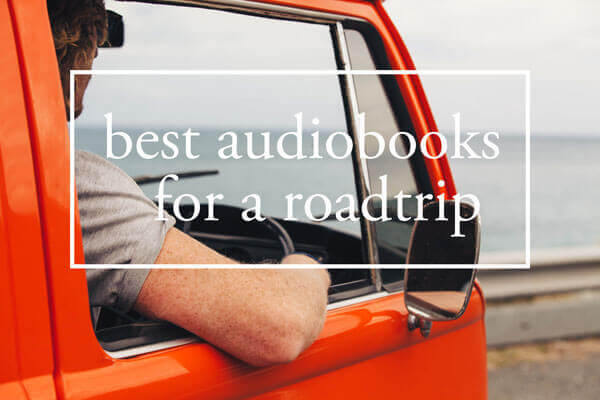 Part 1. Top 10 Best Audiobooks for Family Road Trips
No 1. Dark Matter

This amazing thriller by Blake Crouch is one of my good audiobooks for driving. The Audible book is such an amazing twist and turns that will keep you on alert and on the edge as you drive to your destination. The book narrates the story of Jason, a celebrated college professor who is kidnapped and wakes up to a new reality. Everything in his life changes and he is no longer an ordinary college professor and his family is no longer the same. To go back to the life he knew, he has to take a horrifying journey that will take him through several realities. This journey threatens to leave him in a terrifying life, but a man has to do what he has to do. If you love listening to thrillers you will love this story.
No 2. Tell No One

This thriller by Harlan Coben is one of the best mystery audiobooks for road trips that you have ever listened to. The book follows the story of David Beck, who after losing his wife some eight years ago through murder he tries to rebuild his life the best way he can by going to school and becoming a successful pediatrician. Then he receives a mysterious email that that reignites his first love for a woman named Elizabeth. The second-grade love is so strong that he takes a journey to find the truth about the Elizabeth, but there is a wealthy billionaire who is determined to make sure that the disappearance of Elizabeth does not come to light. You will love listening to this story with its many turns and twists.
No 3. Bird Box

This is one of the best books on CD for a road trip. The book is written by Josh Malerman and chronicles the apocalyptic tale about some strange thing that those who see it often run mad and commit unimaginable acts before ultimately taking their own lives. The story is particularly about a group of survivors who hide is a small house that is covered from the outside world by blocking windows and doors from the outside view. They don't go outside before first being blindfolded. The story has great twists and turns that will keep you on the edge as you listen to it.
No 4. Everything I Never Told You

This amazing story by Celeste NG is one of the best audiobooks for family road trips I have come across. The Audible book tells the story of the family of a young girl named Lydia. The parents of Lydia have all the hopes in Lydia fulfilling their lifelong dreams they never fulfilled. Her family is a typical Chinese American family in a small neighborhood in Ohio in the 1970s. Her father, James, wants her daughter to have a great social life than what he had while her mother, Marilyn, wants her daughter to be a medical doctor, which was her own dream. Unfortunately, Lydia is killed prematurely and her body is discovered in a local lake without the trace of the killer. This event turns the family upside down as everyone goes on a hunt to find who killed the family's favorite daughter. Lydia's elder brother thinks that Jack, the neighborhood's bad boy is responsible, but it is her younger sister who is more level-headed that could have a clue of what really happened. This is a story that will take your mind on a journey of its own.
No 5. The Outsider

This is one of the great audiobooks for long drives. Running for 18 hours and 39 minutes you are likely to listen to this audiobook over several long trips that you take. This book by Stephen King traces the death of an 11-year boy whose mutilated body is discovered in a town park. The story builds quickly into a strong suspense as all evidence points to the town's nicest citizen. Terry Maitland is a little league coach, a teacher and a father, which makes him a very approachable and nice guy in the small town, but he his hiding another side. If you love the suspense stories you will love this great story.
No 6. Earpedia: Animals

If you love funny Audible audiobooks for road trips then you will love listening to this amazing book of wild animals. This short story collection by Sue Perkins takes a witty look at the lives of various wild creatures such as necked mole and the fairy pink armadillos. It has some amazing facts about world animals you will completely fall in love with. If you want to lighten up your moods on a road trip this is the book for you. It's funny, witty and will get you laughing out loud in no time.
No 7. Descent

This is a truly thrilling psychological story that will keep you holding your heart in your hands. It is one of the Audible audiobooks for long drives you should have in your audiobooks collection. The book brings you the tragic story of the Caitlan family. While on a family vacation two teenagers go riding in the Rocky Mountains where one is kidnapped while the other is badly injured. The search to find the kidnapped one goes on for months threatening the relationship that hold the family together. Listening to this thriller will keep you on the edge of your sit all through your road trip.
No 8. Beneath A Scarlet Sky

This book carries a heartwarming story that makes it is one of the best audiobooks for couples' road trips. The book written by Mark Sullivan follows the story of a young Italian man named Pino Lello. The story is set in the world war two eras where Pino decides to help Jews escape capture by Nazis after his Milan home is destroyed in the fighting. He falls in love with Anna, a beautiful widow and their love changes everything about life for him. He is forced to enlist in the Germany army but soon he is injured in the war which turns his fortune becoming the personal driver of General Hans. His love for Anna makes him work in the Germany army as a spy for the allied force in the hope he will be reunited with his love.
No 9. Ink and Bone

This supernatural mystery story by Lisa Unger is one of the most amazing Audible audiobooks for long car rides, the story follows the life of Finley Montgomery, a twenty-year-old girl who constantly gets prophetic games and get visitors no one else sees. She turns to Eloise Montgomery, her renowned psychic grandmother help her deal with the situation. The two go onto a journey investigating terrifying secrets of their neighborhood. The plot for this story is great with amazing characters that will keep you listens all through your car ride.
No 10. The Secret Wife

This is one of the best audiobooks for driving. The book is a historical fiction that takes you back in time to the 1914 Russia. This is an amazing story that greatly combines the modern world with the ancient Russian Grande duchess. It takes the story of Grand Duchess Tatiana, the daughter of Tsar Nicholas who is a practicing nurse and falls in love with Dimitri, an injured soldier. The story is quite addictive and you will want to hear it over and over.
Part 2. Listening to Audible Books When Driving
Audible audiobook are with DRM protection. The official players for them are Audible app or iTunes. If your car supports the Android Auto or Apple CarPlay, you should have no problem to listen to the Audible audiobooks by plugging in your mobile phones with the Audible app. Else if your car doesn't, you don't need to worry either, you can also use third party software to stop the DRM protection. After that, you can transfer Audible books to your car stereo via USB flash drive or SD card.
DRmare Audible Audiobook Converter for Mac is a well-developed tool for users who want to get better use of their purchased Audible audiobooks with ease. The screen is very easy to operate but the features are extremely powerful and reliable. Unlike other software which are based on iTunes to work. DRmare Audible Converter can directly decrypt your files, you don't even need to input the account ID or password. The free trial version is available for anyone. Download it by clicking the following buttons if you like.