Do you find it hard to fall asleep as fast as you would want to? Most of us experience insomnia at one point in our lives because of different reasons. During this period sleeping can be quite a big problem. Instead of resorting to sleeping pills, one can listen to the best audiobooks to fall asleep. We have best audiobooks for adults and even best audiobooks for toddlers. Listening to soothing audiobooks can actually help you fall asleep fast and easily. Audible books on the right topic and with the right narrator can be therapeutic in nature. Now check the top 10 list.
View also: Top 10 Best Free Spotify Audiobooks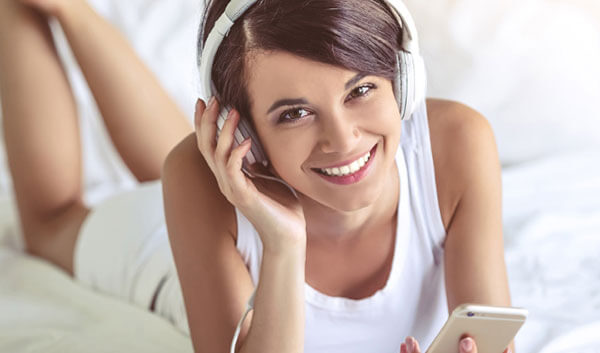 Part 1. Top 10 Best Audiobooks to Help You Sleep
No 1. The President Is Missing by Bill Clinton and James Patterson

This is a gripping political thriller where the president discovers a major threat that can ruin the world and America. The narration is however fast paced and the listener might miss out on relevant aspects. It is thus good for a person who doesn't want to focus on facts but to fall asleep. This is what makes it a best bedtime audiobook for adults. The audiobook is narrated by Peter Gamin, Jeremy Davidson and Mozhan Marnó.
No 2. The Spire by William Golding

This is a wonderful story by the Literature Nobel Prize winner William Golding. The story revolves around Dean Jocelin a fictional character who had the ambition of building a spire in the Salisbury Cathedral. The story is narrated by Benedict Cumberbatch using his pleasant, sexy and deep voice that relaxes your mind thus giving you a peaceful sleep. Being six hours and 49 minutes long it is one of the best audiobooks for sleep.
No 3. Harry Potter and the Chamber of Secrets

Harry Potter's books are great audio books guaranteed to make a child sleep. It is also one of the main audiobooks for adults. This book is rated one of the most boring Harry Porters book and the audiobook is no different. Harry porter in this book can speak the language of the snakes and has just began his second year at Hogwarts. Harry Potter makes two other friends Ron Weaslyand Hermione Granger who make main characters of the book. It also involves a narration of Harry Porters worst birthday ever and this makes it a good bedtime audio books for toddlers. Narrated by J.K Rowling wither her characteristically deep voice, this audio book is guaranteed to make your child sleep.
No 4. Letter to My Daughter by Maya Angelou

This is a collection of essays by the famous African American author Maya Angelou. The book contains 28 great essays that you will love listening to. Although Maya Angelou never had a daughter of his own, the book was written to share her wisdom with girls across the world. If you are a woman then these essays will cover topics that really matter to you. These essays are long and can easily make one sleepy thus considered one of best bedtime audiobooks. The book is full of wisdom nuggets that will benefit both male and female beings alike. The book narrated by Maya Angelou herself and her heavy motherly voice will put you to sleep in a matter of minutes. The book is pretty short at 2 hours and 32 minutes but is one of the best bedtime stories to fall asleep.
No 5. The Graveyard Book By Neil Gaiman

This is a fantasy novel written by Neil Gaiman in 2008. The Novel traces the story of a young boy who is raised by supernatural beings who live in a graveyard after his family is murdered in cold blood. It is a book guaranteed to make a child sleep as it is directed to children and teenagers. The audiobook is narrated by the author; Neil Gaiman who uses a soothing voice to tell the story in a way that will put you to sleep.
No 6. A Mercy by Tony Morrison

This is another story by a Literature Nobel Prize winner. This tragic story was authored by Tony Morrison. The story in the book revolves around daughters, mothers in Primitive America. The audiobook is narrated by the author; Toni Morrison who gives the characters a personal touch. The mellow voice of the narrator will put you to sleep in no time. The audiobook is quite long covering six hours and 26 minutes. It is thus guaranteed a top bedtime audiobook for you, it makes one fall asleep within the first 45 minutes.
No 7. A Christmas Blizzard by Garrison Keillor

This is a novel about Christmas authored by Garrison Keillor. The book is all about a funny story of the adventures of a wealthy but depressed man during the Christmas holiday. The four hours and 56 minutes long audiobook is narrated by the actual Author of the book; Garrison Keillor. The narration is done over the sound of smooth soothing piano rhymes and thus one of the best audiobooks to fall asleep. This atmosphere created makes it one of the great audio stories to fall asleep.
No 8. Another Country by James Baldwin

This is a moving story about relationships during the civil rights movement in the United States. The novel was written by James Baldwin in 1962 and covers some tough issues that were considered a taboo back then such as extramarital affairs, interracial relationships, and bisexuality among others.These issues are discussed in depth, making it one of the best bedtime audiobooks for adults. The narrator Dion Graham has a melodious and intense voice that ensures one falls asleep. It is thus a fantastic audiobook for sleep to adults.
No 9. The English Patient By Michael Ondaatje

This is a wonderful story set in the World War II period. Written in 1992, the novel traces the lives of four people who meet in an Italian Villa after the Second World War. The book focuses on the emotions of the four in relations to the actions of the English patient. The book is eight hours and 27 mins long therefore its length makes it one of the awesome bedtime stories to fall asleep. It is narrated by Ralph Fiennes who has a smooth and calming voice that will put you to sleep right away. If you want great bedtime stories to fall asleep, I recommend this audiobook.
No 10. H Is For Hawk By Helen Macdonald

This is another great classic story that will put you to sleep right away. The book is 11 hours and six minutes long making it one of the best bedtime audiobooks for adults.The author of this beautiful story has two amazing gives; the ability to write a really great story and the power to tell the story in a beautiful voice that will calm you down and soothe you to sleep. Being narrated by the author, the audiobook is flawless and in a perfect voice making it one of the perfect audiobooks to help you sleep.
Part 2. Bonus Tips to Download and Convert Audiobooks
Having checked all these wonderful audiobooks for sleep, what do you think about them? Do you want to buy and download them for offline listening? If so, you can buy them from iTunes or Audible which are the top 2 biggest audiobook vendors in the market. However, one key thing you need to note is that no matter which platform you downloaded the books from, they are combined with the DRM protection. That is to say you can't transfer the audiobooks out of its original ecosystem such as iTunes or Amazon Audible.
But please just don't worry, in order to turn the DRM protected audiobooks to common audio files, you can just need to get DRmare Audiobook Converter to help. It is an all-in-one software which provides a good solution to convert all kind of DRM files such as iTunes audiobooks, Audible books, Apple Music to common formats M4A, M4B, MP3, AAC, WAV, FLAC. It has the advantages of 5X converting speed and lossless output quality compared to other rival products. To find out how does it work easily, you can also visit DRmare Audiobook Converter user guide.