When it comes to DaVinci Resolve, most of us will consider it as the video editing software originally designed for Hollywood's elite colorists. With the development and improvement of DaVinci Resolve, Resolve 14 is an all-in-on video editor for editing, color correction and professional audio post production. So if you would like to make your exclusive Hollywood's videos bought from online digital store, DaVinci Resolve seems the preferred video editing application.
But if your Hollywood's movies purchased from iTunes store, you will meet some obstacles when importing iTunes Hollywood's videos to DaVinci Resolve. So, in this article, I will show you the intuitive solution of edit iTunes movies and TV shows on DaVinci Resolve.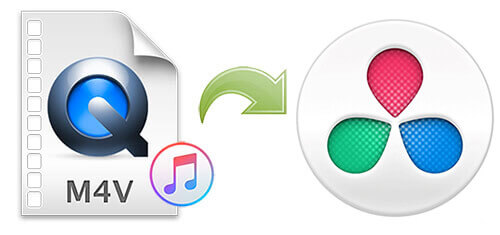 Part 1. What Is DaVinci Resolve
As one of the most advanced editing software, DaVinci Resolve is not only an original high-end color correction and post production, featuring with the full and new Fairlight audio post production function, but also it has been a fully-capable nonlinear editor, media organizer and audio editing tool. Now, let's check out the amazing and professional features of Resolve 14.
Professional Editing: DaVinci Resolve can work at up to 10X faster speed while editing and trimming movies and TV shows you imported to it. In the editing part, there are seven exclusive features, like Creative Editing, Advanced Trimming, Multicam Editing, Speed Effects, Timeline Curve Editor, Transitions and Effects and Finishing that you can choose the target one to edit your files.
Color Correction: In order to make a wonderful movie, color correction is an integral part for editing, since people's mood and feeling are dramatically affected by changes in color. Resolve 14 gives you the world-class color corrector equipped with Legendary Quality, Primary Correction, Curve Editors, Secondaries, High Dynamic Range, and Broad Format Support.
Fairlight Audio: This is the new feature coming with Resolve 14.It allows you to record, edit, mix, sweeten and master sound with full 3D audio space and up to 1000 audio tracks. It also supports recording and ADR, sound editing, sound effects, sweetening and mixing.
Part 2. Best iTunes to DaVinci Converter to Edit iTunes Movies with Resolve 14
Just like other video editing software, DaVinci Resolve is not capable of supporting iTunes movies and TV shows for editing directly, since iTunes movies and TV shows are encrypted by FairPlay DRM technology. It is not surprising to see that Apple encrypted iTunes digital content for protecting the benefits of media owners, publishers and resellers.
But it's not fair for customers who don't actually own the iTunes videos, even if they have purchased them from iTunes store legally. In order to make a balance, although removing DRM restriction is not allowed for business use, it's 100% legal for personal use completely. Under normal circumstance, you just need a third-party iTunes DRM removal tool for importing iTunes protected movies and TV shows to DaVinci Resolve.
Here, we can meet DRmare M4V Converter for Mac/Windows, an all-in-one iTunes M4V DRM cracker, which can encode DRM protected movies and TV shows to DRM-free videos. With the easy-to-use and clean interface, M4V Converter can work at 30X faster speed without touching original video files. If you would like to convert iTunes M4V to other common video formats, you can also use DRmare M4V Converter that can convert iTunes DRM M4V to audio and video formats, like MP4, AVI, MKV, MPEG, MOV, etc.
DRmare iTunes to Resolve Converter
Part 3. Quick Tutorial to Convert iTunes Videos to DaVinci Resolve for Editing
Before purchasing DRmare M4V Converter, you can download and install the trial version to test its performance firstly. Now, you can use this smart iTunes DRM removal application to convert iTunes movies to unrestricted videos for importing iTunes movies and TV shows to Resolve 14.
Step 1

Import iTunes protected movies to DRmare

Once you have launched DRmare M4V Converter, you can click the Add Files button from its main interface to choose iTunes video from iTunes library. Or you can directly drag and drop iTunes videos to DRmare software.
Step 2

Set output settings for Resolve 14

This is an optional step, since DaVinci Resolve can support DRM-free M4V files directly, you can bypass the step to keep by default. But in this step, you can also customize the output parameters by changing the bit rate, frame rate, video size, and more.
Step 3

Remove DRM and export iTunes videos

In order to get rid of DRM protection from added iTunes movies and TV shows, please touch the Convert button at the bottom right corner of the main interface. It will pop up a new window, in where you can see the conversion process. When the converting process finishes, you can locate the non-DRM iTunes files on History folder.
Part 4. How to Edit iTunes Movies and TV Shows in DaVinci Resolve
If you are the newbie in using DaVinci Resolve video editing software, you will feel confused in how to use this tool to make your perfect iTunes videos. Thanks to DRmare M4V Converter, you are free to import iTunes movies and TV shows to Resolve 14 after removing DRM protection. Now, you can refer to the follow simple steps to edit iTunes videos in DaVinci Resolve easily.
1. Import iTunes videos to Resolve. Double click to launch this stunning video editor, and then you can choose the File button from the main menu bar and select Import Media to import iTunes unprotected videos.
2. Make the basic editing. There are five key functions for your choice to enter into a new window to make your videos, including Media, Edit, Color, Fairlight, and Deliver. Simply touch the Edit option from the lowest ribbon to go to the Timeline Editor.
3. Apply Filter and export videos. Select the filter image from the left-hand side of the screen and drag it right above the blue bar of your video file. Simply use the options under the heading Composite to get the desired effect. For more different features, you can try DaVinci Resolve by yourself later. Once all settings are ready, you can start to import iTunes exclusive movies from Resolve 14.