GoPro Studio is a free and powerful video editing tool created by the American technology company founded in 2002 by Nick Woodman. It is originally designed for its well-received GoPro action cameras. GoPro users can import GoPro Clips to convert, trim videos and share them to YouTube, Vimeo and so on.
As a free tool, it doesn't have all the complicated features like Adobe Premiere, Sony Vegas, but it is surprisingly easy to do most of the editing job you need. What makes it even better is that this free video editor is not limited to edit footage shot by GoPro cameras. You can use it to edit any movies with the compatible formats.
Here I will work together with you to find out how to import iTunes DRM movies to GoPro Studio for Editing.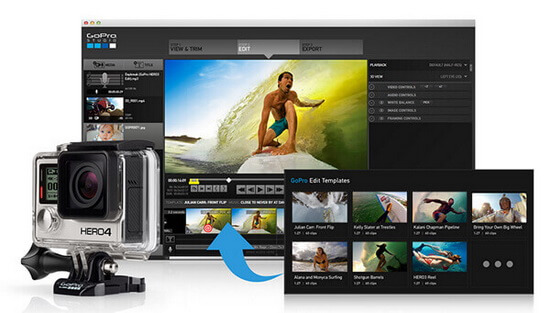 Part 1. GoPro Studio Compatible File Formats
GoPro Studio Supports many kinds of files including video, audio and picture files. Following is a list of the files which can be imported.
Video: QuickTime sources MOV, GoPro video file MP4, Cineform files AVI and MOV. Cineform codec files are great for direct editing. For the videos which are not Cineform codec files such as the videos shot by other devices or converted by third party software, you can click 'Convert' button to convert them to Cineform files after importing to the GoPro Studio.
Image: As for the pictures, you can also import JPG files.
Audio:It supports audio files MP3, WAV, AIFF, M4A, CAF.
However, if your files are not on the supported list above or your files are DRM copy right protected, they may not be recognized. Take the iTunes movies files for example, you won't be able to edit them. If you find a clip of iTunes video clip which you want very much or you want to add the background music from the iTunes movie to your own movie, you are required to transform them into the MP4, MOV, MP3 etc. first.
Part 2. Convert iTunes Videos to GoPro Studio
Good news is that DRmare M4V Converter can help you get the job done easily. It focuses on removing DRM as well as converting M4V to other common formats such as MOV, MP4, MP3, WAV which are compatible with GoPro Studio with fastest converting speed and great quality. Following is a list of the features.
DRmare iTunes to GoPro Studio Converter
You can click 'Download' button to download it to your computer and then you just need 3 steps to convert your movies. Just import your iTunes movies to the software and then choose the output format 'MP4' or 'MOV' or audio files such as 'MP3', 'WAV' etc. for your GoPro Studio. Finally click 'Convert' button, you will get the DRM free video or audio files promptly.
Part 3. Tips to Decorate and Share Your Movies with GoPro Studio
GoPro Studio offers a very easy-to-understand work-flow for editing. You can follow these 7 steps to edit the converted iTunes movies and other movies you have.
1. Import & convert videos.
GoPro Studio edit videos in the Cineform format. If you don't have the Cineform codec files which are supported by GoPro Studio, you are required to transform them first. Just click 'Import & Convert' button, it will prompt you to select the files you shoot or converted with DRmare M4V Converter. After that, you can click 'Convert' to transform them.
2. Go to 'Editing' tab panel.
Next, you can click 'Edit' tab, you will find the videos with Cineform codec which you just converted. If you have other Cineform codec files, you can also add them directly without converting.
3. Add a template.
GoPro Studio also have stunning templates, you can simply select one template you want. If you don't like any of the templates, you can also select a blank template.
4. Trim your videos
You source movies may contain some unwanted parts or blank clips, just drag your movies to the editing main screen and use the trim markers to select the clips you want.
5. Add a title and background music.
GoPro supports to add up to 2 title tracks and 2 audio tracks. Please click 'Title' button to add a new title and you can drag your audio file to the track area.
6. Do the settings.
To make the output video meet your requirement better, you can adjust the settings of playback, 3D view, fade in and fade out and any other settings you want.
7. Export your video clips.
After finishing the editing, you can click 'Export' to get your created masterpiece. You can either save it to your local computer or upload it to YouTube, Vimeo and so on.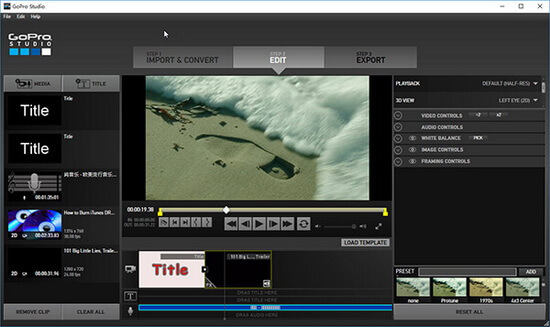 Part 4. Avoid Possible Importing File Errors
It is easy enough for everyone to use GoPro Studio. However there some important factors may cause you fail to import videos into GoPro Studio, you can pay attention to the following notes to prevent any troubles.
1. If your videos are from SD card or external hard, you can try to copy them to your computer before you import them to GoPro Studio.
2. GoPro doesn't recognize the files on the folders with non-English characters, you can try to change the folder name if it is in another language.
3. Please don't try to import from Photos or iMovie on Mac as it may automatically transform the files to M4V which is not supported by GoPro Studio.
4. Make sure your files are not damaged and with compatible formats before you try load them. You can check if they are playable on Windows Media Player or QuickTime.
5. Try to create a new project. Sometimes if some exceptions happened to a project, you may not be able to import videos, just create a new project.