Are you spending a long winter now? Not really! The long winter is in Game of Thrones season 7. Although the series of Game of Thrones have only showed on the market for six years from premiered on HBO in the United States on April 17, 2011 to its season 7 ended on August 27, 2017, they have broken record viewership on HBO and have a wide range of active international fan base. Plus, Game of Thrones is widely acclaimed due to its acting, complex characters as well as production values.
Now, let's have a detailed review about Game of Thrones, the latest season 7 and the final Game of Thrones' season 8 episode.
View also: Game of Thrones Audiobook Review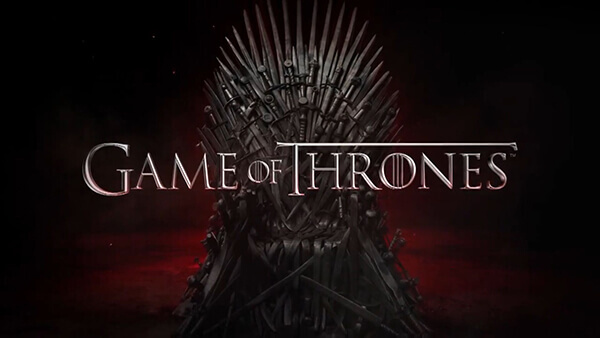 Part 1. Complete Overview of Game of Thrones
Created by David Benioff and D.B. Weiss, Game of Thrones is an American fantasy drama television series, which is based on George R. R. Martin's fantasy novel, A Song of Ice and Fire, the first of which is A Game of Thrones. No matter which season you start to watch, there are three primary story backgrounds you should keep in mind firstly. Focused on the Iron Throne of the Seven Kingdoms, the first story follows the alliance and conflict among dynastic aristocratic families. Most of them choose to scramble for the throne, and others need to fight for independence from the throne. The second story is based on that the last-generation descendant of the ruling Kingdom dynasty exiled and plotted to get the throne. The center of the third story is a long-standing brotherhood that defends the realm for opposing the ancient threats of fierce ethnic and legendary creatures, and the forthcoming winter is threatening the realm.
To be honest, this fantasy drama series has been criticized by some people because of some unhealthy content. But there is no doubt that Game of Throne was also high praised and appreciated by the audience and won various major awards so far. For example, it has received 38 Primetime Emmy Awards, including Outstanding Drama Series in both 2015 and 2016, which is more than any other primetime scripted television series.
Part 2. Game of Thrones Season 7 Introduction
The latest season yet the penultimate season of Game of Thrones, season 7 centers on the third story background and its original content and outline are form The Winds of Winter and A Dream of Spring. This series premiered July 16, 2017 on HBO and concluded on August 27, 2017. In this long winter of Game of Thrones season 7, Daenerys Targaryen has finally set sail for Westeros with Tyrion Lannister, her newly appointed Hand, since Game of Thrones set on the fictional continents of Westeros and Essos. For more detailed description of this season, you can visit this source page: Game of Thrones Season 7.
Part 3. Everything You Can Know about Game of Thrones Season 8
After watching seven exciting Game of Thrones TV shows, as one of the fans, you must want to know when the eighth- the final- series will show on our screens.
Release Date. When you come to this part, you might be disappointed to hear that there is been no official word jus yet about the release date. But it's revealed that the Game of Thrones' final series has begun in October 2017, so it seems to return in late 2017 or early 2019. According to the Hollywood Reporter, it might be more possible to return in 2019.
Casting. Since three Starks survived in season seven, you can also guess it that Maisie Williams will star as Arya, Sophie Turner as Sansa and Isaac Hempstead Wright as Bran, and Alfie Allen as Theon Greyjoy. Besides, Pilou Asbak will play the returning role as Euron.
Content. According to David Benioff and D.B. Weiss, the final Game of Thrones season 8 only includes six episodes. Each episode will last from 60 minutes to 120 minutes.
More Tips: Where to Watch Game of Thrones
Can't wait for enjoying Game of Thrones on your devices? Luckily, Game of Thrones series is available on multiple digital online stores, such as Amazon and iTunes store. Here, I highly recommend you to purchase or rent 7 seasons of Game of Thrones in iTunes so that you can watch them on up to five authorized computers with the iTunes-linked Apple ID. Also, you are able to stream them to your home theatre system via Apple TV with ease. If you don't have an Apple TV or would like to enjoy Game of Thrones on non-Apple devices, such as Android phones and tablets, smart TVs, and others, you can use a third-party iTunes DRM removal software, called DRmare M4V Converter to remove DRM protection from your purchased and rented iTunes movies and TV shows and convert iTunes M4V videos to other common formats, like MP4, MOV, AVI, MKV, etc. After that, you can watch your Game of Thrones on any device you want.