Game of Thrones is an American fantasy drama television adapted from the novel A Song of Ice and Fire. It tells the story of a medieval country's civil war which is set on the fictional continents of Westeros and Essos where seasons stretch on for years. When the story begins, a decade-long summer is ending and the winter looms. Different characters and families involved to battles and claim the Iron Throne of the seven kingdoms. It is bloody, sexual, vengeful.
If you have watched Game of thrones, you should be familiar with the phrase "Winter is coming". After about 8 years since its premiere, the final season of the best TV series Game of Thrones Season 8 is currently showing on HBO. In this season, we will see the final war between the white walkers the dead and the human. Undoubted this season is most anticipated. Read along to find out more details about season eight. You can also check Games of Thrones season 7 review which we post previously.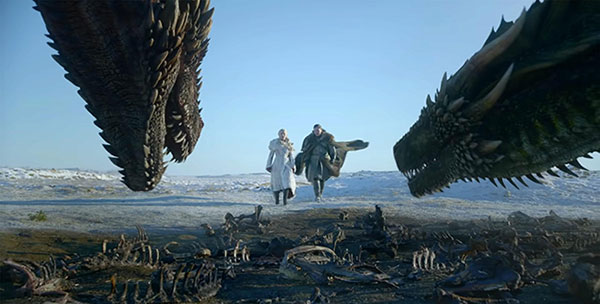 Part 1. Quick Instruction about Season 8
Main Cast
The Game of Thrones season 8 premiered on April 14, 2019, directed by David Nutter, Miguel Sapochnik, David Benioff & D. B. Weiss.
It stars Peter Dinklage who won an Emmy as Tyrion Lannister, Emilia Clarke as Daenerys Targaryen, Lena Headey as Cersei Lannister, Kit Harington as Jon Snow, Maisie Williams as Arya Stark, Nathalie Emmanuel as Missandei, John Bradley as Samwell Tarly and so on.
Episodes
Unlike the previous seasons 1~6 each has 10 episodes and the 7th has 7 episodes, the final season only contains 6 episodes. It mainly consists of the original content not found in the A Song of Ice and Fire, and the materiel from the The Windows of Winder and A Dream of Spring.
Episode 1: Winterfell
Arriving at Winterfell, Jon and Daenerys struggle to unite a divided North.
Episode 2: A Knight of the Seven Kingdoms
Jaime argues his case before a skeptical audience.
Episode 3: The Long Night
Arya looks to prove her worth as a fighter.
Episode 4~6: TBA
Part 2. Who Had Already Died in Season 8 and Who Will Survive
Who Has Died
Beric Dondarrion - He was stabbed to death by the White Walkers when he try to save Arya Stark.
Eddison Tollett - Eddison was stabbed in the back by the Night King's undead army.
Theon Greyjoy - To try to save Bran, Theon was killed by the Night King himself.
Lady Mormont - Lady Mormont was seized and killed by a giant White Walker though she stabbed the undead giant in the eye.
Jorah Mormont - To protect Daenerys, Jorah was killed by White Walkers.
Melisandre - She survived the battle but then she aged hundreds of years into a very old women and turned into dust.
Who Will Survive In the End
Following are the two characters who will most like to survive in the Game of Thrones final season.
TYRION LANNISTER - He is the most popular character in this series of TV shows. Borned as a dwarf, his father and sister don't like him except his brother Jamie cares about him. But he is smart and erudite, letting him get out of trouble all the time.
SAMWELL TARLY - This is a more or less self-insert character to represent the author George R.R. Martin. As a fat man who doesn't have skill to fight, but he likes to read and with a kind heart. He is not likely to be killed in the TV shows, which also represents the value choice of the author.
Part 3. Where to Watch Game of Thrones Season 8
The Game of Thrones season 8 is hot broadcasting. If you are in USA, You can watch it from the HBO channel. If you are in the UK, you can watch it through Sky Atlantic and NOW TV. If you in Canada, you can watch it from CRAVE. Other sources you can check are Foxtel, SoHo, Hotstar, WAVO.
Also, if you haven't watched the previous 7 seasons or you simply want to backup Game of Thrones videos, you can buy them from the iTunes store. It is at a relatively low price compared to buying them through Blu-ray DVDs.
Finally, iTunes movies are limited with DRM protection, making them only playable on Apple's media platforms. If you'd like to distribute Game of Thrones to other devices like Android, Windows, Linux, you can also delete DRM protection and convert iTunes M4V to MP4 by using the DRmare iTunes Movie Converter for Mac. You can evaluate it for free.
Part 4. What Do You Think about Game of Thrones Series
"Hands down one of the best TV series of all time. Possibly the most popular and anticipated in the history of TV. That is amazing."
"The war between the living and the dead from the final season of Games of Thrones is shocking. I am eager to see the more shocking war to come."
"I feel that when a lot of my favorite characters die, but I really like the chapter."
The Game of thrones season 8 receives a lot of positive reviews from both the fans and critics. Undoubtedly, it is a hot hit you should not miss.
What do you think of the TV series? Please do not hesitate to share your comments with us below.