Directly by Steven Spielberg, Ready Player One is a 2018 American science fiction adventure film. This movie is based on Ernest Cline's 2011 LitRPG novel of the same name, what is called a "nerdgasm" of a novel by one writer –was subjected to an unusual degree of Internet per-hate.
But the novel and the movie Ready Player One are totally different beasts. In the film version, the true world is on the brink of chaos and collapse, which leads people to escape from reality by using a VR system, called OASIS, in which you can be anyone and do anything.
As the Spielberg's latest sci-fi masterpiece, Ready Player One is a piece of work that can bring people into the virtual game world. Anyway, this video game is about the symbol of youth. If you are eager to experience amazing virtual world and achieve the dream of saving the world, it's a recommended movie to view. Now, let's have a look at more details of Ready Player One.
View also: Top 8 Best Thanksgiving Movies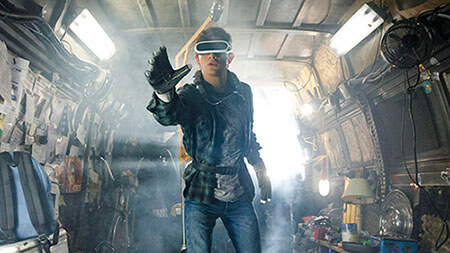 Part 1. Ready Player One Movie Details & Credits
Release: Ready Player One premiered at South by Southwest on March 11, 2018, was theatrically released by Warner Bros. Pictures in the United States on March 29, 2018, in 2D, Real D 3D, IMAX and IMAX 3D.
Cast: It was written by Zak Penn and Ernest Cline as well as produced and directed by Steven Spielberg. This files stars Tye Sheridan as Wade Owen Watts, better known in Pasis as Parzival, Olivia Cooke as Art3mis, Ben Mendelsohn as Nolan Sorrento, Lena Waithe as Aech, Simon Pegg as Ogden Morrow, Win Moriski as Daito, Mark Rylance as Anorak and Philip Zhao as Shoto.
Plot: This movie happens in the year 2045. Under the background of the real world being been on the verge of confusion and collapse, people all would like to escape the desolation of the real world in the OASIS, an immersive virtual universe created by the brilliant James Halliday (Anorak), in which you can do what you want to do, be what you want to be and go where you want to go. The only thing to limit you is your own imagination.
When Oasis creator Anorak died, he left his immense fortune and control of the Oasis to the winner conquering three challenges to find a digital Easter egg that he has hidden somewhere in the Oasis. This surprise news sparks a contest gripping the entire world.
Orphaned teenager Wade Owen Watts (Parzival) who is an unlikely young hero conquers the first challenge of the reality-bending treasure hunt. As a result, he and his friends-known well as High Five are in a fantastical yet dangerous virtual universe. They will try their best to find the digital Easter egg before indentured players working for a large company, run by psychopathic businessman Nolan Sorrento, can do so. Will Parzival and his friends save the OASIS and their world? You can get the answer by yourself.
Part 2. Character Introduction of Ready Player One
Wade Owen Watts/Parzival: Wade is merely an ordinary person living in a slum area in the real life, and he is shy, not gregarious, and without a sense of presence. However, in the OASIS, he is a super hero in people's minds, because of his confidence, courage and wisdom. Loved by everyone.
Samantha Cook/Art3mis: Wade's love interest. She is a famous Gunter, one of the High Five. Her work is to ensure that the OASIS is kept free and out of the hands of IOI.
Aech, Daito, Shoto: They are all the members of High Five, who are searching for the Easter egg. They have different personality characteristics and powerful skills.
Nolan Sorrento: The CEO of the IOI (Innovative Online Industries). Nolan Sorrento is the leader of the Sixers and would like to make a full control over the OASIS.
James Halliday/Anorak: The deceased co-creator of the OASIS. He is the Initiator of this contest.
Part 3: Watch Ready Player One Anywhere
Now, are you interested in watching Ready Player One to explore the virtual world with High Five? In order to view this fantastic science fiction action adventure movie, there are two ways for your choice. You can buy a movie ticket to see it in the local theatre. Or you can choose to purchase or rent Ready Player One from online digital store, if you prefer to watch movies with family at home theatre system.
As far as I known, Ready Player One is available in iTunes store. So you can purchase it from iTunes. But if you don't have an Apple TV 4K, you will meet some obstacles when importing Ready Player One to the big screen due to DRM protection technology encoded in iTunes files. You have to use DRmare M4V Converter for Mac to remove DRM copyright protection and then you are free to enjoy iTunes Ready Player One anywhere. Also, you can backup this iTunes movie on any device. Hope you have a good time of exploring Ready Player One's virtual world.