It has been about 40 years since the first Star Wars movie was on show. Today it still has a big influence on millions of fans and media industry etc. all over the world. Star Wars is one of the most successful sci-fi film franchise which made over $7.5 billion at the box-office and won seven Academy Awards.
It depicts the adventures of various characters 'a long time ago in a galaxy far, far away' which include seven episodes to date with two in the works and other spin-off films. The original trilogy of Star Wars is the story of the hero's journey. With the rise, fall and redemption of Anakin Skywalker as a tragic hero, we see the saga of timeless plots, epic space battles.
Now the new sequel Star Wars 8: The Last Jedi is only a month away. And more and more rumors and trailers about it are disclosed.
View also: A Star Is Born Movie Review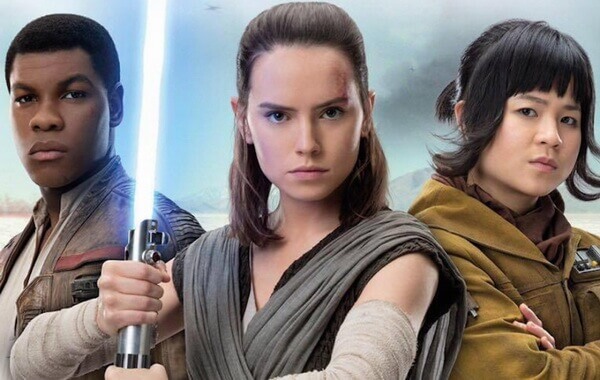 Part 1. What We Know So Far about The Last Jedi
The Last Jedi follows the 'Star Wars 7: Awakening of Force', tells the story of what happened after the 'First Order' of terror regime hit the capital of the new republic in the distant Milky Way. Many fans of Star Wars can't wait to see the new sequel, here we will show you everything about it.
Release Date: Episode VIII The Last Jedi will be on show in UK on December 14, 2017 and December 15, 2017 else where. Much info shows the episode has been proceeded smoothly and will released as expected.
Casting: Directed by Rian Johnson. It stars Carrie Fisher, Mark Hamill, Daisy Ridley, Adam Driver, Oscar Isaac, John Boyega, Andy Serkis, Lupita Nyong'o, Domhnall Gleeson, Anthony Daniels, and Gwendoline Christie in returning roles. New cast members include Laura Dern, Kelly Marie Tran, and Benicio del Toro.
Trailer: In the trailer, it shows the actress found the elder Luke Skywalker on a scenic island with flashbacks of the new movie, Darth Vader mask fragments, then appear the Millennium Falcon, warships and other wonderful scenes. Finally, Luke says: 'I only know one truth: it's time for the Jedi to end.' There are multiple guess about what is it mean such as will Luke turn to the dark side etc. or other of things but chances are good that it's a reference to Luke's new Padawan, Rey. The info are still limited, you have to wait until it is released to find all the info though.
Part 2. Previous Star Wars Episodes Introduction
Previous to The Last Jedi, there are 7 Star Wars episodes released. To find out the detailed plots and the entire story, you'd better watch the previous Star Wars movies first in case you still haven't done that yet. The 7 Star Wars episodes includes the original Star Wars trilogy, prequel trilogy and one sequel Star Wars: The Force Awakens.
Prequel trilogy
1. The Phantom Menace. Released on May 19, 1999, directed by George Lucas, produced by Rick McCallum. To defeat the invaders on the planet, Naboo Padme have to spread out fugitive, where she met Anakin for the first time.
2. Attack of the Clones. Released on May 16, 2002, directed by George Lucas, produced by Rick McCallum. Under the background of the Clone Wars, Padme and Anakin fell in love.
3. Revenge of the Sith. Released on May 19, 2005, directed by George Lucas, produced by Rick McCallum. Padme gave birth to Luke and Leah and died, Anakin turn to the dark side and help Sith, Empire was proclaimed.
Original trilogy
1. A New Hope. Released on May 25, 1977, directed by George Lucas, produced by Gary Kurtz. Under the dark rule of the empire, Luke, Leah, and pilot Han Solo came together to kill the deadly weapon of the empire, Death Star.
2. The Empire Strikes Back. Released on May 21, 1980, directed by Irvin Kershner, produced by Gary Kurtz. The battle against the Empire become trough.
3. Return of the Jedi. Released on May 25, 1983, directed by Richard Marquand, produced by Howard Kazanjian. Luke, Leah, Han Solo to regroup, explode the new death star, overturn the empire.
Sequel episode
1. The Force Awakens. Released on December 18, 2015, directed by J. J. Abrams, produced by Kathleen Kennedy, J. J. Abrams and Bryan Burk. Tells the story of Rey and Finn and the heroes who work together to fight the 'First Order' terror regime.
Part 3. Watch Star Wars Movies from iTunes
These previous Star Wars movies will help you learn more about the new sequel The Last Jedi. If you are excited about the Star Wars but haven't watched them before, you can buy them from iTunes and watch them on your computers or IOS devices. They are full of imagination and special effects which still hold up together. However, one small thing you should note is that as iTunes movies are DRM protected, they are only playable on authorized Apple devices. You may not watch them through wide screen TVs or save them to play on other devices without authorization.
To enable you to enjoy Star Wars movies from iTunes freely, another feasible solution is to transform them to common videos with the all-around software DRmare M4V Converter for Windows/Mac. It supports to crack iTunes movies and convert them to new formats of movies such as MP4. Then you can play them anywhere. For your convenience, here is the full tutorial: How to Convert iTunes DRM M4V to MP4.