Have you ever thought that is there a humanoid amphibian creature in the world and it fall in love with a woman? Actually, this horror but romantic plot has happened in an American fantasy drama film, called the Shape of Water, which can compare favorably with Pan's Labyrinth, Guillermo del Toro's 2006 masterpiece.
Also directed by Guillermo del Toro, master story teller, this movie focuses on the perfect balance among dream, nightmare, realism and romance, which gives you an enchanting re-imagining of "Beauty and the Beast". If you have not watched this extraordinary movie once, obviously, it's time for you to view the Shape of Water.
View also: Top 8 Best Thanksgiving Films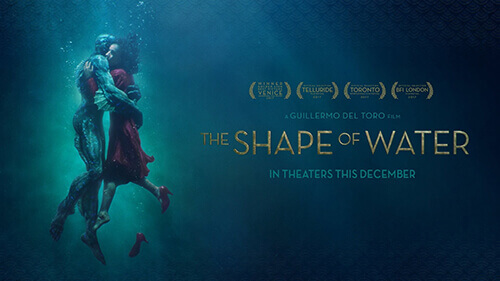 Part 1. Detailed Overview of the Shape of Water
Release: The Shape of Water premiered on August 31, 2017 on the 74th Venice International Film Festival with the main competition section. It began a limited release only on Friday in New York City on December 1, 2017. It opened in Los Angeles on December 8 expanding to further cities in the following weeks. This digital HD film is available in Amazon and iTunes from February 28, 2017 and DVD and Blu-ray version of the Shape of Water has been released on March 13, 2018.
Cast: Written by Guillermo del Toro and Vanessa Taylor and produced by del Toro and J. Miles Dale, it stars Sally Hawkins as Elisa Esposito and Doug Jones as Amphibian Man. Rounding out of the cast are Michael Shannon as Strickland, Richard Jenkins as Giles, Octavia Spencer as Zelda, and Michael Stuhlbarg as Robert Hoffstetler.
Plot: Under the background of Cold War in America in the early 1960s, the Shape of Water takes place in an underground high-security government laboratory. Elisa, who doesn't speak, works as a cleaner at this secret tab to live a literal quiet life. Until one day, she and her co-worker Zelda discover an astonishing secret that scientists are studying a sea creature captured in South America. It's humanoid, but slickly amphibious, with gills, spines and very sharp teeth. Elisa saw that humanoid creature is being violently studied for getting powerful research material. So she decided to save it from this nightmare. From that, Elisa starts to fall in love with this fish-man.
Part 2. Awards and Nominations of the Shape of Water
Beyond of doubt, the Shape of Water is a successful fantasy drama movie. It received critical acclaim from almost all critics and viewers because of its performances, screenplay, direction, visuals, production design, and musical score.
The American Film Institute considers the Shape of Water as one of the top ten movies in this year, 2017.
In the 90th Academy Awards, it was nominated for seven awards, winning for Best Picture, Best Director, Best Original Score, as well as Best Production Design.
In the 71st British Academy Film Awards, it earned twelve nominations and won three awards, including Best Director, Original Music, as well as Production Design.
At the 23rd Critics' Choice Awards, the Shape of Water also received fourteen nominations and won four awards, including Best Picture, Best Score, Best Production Design and Best Director.
At the 75th Golden Globe Awards, it received seven nominations and won two titles, including Best Director and Best Original Score.
In the BAFTA Awards of 2018, it has been nominated for 12 BAFTA awards and won the BAFTA Film Awards, including Best Production Design, Original Music and David Lean Award for Direction.
At the 2018 Los Angeles Film Critics ASSN, the Shape of Water was nominated for five awards, winning for Best Cinematography, Best Actress, and Best Director.
Part 3. Watch the Shape of Water on Big Home Theater System
In our daily life, it seems impossible that a human woman loves an aquatic, humanoid creature. Obviously, this point is the biggest highlight in the Shape of Water created by del Toro. As a matter of fact, Elisa has no ability to speak words and she is as silent as the sea creature. So they can communicate through sign language and body language to make them closer. In this way, Elisa and fish-man are equal. It's not surprising they can fall in love with each other.
As for which online store to purchase the Shape of Water, I have mentioned that you are able to purchase and rent this movie in digital HD and Blu-ray from Amazon and iTunes. So you can choose the favorite digital store to purchase it. However, one thing you should keep in mind is that movies purchased from Amazon and iTunes are encrypted with DRM technology and you are only allowed to play them on selected devices and platform. In order to watch the Shape of Water at the big-screen smart TV, you should decrypt DRM protection. Taken iTunes movies as example, you can use DRmare M4V Converter to convert iTunes DRM M4V to smart TV compatible formats so that you can enjoy the Shape of Water on big home theater system. If you have no idea about removing DRM from iTunes videos with DRmare software, there is a complete tutorial for your reference: How to Remove DRM from iTunes M4V Movies.