As the one of the best dramas of 2017, Three Billboards Outside Ebbing, Missouri won many top prizes such as Golden Globe Awards and BAFTA Film Awards, etc. Though it failed to won the Best Picture competing with The Shade of Water, it still take the Best Actress, Best Supporting Actor Prizes home in the 90th Academy Awards of 2018.
This movie is a tragicomedy about a mother who rents three billboards to call attention to her daughter's unsolved murder. It is full of anger, violence, humor, vengeance and so on. Watching this movie is like seeing the people and things happening around us, letting us feel deeply, laugh loudly and think hard. It is a must-see movie for every video lovers.
View also: Top 8 Best Christmas TV Shows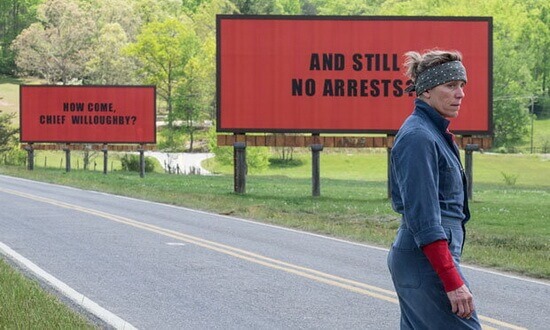 Part 1. Details and Casts
Genre: Three Billboards Outside Ebbing, Missouri is a drama, crime, comedy film written, directed and produced by Martin Martin McDonagh. Frances McDormand show excellent performance in this 115 min feature movie. .
Release Date: The film was released on November 10, 2017 in USA and it was already on DVD, Blu-ray, 4K Ultra HD on 27 February 2018.
Starring: Frances McDormand, Woody Harrelson, Abbie Cornish, Alejandro Barrios, Lucas Hedges, Peter Dinklage, Riya May Atwood, Caleb Landry Jones, Clarke Peters, Darrell Britt-Gibson, Samara Weaving, Jason Redford, John Hawkes, Kathryn Newton, Kerry Condon, Sam Rockwell, Zeljko Ivanek.
Box Office: Until Mar 16, 2018, Three Billboards Outside Ebbing, Missouri received a total of $144.7 million globally with $53.6 million in the USA and Canadae, and $91 million in other countries.
Part 2. Three Billboards Outside Ebbing, Missouri Summary
The daughter of Mildred (Frances McDormand) was brutally murdered while she was outside from home, and the marriage between Mildred and her husband Charlie (John Hawkes) was ended. Mildred now lives with her son Robbie (Lucas Hedges). Several months have passed, there is still no process and the police seem to have already shifted their attention away from this case. Being desperate and painful, Mildred rented three giant billboards on the side of the highway near the village to accuse the police of the incompetence and push pressure to Willoughby (Woody Harrelson). But in fact, Willoughby have already tried his best and always concealed the fact that he had a life-threatening illness. Because of these three billboards, the lives of Mildred and Willoughby have been changed tremendously.
Part 3. Some Thoughts about Three Billboards Outside Ebbing, Missouri
In this movie, my biggest impression about the characters is 'anger'. We see a mother fight for her daughter without any fear. But this is not a simple movie about the love of a mother or etc. It is much more complicated than that.
We all knew that anger is a sin. Perhaps we may say we should treat others with love and forgiveness. It is easier said than done! Everyone has its own pain. Should we blame Mildred for her unreasonableness, paranoid or Willoughby 's incompetence? Or is it right to chase for justice and don't care about others' feelings? If we know Mildred has a family with violence from his husband and Dixon is suffering a cancel, we surely won't make a comment easily without knowing others' background and what they have undergone. Because this is humanity and there is no simple right or fault in the world.
The movie didn't tell us an exact answer and let's think it out by ourselves in our true life. In my option, life is racist, sexist and cruel, it is never easy for anyone. It is right that we should fight for the fairness and justice through anger. Only through this way, we can understand the others with more love and forgiveness finally.
Part 4. Watch the Movie Online
Is Three Billboards Outside Ebbing, Missouri still on cinema? It depends. As it has been released for several months, so it is not on cinema for some countries any more.
But you surely don't need to worry. You might watch them by buying a DVD or Blueray. However, the best way it to watch it online. I would recommend you to do that through iTunes. You can either buy it at $9.99 or rent it at a 5.99 to save money. What's more, you can get the iTunes Extras which is great if you really appreciate the movie.
The only problem is that you can't transfer the movie outside Apple's devices and you might not keep the film forever if you rent it only. In this case, DRmare M4V Converter for Windows/Mac can do you a favor to simply bypass the FairPlay DRM protection so that to play it anywhere such as on Android devices and own it forever. For more tutorials, visit: How to Play iTunes M4V Movies on Android.