Audio editing needs more than meets the eye, especially, for technologically new folks. But the beauty is that you get a better-processed sound. And in the present age, you can get powerful music making software for utmost perfection.
These tools let you compose, mix music, record, and ensure that the only perfect music gets to your ears. In a nutshell, you have aid to walk you through the paths of music production. Look no further than these top 5 music creation software.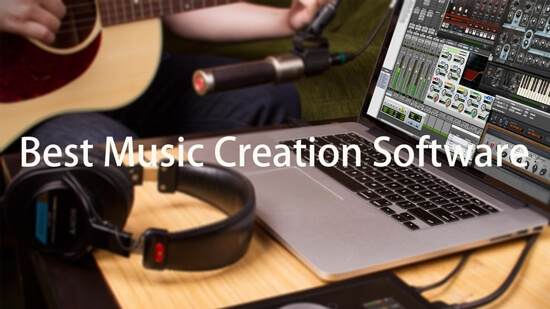 No 1. DRmare Audio Capture
The first music producing software on our list is DRmare Audio Capture, for all the good reasons. It's basically, the easiest way to record music from any media apps. This tool will not only give you what your ear yearns for, but it will also support the download of offline music from many platforms like NetFlix, Pandora, VLC, KMPlayer, among other music streaming apps and devices. The major drawback is the inability to do a live performance.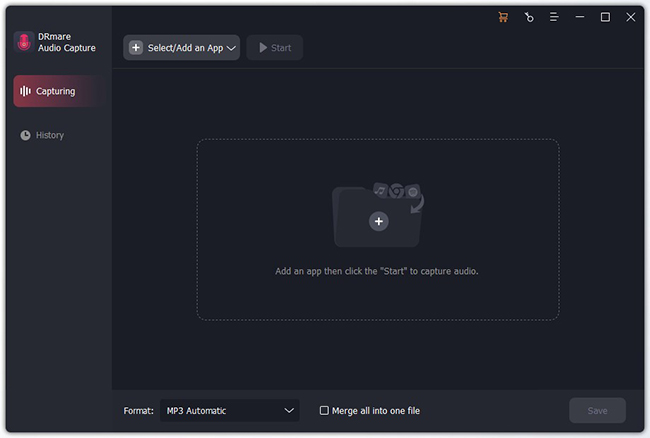 Multiple Track recording
This feature is meant to speed up your work. It works by downloading all your played music simultaneously for a perfect outcome.
Trim and Edit
You can rearrange your songs for numerous functionalities like embedding them to your videos, using it as a ringtone or alarm clock. Simply cut, merge, split any song of choice for new adventures.
Handling Different Music Formats
No matter the device of choice, DRmare Audio Capture is a perfect audio converter that supports many formats. So, whether it's M4A, M4B, WAV, MP3, among others, this tool is the bomb! Besides, you can adjust presets and change the sample rate and the bit rate as desired.
Lossless quality
You wouldn't need to worry about losing the original quality of your download music. This music creation software encompasses advanced processing technology to deter noise from interfering with the end product.
No 2. Ableton Live 10 Suite
Choose our number two from the list if you want perfection in live performance. This tool is fully capable of writing, recording, and sequencing of your music. The most notable trait of Ableton Live 10 is that its workflow is quite fast, hence suitable for live performance. You, however, need to part with some bucks for version upgrade. This is a drawback as compared to its peers but remember you get what you pay for!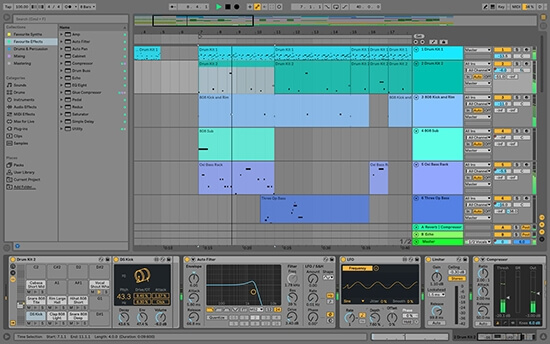 Editing Multiple MIDI Clips
Use this feature to edit bass notes, lead melody, and other areas at once. Simply select a clip of the track in question, check them appear in the clip view, and then carry on with editing.
Capture Feature
This lets you record all that you love without necessarily hitting the 'Record' button. The 'Capture' does all the recordings. Simply hit on it once you realize you need to save a track.
Awesome Audio Effects
These include the drum buss for easy control of the drums, the echo that lets you combine a classic analog feel, and the pedal for sound distortion and overdrive.
No 3. Presonus Studio One Artist 4
This music creation software has made a name for itself with Studio One. Presonus is basically, best for songwriters as you don't need any tab backing and forth on the screens as you streamline. Although it seems ambiguous with its new input channel mixer section, it offers new virtual instruments that are worth exploring.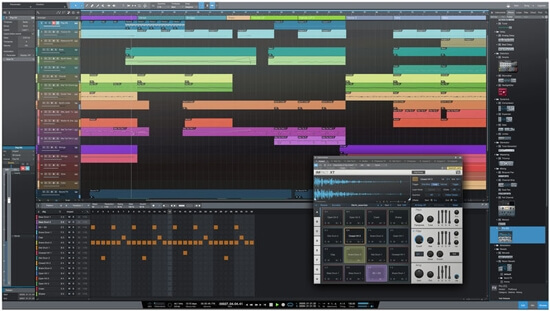 Unlimited Audio Tracks
It comes with an incredible music library for a wide variety.
Editing Features
This tool is full-featured and is useful in helping you master your tracks, record, compose and mix music.
Pristine Sound Quality
It encompasses a 32-bit floating resolution with a capacity to play about 400 kHz audio.
Melody Composition
The availability of a new input channel mixer section ads polarity controls that let you combine both the software and hardware controls.
No 4. FL Studio 12
SIt is indeed the safest passage to use if you want music to freely flow from your brain. Its distinctive feature is the ability to record both internal and external audio. Furthermore, this music making software is an all-around tool for composing, arranging, mixing and editing your record in simple steps.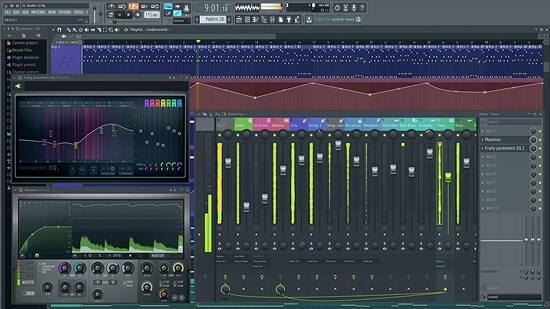 Records Unlimited Audios
It gives the leeway to record whatever number of sessions that your computer hardware can support.
Advanced Editing
You can also arrange audios as you like by cutting and pasting, trimming, merging, and splitting your files.
Rearrange Audio
You can do this by simple clicks via time stretching, pitch shifting and beat slicing for an excellent outcome.
No 5. FilmoraPro
FilmoraPro is another of the best music production software with edge-cutting capabilities. This tool is pretty easy to use, enabling you to turn your videos into a wonderful piece of art via simple drag and drop criteria. And with over 800 stunning video effects, you definitely have what it takes to attain the best video.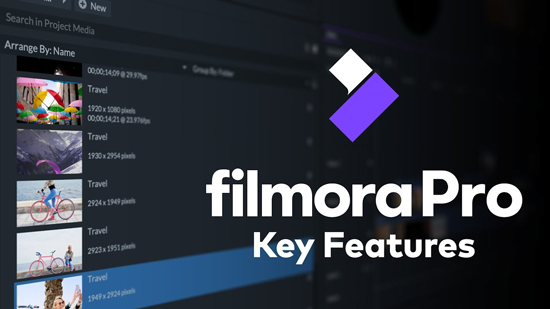 Hollywood Effects
This tool comes with advanced video editing features to let you unleash your creativity. These include audio mixer, pan and zoom ability, video stabilization, audio equalizer, and much more.
Edit Videos with Minimal Effort
Easily rotate, crop, trim, and flip videos using its simple user interface.
Compatibility
You can also import and share your videos and photos in any format like MPEG, AVI, MP4, M4V, TIFF, JPEG, and many others.
Allows Audio Transition
You can share your audio and videos in whatever way you find it favorable. This can be uploaded to social media or via iPhone, Mac, Windows, and Android OS devices.
Conclusion
Whether you need music-making software for pitching corrections, slicing audio, or to capture your videos, this list completes it all. All you need to consider is your budget, experience level and compatibility aspect among other nitty-gritty like live performance capability. Otherwise, there is still a plethora of cutting edge tools that you can explore.
Remember! You need to get nothing less than what you downloaded. So, taking into account the lossless quality of a music making software tool is another opinion to hold on to.