"I am a web designer and I browse websites often to correct materials I need. For pictures, I can easily save to my computer. But for music, I found it is hard to download it as few websites offer the save option. Can I record audio from website conveniently?"
"As an audiophile, I listen to different kinds of music from Internet. Sometimes I found special songs that I really love. Instead of buying, can I extract music from website for free?"
Good music is everywhere. With the coming of digital streaming media era, we can access to a large amount of songs from different sources like Spotify music, Pandora radio, YouTube website and so on. One small caveat is that you may only have the right to listen to music online. If you'd miss the good old days when you can download and distribut music anywhere, now it is time to retrieve the privilege by recording music offline.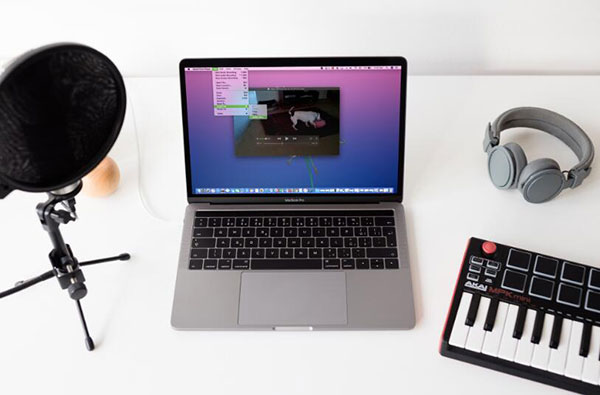 Part 1. What You Need to Record Audio from Website
If you enjoy downloading music, chances are that you have tried multiple free audio recording software online or music downloaders, which are available for free online. But you may not be satisfied with the output music files.
For such a recording freeware Apowersoft Audio Recorder Online, usually you need to start the recording process manually before you play the song on website and stop it when the playback is end. There will be some useless blank segements in your output song. In addition, if there are some unwanted sounds such as clicks, pop up sound on your computer during the process, they will exist on your recorded music.
It is almost impossible to get a perfect version of the songs with free tools.
Best Audio Recording Software
Don't worry, that is where DRmare Audio Capture for Windows (or DRmare Audio Capture for Mac) come into play. DRmare startup team learn the full requirements of many users to design the best audio recorder in the market.
First, it supports to capture audio from all kinds of websites such as Spotify, BBC, Pandora, iHeartRadio, CBS, Hulu, Netflix with any browsers Chrome, Safari, IE Explorer, Firebox. Second, it supports to record multiple music automatically and simultaneously. You just need to play the songs on your browser, DRmare software will record them immediately. Finally, it is a truely lossless recorder which keep 100% quality. This is unmatched by and free recorders.
A little small drawback is that DRmare Audio Capture is not free, so you have to pay a few dollars to buy a license to activate it if you want to get full features. Anyway, you can try it out for free.
Best Online Audio Recorder In the World
Part 2. Steps to Download Audio From Website Conveniently
Step 1

Open DRmare Audio Capture

After launching DRmare, you will see the main screen with a list of supported browsers and apps which are supported to record music from. Please make sure Chrome is on the list. If not, you can simply click "+" to add it.
Step 2

Customize output format (optional)

The default output format is set to MP3, you don't have to change it. But if you do, you can simply click the "format" icon, then you will see a popup window with customizable options such as format, channel, sample rate, bit rate.
Step 3

Play your music with the browser

You can launch your browser to open the website and play the music you like, DRmare Audio Capture can detect the song and record it automatcially. If you'd like to rip audio from multiple websites, you can open more tabs to play songs from other websites.
Step 4

Edit music (optional)

Generally you don't have to do any changes to your tracks because they are recorded completely and losslessly. But if you just want to trim the songs for other usages such as iPhone ringtone, Android alarm and so on, you can go ahead to trim/cut them according to your requirements. Just hover your cursor to the song and click the "Editing" icon.
Step 5

Find the downloaded songs

When recording, the songs are saved in cache. To keep them forever on your computer, please click "Save" button, they will be saved to the default output folder. If you don't know what your output folder is, you can click the top "Help" menu and choose "Preferences" to open the settings window and change it there.
Part 3. Wrap Up
So easy, right? With the DRmare Audio Capture, you can extract any songs from any websites automatically. What you need to do is to play the music and click "Save" button at last. It supports batch processing technology, so you can download multiple songs at once without interferes. Compared to free streaming audio recorders, it will not only save your time but also save your energy. You don't need to worry about the quality. Alls the songs are kept with lossless quality without any unwanted segments.
Finally, I want to note although DRmare Audio Capture is completely legal to use, but please don't try to sell the recorded songs for making money online as DRmare software is only for personal use.
If you like this tips, plase click the share icon from the right side to share with your friends. And if you have any questions, please feel free to let's know on the comments below.