Users nowadays have much more choices in the digital music area compared to the past when audio fans mainly have the limited options to buy and listen to music from CDs, cassettes.
Today we can get access to not only different kinds of streaming music services Tidal, Spotify, Apple Music, Amazon Music, etc. but also more types of audio files including Audible audiobooks, iTunes podcasts, radio, broadcasts and so on, making it most convenient to enjoy favorite audios.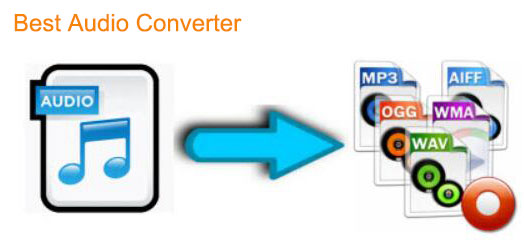 However, giving the situation that there are so many different formats of files like M4P, M4A, M4B, AA, AAX, OGG, FLAC, MP3, you are more easily running into the audio compatibility problem than before. That is not a surprise due to the formats are so particular and there is not an audio player that supports all of the files. In addition, in modern society companies pay much more attention to copyright protection, almost every streaming music platforms are incorporated with the DRM mechanism to prevent distributing songs elsewhere.
Many audio fans find it really frustrated when encountering audio playback problem with no solutions. Actually it is very easy to fix it. Depending on the format of music, you just need a corresponding audio file converter. Now let me show you further by listing the top 5 list of audio converting software below.
No 1. DRmare Tidal Music Downloader - Best Audio Converting Tool for Tidal
As of the time being, Tidal is the exclusive lossless streaming music in the world. It is best known for its lossless up to 1411Kbps songs and exclusive music from some big stars like Jay-z Beyonce, Daft Punk, Madonna. By paying $19.99/month, users can listen to millions of CD quality songs on desktop computers but not other devices.
DRmare Tidal Music Downloader makes it possible to download any Tidal songs losslessly in FLAC format and transfer them to any devices such as mobile phones, portable speakers for playback. Its 5X converting speed which is much faster than any free recorders online and the music managing features, will save you lots of the time and energy. As an innovative company, Audfree is the first and the only company release such a best audio conversion tool. So don't expect to find a similar software elsewhere.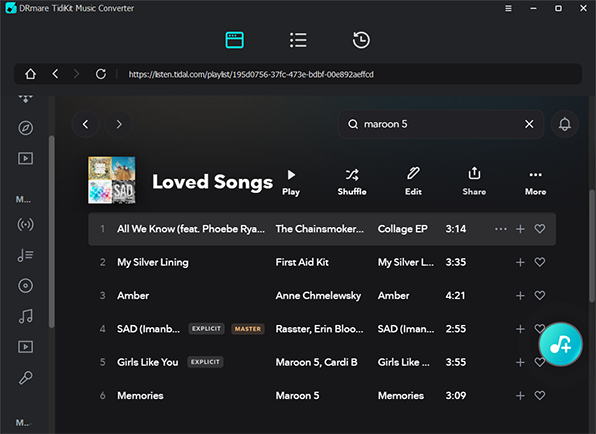 Input Audio Format
Tidal Music format AAC, ALAC, FLAC, M4A, MQA
Output Audio Format
Lossless FLAC, WAV and lossy MP3, M4A, M4B
Pros: 1. Support to convert both music and audiobooks from iTunes. 2. Keep high quality for audio files. 3. Run at 30X faster speed in batch.
Cons: 2. Doesn't support other streaming services like Spotify, Deezer, Pandora etc.
No 2. DRmare Audio Converter - All-In-One Tool for Apple Music, Audiobooks
If you enjoy different types of audio files such as music, audiobook, podcasts especially Apple Music, Audible audiobooks, iTunes podcasts, then DRmare Audio Converter for Mac/Windows is the exact tool for you.
For Apple Music M4P or M4B files, you can authorize them on iTunes first and then you can batch import them to DRmare to convert M4P/M4A to MP3 at 30X faster speed.
For Audible audiobooks, it is even easier. Just drag & drop the audiobook AA, AAX to the DRmare and click "Convert", DRmare Audio Converter will do the remaining job for you.
And you don't need to worry about the output audio quality. All the files are 100% kept with original quality, metadata, ID 3 tags, album cover, title and so on.
With the multiple files compatibility and lossless encoding technology, DRmare is undoubtedly the best audio converter for DRM and non-DRM music.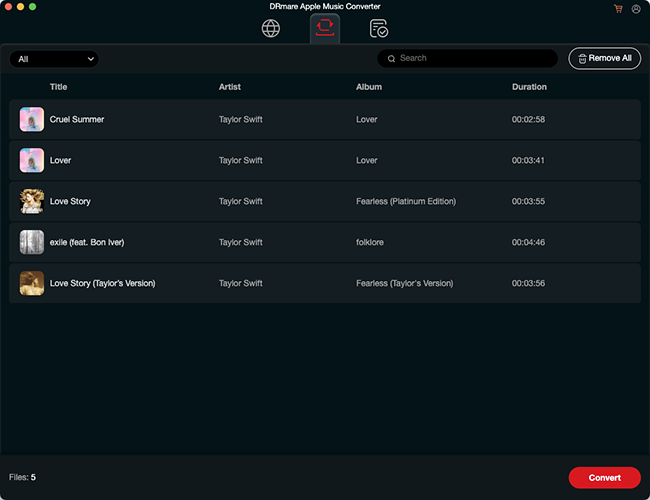 Input Audio Format
Apple Music M4P, iTunes Audiobook M4B, Audible AA/AAX and common music MP3, M4A, WMA, AAC, AIF.
Output Audio Format
MP3, M4A, AAC, WAV, FLAC, M4B
No 3. TunesKit Spotify Music Converter - Best Tool to Convert Spotify to MP3
When it comes to Spotify, it is the most popular and widely used music platform in the world. Yet, there are a lot of third party audio converting app work with it such as NoteBurner Spotify Music Converter and so on. TunesKit is not the first company to release it. But what makes TunesKit Spotify Music Converter stands out are its advanced music encoding technology and friendly user interface.
Instead of using the outdated recording technology, DRmare embraces the newest Spotify music crack technology, converting Spotify music to MP3 audio files has never been easier. The converting speed is 5X and the quality is highly kept, you can't hear any difference after converting. And the friendly experience enables any green users to handle the software smoothly.
TunesKit has been in the DRM area for over 10 years with over 50,000,000 satisfied users all over the world. There is no reason not to recommend such a best music converter.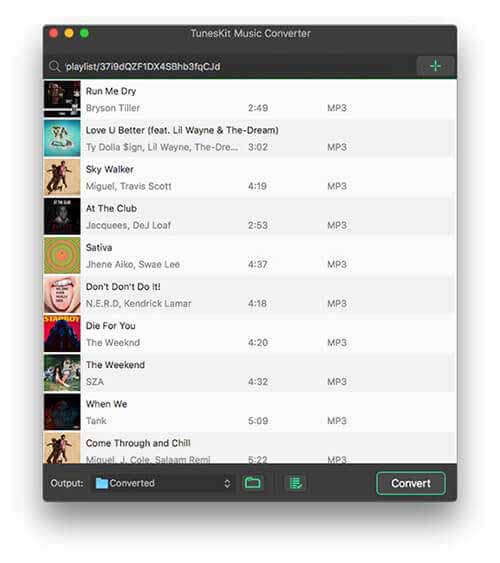 Input Audio Format
Spotify OGG songs, playlists, albums and so on
Out Audio Format
Common music formats such as MP3, M4A, AAC, WAV
No 4. DRmare Audio Capture - Lossless Audio Recorder
Some users may confuse such tool with other free audio recording software. But actually they are totally different. Instead of recording all the sounds come out of your computer, DRmare Audio Capture for Windows/Mac lets you capture music from different apps simultaneously by using the track level monitoring and recording technology.
With this feature, you can record multiple songs from multiple different apps or different tabs of a browser without worrying the songs being interfered with each other.
The best part of DRmare Audio Capture is that you can technically record music from any platforms in the world such as Tidal, Spotify, Apple Music, Amazon Music, Google Play Music. It is also known as a best video to audio converter, YouTube audio converter, The only small drawback is that it is as efficient as other specific audio converters if you just like one music platform only.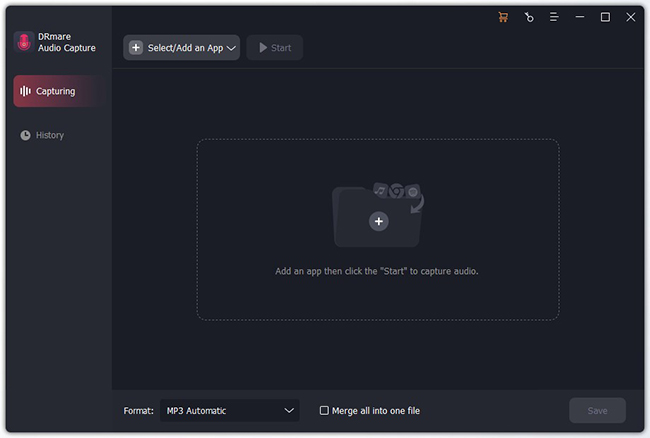 Input Audio Format
Any music that are playable on your computer or online
Out Audio Format
MP3, M4A, AAC, WAV, M4B, FLAC
No 5. Freemake Audio Converter - Best Free Audio Converter Software Online
We don't usually recommend freeware because most of them are combined with adwares or virus and they don't have high performance. But we still still recommend Freemake Audio Converter here considering that many users like free things.
It is clean and safe, so please feel free to download it online. As a best MP3 converter in the market for 7 years, it is trusted by over 63 million users. It supports to convert a large list of audio formats to MP3 for different players, gadgets. Yet, you can edit the bit rate, channels, sample rate and so on.
The drawback is that some quality will be lost during converting. And no DRM music are supported. You can't use it for Apple Music, Google Play Music, Tidal, Spotify, SoundCloud and etc.
But giving that it is a freeware, there is no big thing to complain. In a word, this is a best audio converter app for users who prefer not to invest much on music enjoyment.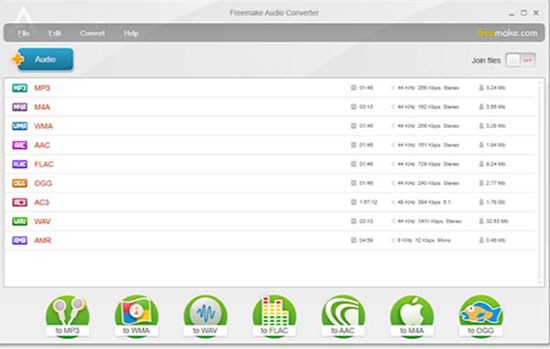 Input Audio Format
Over 50 formats like MP3, AAC, WMA, OGG, FLAC, WAV, AMR, AIFF, ADTS, DTS, M4R, AC3, VOC, etc.
Output Audio Format
Common music format MP3, M4A, WMA, OGG, FLAC, AIFF
How to Select a Best Audio File Converter for Yourself
Now you have learned the top 5 best audio converters we recommended. You may wonder if you need all of these audio tools and are still not sure which one to get. Actually it is very easy, please just think about the following aspects.
Music Sources
All audio files can be divided into two categories DRM and non DRM. Generally speaking, most audio files online including Apple Music, Spotify, Tidal are combined with DRM protection, so the Freemake Audio Converter won't help as it doesn't has the DRM handling feature. If you want to capture songs from all sources losslessly, then you should choose DRmare Audio Capture.
Input and Output Formats
Different audio converting app support different input formats and output formats. If your file format is not on the software input audio format list, that means it is not supported. As for the output format list, you need to make sure it contain the format you like too.
Output Quality and Speed
A good software will help you remove any hassles. All of the 4 paid audio converters we recommend above can keep lossless quality including DRmare Audio Capture, but it is relatively slow. If you cares about the speed very much, you can choose other paid software like DRmare Spotify Music Converter, TunesKit Spotify Music Converter, Audfree Tidal Music Downloader accordingly.
User Experience
Not all the software work in the way you like. To make sure a software is exactly you want, you can download it to try it out. Fortunately all the software mentioned above are available for free download.
Since the best audio converter has much to do with personal preference, we can't really make a decision for you. Just let's know which one you like on the comments sections below and we will be happy to hear your voice.