Work can be tedious, stressful, monotonous. If you are a person like me who work from nice to five, six, seven or even eight, you probably need some extra help from coffee and music to help you keep going. As for me, Music is indispensable just like water. It can not only feeds our soul, but also infuses our work with inspiration, creativity, energy and happiness. As a result, it will increase the office productivity.
But what kinds of music to listen to at work? Undoubtedly, Spotify is the most popular streaming music service. It dominants the playlist market. You may get lost in the Spotify large library with infinite selection of songs and playlists from different genres & moods. To save your time, we have put together the top 8 Spotify playlists which contain all work appropriate songs.
View also:
Top 10 Best Spotify Gym Playlists You Can't Miss
Top 10 Best Study Playlists on Spotify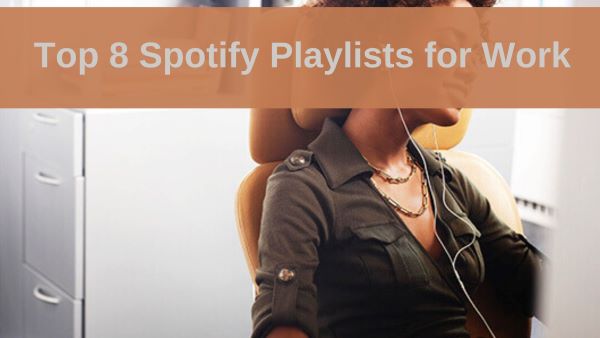 Top 1. Morning Commute
Still feeling sleepy during your commute to work in the morning? This good Spotify playlist will help you prepare your day ahead. It contains motivating and mellow tracks which will put yo in a peaceful mind before introducing you the necessary pep. You don't have to know the music to sing the rhythm with Otis Redding as you are walking through the door.
Before you enter your office, you should be ready for your work quickly. In addition, the melody will also give you some inspiration if you are lacking ideas on creating contents such as writing.
View also: Top 10 Spotify Running Playlists
Top 2. Peaceful Piano - Best Spotify Playlist for Work
If you are feeling distracted constantly, you won't concentrate on completing your job. And listening to upbeat or lyrical music simply won't help but could be counter productive.
In this case, you should definitely turn to the Peaceful Piano playlist. It contains beautiful background tunes which can drown out the excess office chatter effectively. And it can help you calm down quickly. You will be indulged in a new music world without any noise of the real society. Of course, you will work with a more cozy mind and more effectively.
Top 3. Feel Good Friday
Do you work repeatedly day by day and feel depressed in the office sometimes? If so, you need some upbeat songs to help you pumped up.
A study from the Science Magazine shows that individuals who were listening to the excited songs are with higher efficiency levels compared to those who don't. The "Feel Good Friday" have varied selection of motivational work songs from Spotify. The moment you turn on the speakers from your computer with these songs, anyone in the same working environment will be cheerier.
Top 4. New Music Friday
Life is meaningless without exploring new things. As an ordinary person, we spend most our time at work and may not have the chance or time to travel across the world freely.
But this can't stop us from experiencing and learning new knowledge. The Spotify's "New Music Friday" playlist offers a best way to find new fresh songs every week. It may contains a real mix that are different from your usual taste. But isn't it a good idea to learn new songs every day? Trust me, you will surely get surprise thrills from it.
View also: Best Ways to Discover New Music on Spotify
Top 5. Nature Sounds
How long has it been since you visited a park last time? If you are busy with catching up your works and has no time to enjoy the nature, you should listen to this soothing Spotify workplace playlist.
It contains the tracks like waves crashing, streams trickling, bird chirping and so on. According to a society journal, enjoying natural sounds will enhance our cognitive function, satisfaction level and optimize our ability to concentrate. That is why some consumer-facing brands such as Google Home and Noisli are introducing similar ambient sound features.
Top 6. Lyricless Study
There has a discovery from a university the students who listen to sedative music tend to perform better in the test score while stimulative music will significantly increase worry and cause high emotional reactions.
If you are also feel lyrical music is too distracting or your head is dizzy, you'd better go with some instrumental options. This Lyricless is another office appropriate music playlist from Spotify to concentrate you to work and increase your productivity. Need I same more? Why not listen it directly?
View also: Top 10 Spotify Study Playlists
Top 7. Spotify Weekly Discovery
Your own music taste is the key to get the best songs. This Spotify Weekly Discovery playlist is generated based on your listening habits, history and so on and update weekly.
It could contains similar songs from many genres which you have listened to before. You can easily pick your favorites, discover brand new songs and enjoy them. This could be the most effortless way to find good songs to play at work. But please don't forget to save the new songs to your own playlist as the songs may disappear the next week.
View also: Top 12 Best Spotify Tips and Features
Top 8. Get Home Happy
This is a good office music playlist of cheerful tunes for the commute back after work.
After all, work should not be the entire thing of us. We should also have our own life. When you are off work, it is time to get your work off your mind, unwind from the tension and excitement of the day. We can spend the time with our family, kids, friends happily. Besides, it can help us to get ready for the work of tomorrow after getting some rest.
Now Let this eclectic playlist to take you home and easy your mind.
Conclusion&Suggestion: Download Best Spotify Work Playlist Offline
So you have learned the top 8 work friendly Spotify playlists. What do you think of them? Are you going to listen to these songs at work? If so, why not add this page to your favorites and listen to them anytime? Also, if you find other better work music playlist for Spotify which we didn't list here, you can also let's know on the comment section below.
By the way, one thing you may have already found out is that Spotify playlists are not allowed to downloaded offline for playback. This is all due to the digital rights management protection. All the Spotify tunes are encrypted. This is really not convenient if we want to download and back up the songs to listen offline. But is there another workaround to download Spotify playlist to MP3?
Definitely. DRmare Spotify Playlist Converter is one of the best DRM removal tools in the market. It is equipped with the latest DRM decryption technology which guarantee fastest 5X converting speed and lossless. In addition, you can customize the output music format so that to make it work with any devices such as phone, tablets, computers and MP3 players. Still not convinced? Just download it to try it out by yourself for free.