"Does Spotify have audiobooks?" Yes. Spotify is one of the most popular and successful music streaming services all over the world. And it offers an outstanding feature called Spotify audiobooks. It is the Non-Music content that is present online. Listening to these audiobooks brings back so many memories. And it allows us to rediscover the whole story from a new point of view.
In this post, we will show the 10 best audiobooks on Spotify for you. You can check them out and learn more. Also, we will give a tip for you to save audiobooks for offline listening. Now, let's check them out.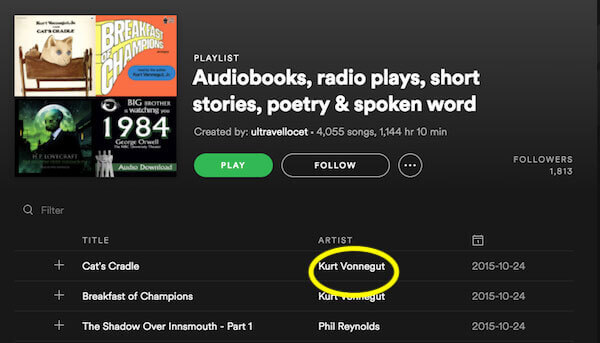 Part 1. 10 Top Audiobooks on Spotify
In this part, you will get the 10 best Spotify audiobooks in detail. Please check them out in detail one by one.
Audiobook 1. Pride and Prejudice by Jane Austen
One of the most beloved stories of all time is Pride and Prejudice. It was released a long time ago and is still in the 50 best audiobooks on Spotify. This British Classic love story of woman named Elizabeth Bennett and her four sisters will be experienced along with sarcasm and humor. You can download this audiobook from Spotify for free and listen to it offline with premium.
Audiobook 2. Alice's Adventures in Wonderland by Lewis Carrol
If you can't concentrate on completing your job, listening to upbeat or lyrical music could be counterproductive. In this case, you should turn to the Peaceful Piano playlist. It contains beautiful background tunes. So, it can drown out the excess office chatter and help you calm down. You will be indulged in a new music world without any noise from the real society. Of course, you will work with a cozier mind and be more effective.
Audiobook 3. The Adventures of Sherlock Holmes by Arthur Conan Doyle
Every person knows about the Sherlock Holmes legends. Whether it is the movie, series, or book, all became so popular worldwide. And now, you can also listen to the most renowned Thriller on Spotify offline. That's because it is free to download after paying the annual fee.
View also: Top 10 Bedtime Audiobooks You Should Get
Audiobook 4. Dante's inferno by Dante Alighieri
It is a very popular Poetry audiobook that is available on Spotify for free in high-quality audio. It is one of the best Spotify audiobooks and is loved by every single person who heard it. This audiobook is available on Spotify for free listening.
Audiobook 5. Robert Frost Read His Poetry by Robert Frost
If you are a diehard fan of poems, then you will love this audiobook. It is available on Spotify for downloading and listening offline with membership. The playlist consists of 14 pieces of amazing and heartwarming poems that will leave the listeners breathless.
View also: Top 10 Best Rap Playlists on Spotify
Audiobook 6. The Phantom of the Opera by Gaston Leroux
The Phantom of the Opera is a musical, drama, and romance story. In the story, the lead falls in love with a disfigured woman. She is a musical genius and forces the owners of the Play to give her the lead role. You will know the beauty in the voice of a young singer and the deadly desires of a man. The audiobook is available on Spotify for free listening.
Audiobook 7. Dubliners by James Joyce
This book is a collection of fifteen short stories. It was published back in 1914. Since then, the book has gained popularity and has stayed among the 100 top audiobooks on Spotify. The stories forefront the conversations between the Realists and the Symbolists while representing the bottom line of the book. The story in the book gives the representation of the revolutionary nature of the characters making them rebellious in nature. You will find these short stories intimidating enough to give you a whole new perception of the struggle of life.
Audiobook 8. The Metamorphosis by Franz Kafka
This story is a very interesting one. One day a simple traveling salesman wakes up in his bed but as a large insect. In the book, the story is depicted that how his life changed and it affected his family members. The book was quite interesting and had a unique storyline which helped it to get into the top 100 playlists of Spotify audiobooks.
Audiobook 9. Treasure Island by Robert Louis Stevenson
This book has made it to the top 50 best sellers audiobooks on Spotify. The voices in this audiobook will take you ashore in the sea. And it will bring life to the timeless tales of the dangerous Pirates, the lost treasure of the sea and the mystery of maps and mutiny. This audiobook is also available for free download and offline streaming if you have a paid subscription.
Audiobook 10. The War of the Worlds by HG Wells
Listen to the extravagant story of the war between Earth and Mars when Martians invade the state of New Jersey. You will experience the horror and thrill of the story while listening to the Audio. The amazing audio quality and storytelling skills of Maxwell Caulfield will blow away the mind of the listeners.
Part 2. Extra Tips: How to Convert Spotify Audiobooks for Offline Listening
As a free streaming service provider, Spotify not only provides us with a big category of songs but also lots of audiobooks. The online streaming is free. If you'd like to get a free audiobook, Spotify provides you with another option do that. And if you are new to this, you can refer to the top 10 Spotify audiobook lists to find the one you love most.
Yet, if you are not a paid user, you can't download audiobooks for offline listening. That is not good because we may not have access an Internet connection all the time. But you don't need to worry either. Here we'd like to recommend the DRmare Spotify Audio Converter to you. It is famous for its 5X converting speed and lossless quality.
With it, you can download and convert audiobooks on Spotify for free at a fast rate. And you will get better output audio quality and full ID3 tags of the Spotify audiobooks. Not only that but this tool can also convert songs, playlists, albums and more from Spotify. Besides, it can convert Spotify songs to WAV, FLAC, MP3 and more plain audio formats.
If you are interested in it, you can also download it to evaluate it for free. Also, you can follow the steps below on how to use it to convert the top audiobooks on Spotify.
Step 1. Download the DRmare Spotify Converter via the 'Download' button above. Then install it and open it at once.
Step 2. Enter the pop-up Spotify app to find any Spotify audiobook you like to convert. Then drag it to the main screen of the DRmare tool.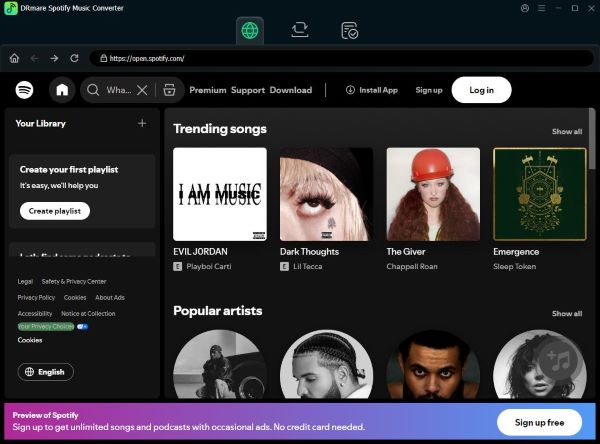 Step 3. Head to the menu icon > Preferences to start to set the output format for your audiobooks. You can reset the audio parameters like channel, bit rate and more as well.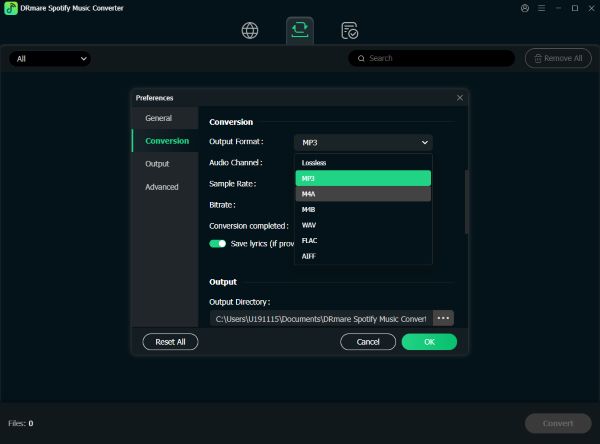 Step 4. Hit on the 'Convert' button to begin to download and convert audiobooks on Spotify. After then, you can move and listen to audiobooks from Spotify for free on any device you want.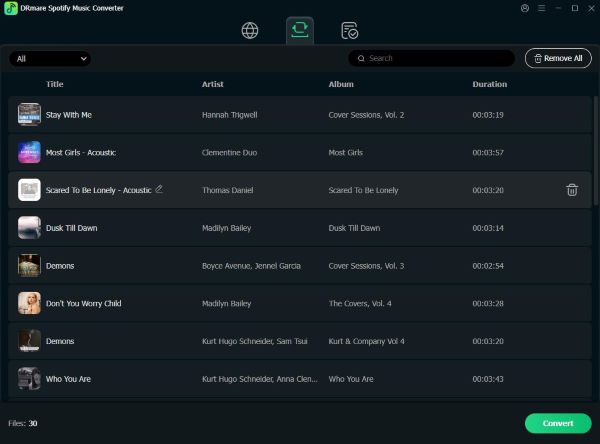 Part 3. FAQs about Audiobooks on Spotify
Q1: Can You Get Audiobooks on Spotify?
A: Yes. Spotify offers audiobooks for its users now. You can go to the Spotify platform to find any audiobook you like to listen online.
Q2: Does Spotify Charge for Its Audiobooks?
A: Yes. The pricing varies from book to book. It costs around or more than $20 for most Spotify audiobooks.
Q3: How to Find Audiobooks on Spotify?
A: You can type and search 'audiobooks' in the search box on the Spotify desktop app. Or you can go to the 'Word' section in the Spotify app to find Spotify audiobooks you like.
Q4: Can I Download Audiobooks from Spotify for Free?
A: Yes. You can do that via the DRmare Spotify Music Converter. It can help get audiobooks and other content from Spotify without Spotify premium. So, you can make it with ease by using this tool.
Part 4. In Conclusion
Here you got the top 10 best Spotify audiobooks recommendations. You can follow the content above and learn more about them. And you can go to listen to them on Spotify. If you want to enjoy audiobooks on Spotify offline, then you would need the DRmare Music Converter. With it, you can download and save audio from Spotify as local files. Then you can play the music files offline anywhere.