From the moment the COVID-19 pandemic hit the entire world, people have so far turned to online entertainment. This is due to the increasing restrictions to stay home and keep social distance. People no longer have the pleasure of get-together moments with family and friends.
Despite this, streaming services have enabled friends to interact and even play games from independent screens. Twitch, one of the leading live streaming services, has been at the forefront of enabling people of all kinds to come together for online gaming. But that's not all; Twitch also hosts videos that you can stream.
Nonetheless, you can even create clips from any broadcast on this live streaming service, hence the need to convert Twitch clip to MP3. An MP3 file is independent and accessible at any time. Here are two ways to convert Twitch to MP3.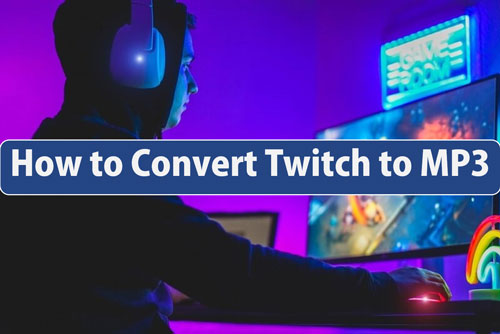 Part 1. How to Convert Twitch to MP3 via DRmare Audio Capture
Since Twitch covers gaming, sports, and talk shows, among others, you may wish to make a clip that records an impressive part of a stream. However, there is no direct way to download Twitch to MP3 for listening later. The best option is to get a third-party tool to negotiate the process for you.
The best tool, DRmare Audio Capture, is a mighty audio recorder that will capture any streams or clips from any streaming service like Twitch, Vimeo, YouTube, Apple Music, Spotify, among others. It downloads audio freely and losslessly while maintaining quality content.
With DRmare Audio Capture, you can enhance your music experience with its abundant editing options. Easily trim, merge, and mix the tracks, among other functions. The speed is apt, letting you do batch recordings of multiple songs simultaneously without interfering with other songs.
When it comes to supporting audio formats, this tool will convert your files to any format like AAC, WAV, M4B, MP3, etc. This makes your files compatible with most devices and players like portable MP3 players, VLC players, Windows Media players, Bluetooth speakers, mobile devices, etc.
By using this Twitch to MP3 converter, you can easily convert Twitch clip to MP3 for listening on any device you want.
Key Features of DRmare Audio Capture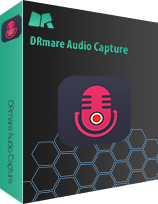 It comprises abundant editing options like trimming, merging, etc.
This tool will preserve the ID3 tags of your files and give you lossless output quality.
Converts your clips from Twitch to MP3, WAV, AAC, FLAC, etc.
It supports the recording of audio from various streaming sites like Twitch, Spotify, Deezer, etc.
A Guide to Convert Twitch Video to MP3 via DRmare Audio Capture
Take a look at how the best DRmare Audio Capture works to automatically and smartly convert video from Twitch to MP3.
Step 1

Install and launch DRmare Audio Capture

Once you have downloaded and installed the Twitch video to MP3 converter on your computer, launch it to unleash the main screen. You will see a list of supported browsers and apps of which "Chrome" should be on the list. If it's not, click the "+" icon to add it.
Step 2

Customize the output format for Twitch to MP3

Decide how you want your audio file to be. Customize settings like format, channel, codec, sample rate, etc. Ensure that the output format is set to "MP3" to convert Twitch to MP3.
Step 3

Play Twitch clips on your computer

Start to play your Twitch video clips via the "Chrome" icon. DRmare will detect the music playing and automatically record it. This tool supports multiple tabs and you can add as many songs as you wish from the tabs to be converted simultaneously.
Step 4

Edit and save Twitch to MP3 on the computer

DRmare has an abundant editing features that you can utilize to edit your added audio. Next, click the "Save" button to save the changes and the Twitch to MP3 files on your computer. They'll be saved in the default output folder where you can now extract them for offline listening.
Part 2. How to Convert Twitch Clip to MP3 Online
The second way is to engage an online Twitch video to MP3 converter. Loader.to is an online converter that comes revamped with tons of applications. It is easy, safe, and pretty fast to use for Twitch to MP3. Also, you can comfortably play your downloaded files on any device at whatever time you want.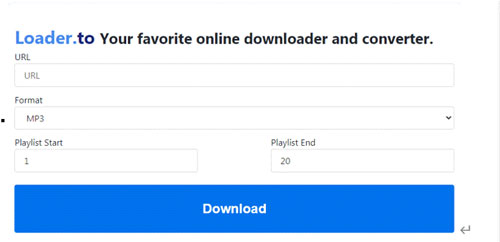 How to Use the "Loader.to" Online Tool to Convert Twitch Video to MP3
It is free and safe to use with no complications. Follow the steps here to convert Twitch clip to MP3.
Step 1. First, head to the "Loader.to" website. Then, look for the link to the Twitch clip that you wish to convert.
Step 2. Next, customize the format and the video quality that you want.
Step 3. Also, set the start and end of your playlist to get only the best portion instead of the entire file.
Step 4. Finally, click the "Download" button to start the conversion process. Please wait patiently as the tool converts your Twitch to MP3 files.
Part 3. The Bottom Line
You have two choices to convert Twitch to MP3. However, the second option may leave some loopholes or attacks on your files. The online arena is thronged with malware threats and other mistrust. So, if you are paranoid about releasing your files for online conversion, you can opt for the first solution. DRmare Audio Capture is a sophisticated tool that harbors numerous editing features for the stunning finish to your files. It also supports various output formats and quickly converts files from any websites.