The digital arena has paved several ways for social networking sites. Sites like Facebook, TikTok, Twitter, and many others let you easily connect with your friends and relatives in real-time. You must also have heard of Vkontakte, popularly known as "VK".
It is another big giant media site that is meant for the Russian world. You can chat, exchange photos, videos, and even download music from VK from the authorized platforms. But it's too bad that Vkontakte abolished the section of the audio recording. The policy of Apple prohibits the distribution and sharing of pirated content through the Apple Store. But in this post, you can learn how to download VK music with ease.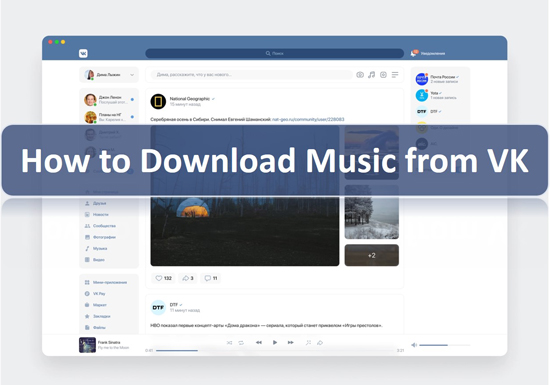 Part 1. What Is VK Music
VK is a new social media site that was founded by Pavel Durov in 2006. Even though it is not well-known, this site comes second after Facebook, among the networking sites in Europe. It boasts of about 200 million users with daily usage of an averagely 45 million. You get tons of popular songs from VK.com like R&B, Rock, Classics, Jazz, among others.
Creating a VK account is easy. You'll need to enter your name, password, and phone number or use your Facebook account, then wait for the validation code to be sent. You then go on to list other details like gender, relationship status, age, likes, and dislikes, among other details.
Part 2. Download Music from VK via DRmare Audio Capture
There is no better way to get music from VK rather than to engage a reliable tool. Here we'll walk you through how to download music from VK with DRmare Audio Capture. This tool automatically records any sound that is playing on your computer.
DRmare Audio Capture has lossless capturing technology that will record your songs with 100% originality. It retains metadata information like title, and more. More so, it can convert any recorded audio to common formats like M4A, MP3, FLAC, etc.
This tool also has abundant editing options to improve your music listening experience. Besides, you can customize your recorded audio quality by editing audio parameters like bit rate, sample rate, channel, etc.
Key Features of DRmare Audio Capture
How to Download VK Music via DRmare Audio Capture
Here is how to download music VK with DRmare Audio Capture. Just follow the steps and learn more.
Step 1

Install and launch DRmare Audio Capture

Download and install the DRmare Audio Capture program on your computer. And then double-click its shortcut on the desktop to launch it. You'll then be ready to record music from VK and various platforms like Amazon Music, and more. For this cause, click the "+" button to add "VK" directly from your Windows computer.
Step 2

Customize output format and settings for VK music

DRmare lets you set the audio files to any format like M4A, AAC, FLAC, WAV, and many more. Just click the "Format" icon to set your output format for VK music download. Likewise, you can tweak the settings of bit rate, sample rate, and codec to make your VK music output more personalized.
Step 3

Play and download music from VK

Just run the VK music app to play the song you want. DRmare Audio Capture will detect the song and start to download VK music for you. You have the option to record multiple tracks from different apps.
Step 4

Save and edit recorded VK music

Press on the "Stop" button at the bottom of DRmare program. Then the recording process will stop. Now, you can edit your VK music via the "Edit" icon. Here, you can merge, cut, rearrange and perform other actions to VK music files.
After that, click on "Save" button to save VK music downloads on a destination folder on your computer. Then go to the "Converted" icon and use the "Search" icon to find the Vkontakte music you've downloaded on your computer folder.
Part 3. Get VK Music Download Free by Apowersoft Free Online Audio Recorder
Besides that, you can get VK music download free by using the Apowersoft Free Online Audio Recorder to copy and save your music. This app is compatible with both Mac and Windows operating systems. And it is powerful enough to convert your audio files to any file format and save it without limit. Apowersoft can also pull sound from other sources like music websites, microphones, and online radios.
How to Use Apowersoft Free Online Audio Recorder to Download Music from VK Free
Step 1. Visit the audio recorder page on Apowersoft and click on the "Start Recording" tab.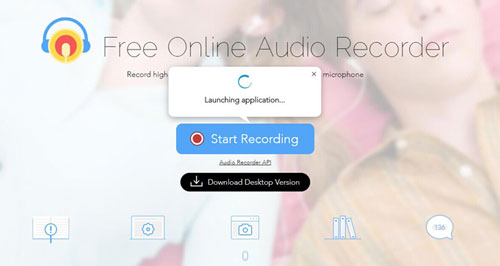 Step 2. Go to the "Audio Source" window and click on the "System Sound" to extract audio from VK. Allow the launcher to run and let the app start loading.
Step 3. Play any music you wish to record and press the "Start" button.
Step 4. Ensure you have verified your audio by checking details like duration, size, name, etc.
Step 5. Finally, hit the "Stop" icon to finalize the download VK music recording process. You can then enjoy playing your downloaded VK audio offline.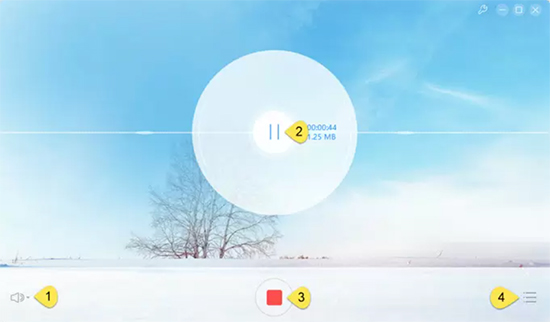 Part 4. How to Download Music from VK Chrome
To download VK music, you can also use VK Downloader Chrome extension to download music from VK Chrome. To make it, you first need to install an extension in Google Chrome. Below you can find the detailed steps.
Step 1. Launch Google Browser Chrome. Click the "three dots" icon from the upper-right corner of the browser. Then go to the "Settings" menu.
Step 2. Select the "Extensions" subparagraph in the "Advanced Tools" and go to the "More Extensions".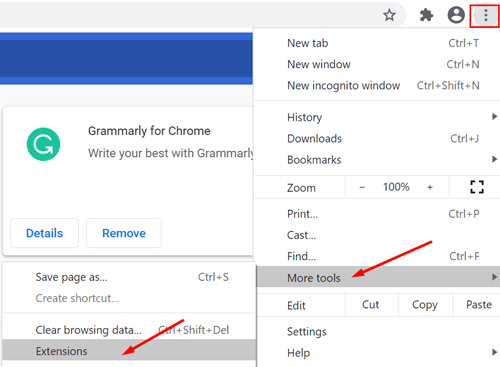 Step 3. Get to the official website of the "Browser Chrome".
Step 4. Then enter "VK Downloader Chrome" in the online store page in the search engine.
Step 5. Press "Enter" on your PC keyboard.
Step 6. Next, select the "Install Extension" button as the desired plugin.
Step 7. Make a click on the icon of the "Installed Extension" then click the "Save" button.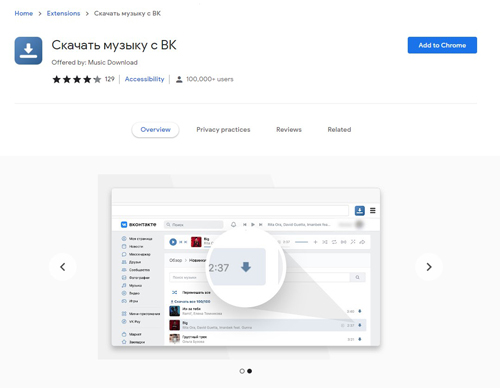 How to Download Music from VK Chrome
Step 1. Log into your VKontakte account.
Step 2. Select the "Music" section located in the right menu.
Step 3. Go to the "Search String" and enter the name of the track you wish to download.
Step 4. Next, click an arrow icon, then select which path to save your music.
Step 5. The download window will then be displayed. Wait for your music to be ready for playing and continue to enjoy it.
Part 5. How to Download Music from VK Online
If you want to download VK music online, then you can try this tool. Savefrom.net lets you download music from VK online. Besides music, it can download albums, movies, and photos from other popular social media sites. More so, it is embedded in the browser and will work as an expansion tool. Follow this guide to download music from VK with Savefrom.net.
Step 1. First, install the "Savefrom extension" on your PC.
Step 2. Then open the "VK Music" page and click on the track that you want to download.
Step 3. Check for the arrow that appears on the right side of the music title.
Step 4. Finally, click on that arrow to download VK music online and listen to it from your device.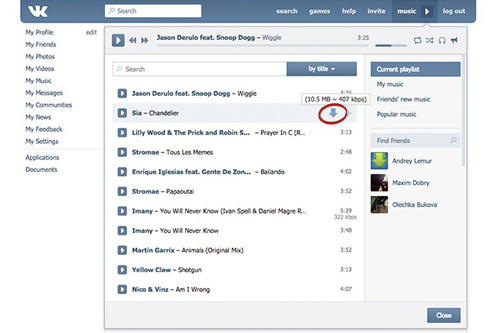 Part 6. How to Download VK Music on Android/iPhone
For users who use VK on mobile phones, then you can use the ways here. We will show you how to download music from VK on Android/iPhone. The Videoder app works efficiently to enable VK music download Android/iPhone. Now, let's check how to download VK music on Android/iPhone by Videoder app.
Step 1. Open the "VK website" and locate the music that you want to download.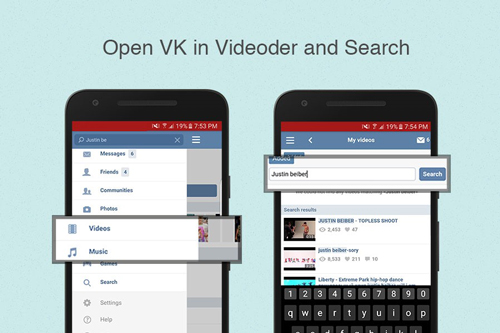 Step 2. Tap on the music and you will notice a red download bubble appearing on the left-bottom corner of the screen. Tap on the red download bubble to get the "download links". Next, choose the audio quality and resolution you want to download the music in.
Step 3. Set your download location where to save the downloaded music and start to download VK music.
Step 4. Finally, tap on the "Download" icon on top of the screen to locate your downloads.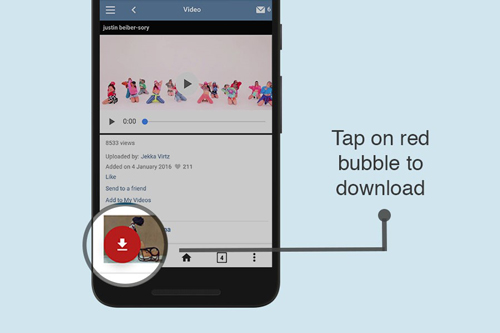 Part 7. In Conclusion
We have laid 5 ways that you can use to download music VK. The best tool, DRmare Audio Capture, will give you lossless sound quality and let you customize the output parameters to your taste. However, you can also engage the other solution to download music from VK for playback even though you'll require additional installation of plugins, especially for Chrome Extension.