"Greetings. I used to listen to online songs on the AccuRadio streaming platform. It is an amazing experience to enjoy music on it. Still, sometimes I cannot listen to online songs due to internet availability. Now, to enjoy AccuRadio music offline, I am finding a way to download my favorite songs on my computer, but it's not an easy task. I tried to find out some ways but in vain. Please suggest to me the best useful software to record audio on PC from AccuRadio music. Thanks." - A user on the Internet
Many people are finding a useful tool to download AccuRadio music to listen to their favorite tracks offline. So to provide ease to all the people, this article will provide you with information about the AccuRadio streaming platform and its benefits. The best essential software, DRmare Audio Capture, will also be introduced along with its amazing features.
Moreover, a step-by-step guide on how to download AccuRadio music with DRmare Audio Capture will be provided. Go through the article and increase your knowledge and solve your queries.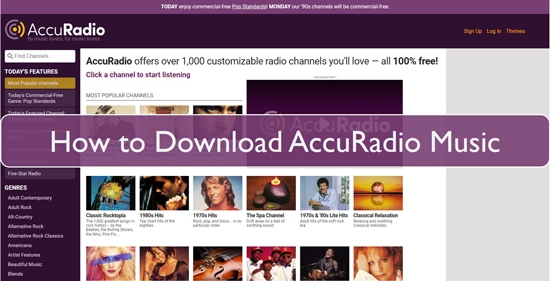 Part 1. What Is AccuRadio?
AccuRadio is an online music streaming service founded in 2000 in Chicago. At that time, it was the only music streaming platform that provided multiple channels, and listeners could customize their choices according to their wants and choices.
In the beginning, AccuRadio had only three channels, namely "Swingin' Pop Standards", "Piano Jazz", and "Modern Rock Classics". But now, with great progress and development, AccuRadio has nearly 1,000 channels that present more than 50 different genres of music.
People consider music as a means of relaxation and peace of mind. They consider the music food of the soul. So, to provide people with all songs AccuRadio music app brings thousands of songs to its listeners so that they can satisfy their needs. AccuRadio calls all sounds "Songs", whether sung or not. Hence, every piece of music is a 'song' to AccuRadio.
The best way to know about something is to know about its features. So, have a glance at the features of the AccuRadio streaming platform. They are:
Standards and Quality: The AccuRadio streaming platform provides audio streaming through HE-AACv2 at 24-32kbps.
Song Ratings: Users can rate music tracks on a scale from 1 to 5. If some songs are rated 4 and 5 stars, AccuRadio will create a new 5-star Radio Channel for those high-rated songs.
Creating Channel: AccuRadio listeners can create music channels by rating their favorite songs 4 and 5 stars. Eventually, a channel with those rated soundtracks will be created.
Channel Blending: Listeners can blend song channels so that their preferred songs merge in the same place and can listen and enjoy them whenever they want.
Free to Use: AccuRadio streaming platform is 100% free to use. Users can listen to and enjoy all music genres on AccuRadio for free because there is no requirement premium subscription.
Ban Titles or Artists: Listeners can easily ban songs and artists they don't like so that they'll not appear to them again.
Skip the Songs: Another best thing about AccuRadio is the option of skipping songs. Users can skip the songs they don't want to listen to.
All Information Appears on the Screen: When a song is playing on AccuRadio, the information about its genre, album cover, and artist will appear on the screen.
Remember: Although users can skip songs that they don't want to listen to, if the skips per day increase, the user will not be able to use the app for the next 24 hours.
Now that you know the AccuRadio streaming platform and its benefits, It's time to know 'how to download AccuRadio music'.
Part 2. How to Download AccuRadio Music - Tool Required
To download AccuRadio music, you have to use software, and the best tool is DRmare Audio Capture.
DRmare Audio Capture enables its users to download songs from all streaming platforms. So the users finding difficulty in downloading songs from the AccuRadio streaming platform can rely on DRmare Audio Capture. To know more about DRmare software, we'll look at its features. The features of DRmare Audio Capture are shown below.
1. Capture All Sounds: DRmare Audio Capture downloads unlimited songs of different genres. Unlike other downloading tools, DRmare Audio Capture works with all media sources. It captures audio tracks, podcasts, and audiobooks. It also extracts music from YouTube, Hulu, and HBO videos.
2. High-Quality Audio Outputs: DRmare Audio Capture records songs with 100% originality without quality loss or any extra noises.
3. Recording of Multiple Songs: It can save your time by recording multiple sounds at a time. You can play more than one song on different web players, and DRmare will capture all songs separately and with great speed.
4. Multiple Editing Options: DRmare not only records songs from all streaming platforms but also provides multiple editing options, including cutting and trimming songs to use them as ringtones or alarms and merging more than two songs to create your own choice of music.
5. Multiple Audio Formats: DRmare Audio Capture provides audio recording in multiple formats, including MP3, M4A, M4B, AAC, WAV, and FLAC. So, you can enjoy the music tracks on any device and platform.
Part 3. How to Download Music from AccuRadio
Now, you have deep knowledge of all the amazing features of DRmare Audio Capture. As DRmare Audio Capture is easy to use, you can download your favorite AccuRadio music tracks easily. Let's move on to how to use the DRmare Audio Recorder to download AccuRadio music step by step.
Step 1

Install DRmare Audio Capture

Install the DRmare Audio Capture on your PC or Mac computer. Then launch the software by double-clicking on the software shortcut present on your desktop.
Step 2

Add AccuRadio to DRmare Audio Capture

Open the DRmare Audio Capture and click on the "+" option to add the AccuRadio streaming platform directly from your Windows and Mac computer.
Step 3

Set output preferences for AccuRadio music

The next step is to set output preferences for AccuRadio music on DRmare Audio Capture software. It records songs in various formats like MP3, M4A, AAC, WAV, and FLAC. To set the format you want, click the format icon. You can also make changes in other parameters, including codec settings, bit rate, sample rate, and channel.
Step 4

Play and record AccuRadio music

To download AccuRadio music, you have to click on the AccuRadio app imported to the DRmare Audio Capture. Click on any song you want to download as it will play. Then it will be detected and recorded automatically by DRmare.
Step 5

Edit recorded AccuRadio songs

You can edit extracted songs by clicking on the editing icon. DRmare Audio Capture supports to trim, cut, and rearrange the audio files.
Step 6

Save the AccuRadio music track

To save the recorded AccuRadio songs on your computer, you must click on the "Save" button. The recorded song is now saved in the DRmare program. You can search the song by clicking on the history icon present on the main screen of DRmare Audio Capture.
You have successfully downloaded the AccuRadio music tracks on your computer using DRmare Audio Capture.
Part 4. Conclusion
Some people are unaware of the amazing features of both AccuRadio's online streaming platform and DRmare Audio Capture software. Other than this, many find a useful tool to download AccuRadio music to listen to their favorite tracks offline.
This article has provided you with detailed information about the AccuRadio music app and the best essential software - DRmare Audio Capture. In addition, a step-by-step guide for downloading AccuRadio music with DRmare Audio Capture is also provided. Follow the steps, download music from AccuRadio and listen to AccuRadio music offline on your computer.