BeatStars is a digital online marketplace and a beat leasing platform that hosts beatmakers, recording artists, beat producers, and songwriters to license their music to artists and producers worldwide. The platform's primary purpose is to promote beatmakers and songwriters to earn a name for their talents using the power of digital work.
So, what should you do if you want to download a song from BeatStars? To download beats from BeatStars or to download songs from this online store, you must get a paid account. There are various purchasing plans available on Beats, including "Lease", "Basic", "Unlimited", and so on. Having a premium account on BeatStars will give you access to the beats and songs available on the platform. But since you are not a fan of paid programs and want to learn how to download music from BeatStars, but windel.
Is there a way to do so? As a matter of fact, "Yes". There is. But how to download MP3 from BeatStars? This is what we will be discussing in our article below.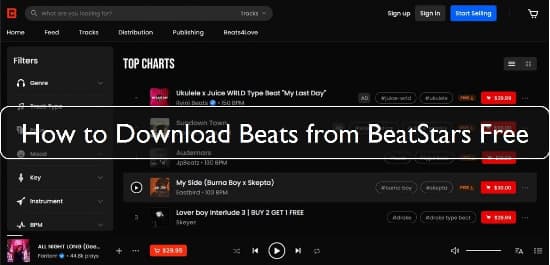 Part 1. Download Beats from BeatStars via DRmare Audio Capture
If you are looking for a way to download beats from BeatStars free, but don't want to get a paid account for that purpose, the best way is to take help from DRmare Audio Capture.
DRmare Audio Capture is an extraordinary tool that can record music from any media source from your computer. Along with letting you get BeatStars to MP3 download, it also allows you to extract music from YouTube, HULU, Netflix, and more.
To download song from BeatStars using the highly developed DRmare Audio Capture, all you need to do is start streaming beats and songs on BeatStars. The software will begin recording the beats, and you will get all those amazing quality music right on your desktop without the need to get a paid account.
Besides, the software comes with its own sets of features. It has a built-in editor that enables you to set the parameters of your downloaded file and even keep your beats well organized without any difficulty.
DRmare Audio Capture for BeatStars
Part 2. How to Download Beats from BeatStars Free
How to download from BeatStars for free using the super excellent DRmare Audio Capture? The software, with its easy-to-use technology, requires users to follow some simple steps to start the recording process.
Step 1

Install DRmare Audio Capture

Download DRmare Audio Capture on your PC. Click on its shortcut icon to launch it. The default setting of the software allows you to record songs and music directly from Chrome, IE Explorer, WM Player, and iTunes. But since you want to capture BestStars, use the "+" sign to add it to your Windows computer.
Step 2

Personalize output format for BeatStars songs

Now, you need to configure the output format for your audio. DRmare Audio Capture supports a range of formats, including MP3, M4A, WAV, FLAC. Besides, you can also personalize other settings, including codec, bit rate, sample rate, and channel. If all these things sound complex to you, all you need to do is click on "Preset" and the software will manage things on its own, giving you the best possible outcome.
Step 3

Play BeatStars songs and start to record

Now, run the BeatStars app on your Windows. Play the songs, beats, and tracks you wish to download to your computer. The software will detect these songs and will start to download beats from BeatStars. Since the app supports batch download, you can open multiple music apps and continue downloading music from different sources.
Step 4

Edit the recorded beats from BeatStars

Once the beats are downloaded to your system, the DRmare Audio Capture will automatically stop. Now you can edit the music and tracks according to your specifications. Select the beat and track you wish to edit. Then click the editing icon. You can cut, trim, and rearrange the BeatStars audio files as per your needs.
Step 5

Save the edited BeatStars songs

Lastly, click on the "Save" icon to save all the beats to your device. The history icon on the main interface of the DRmare tool will indicate how many beats and songs you have recorded. Look within your system memory and search for the downloaded songs. Now, you can enjoy BeatStars beats and music without having to pay for a subscribed account.
Part 3. Conclusion
BeatStars give you some extraordinary beats from all over the world. Getting these songs for your personal use makes your videos more interesting. But since you need a few beats and tracks, having a subscribed account may not be feasible.
Using a productive tool such as DRmare Audio Capture, you can get your favorite songs and music beats. Just download audio from BeatStars and all you want with a tool that suffices all your needs.