Founded by Anthony Volodkin in 2005, Hype Machine has steady grown to become a top online music streaming platform. Even though the platform has been struggling to put up stiff competition from renowned sites such as YouTube and Spotify, Hype Machine remains a favorite for many music lovers. It is a perfect place to discover and access millions of tunes for free.
Listening to music on Hype Machine, however, requires an internet connection. Therefore, some music lovers will choose to save their favorite tunes on their portable devices for offline playback. And while there is no one official method to download music from Hype Machine, we will in this article introduce you to a top streaming audio recorder, DRmare Audio Capture, that will help you download music off Hype Machine without much of do. Let's get to it!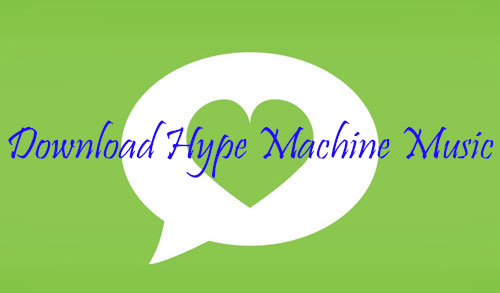 Part 1. Best Way to Download Music from Hype Machine
If you are looking for the ultimate music downloading solution for Hype Machine, then DRmare Audio Capture software is your best chance. DRmare Audio Capture is an easy-to-use and powerful streaming audio recorder that lets you download music from Hype Machine.
Using the software, users can in just a few clicks capture audio files from Spotify, Amazon Prime, Tidal, Pandora, Apple Music, and so on. Most importantly, DRmare supports multiple popular and playable audio formats for most portable devices. Some of the commonly supported formats include M4A, M4B, AAC, WAV, FLAC, and MP3.
Built using advanced audio capturing technology, DRmare Audio Capture guarantees users 100% quality retention for all recorded track. It captures music without loss of quality.
To ease music/playlist organization, DRmare allows users to edit music metadata info, including music titles, album, ID3 tags, artist, and genre. The software also allows for batch music recording, which means that you can simultaneously download Hype Machine music tracks. Users can also make use of its inbuilt music editing options to enhance their music experience. For instance, they can cut and trim unwanted parts or even mix or merge audio files to their desired lengths.
Main Features of DRmare Audio Capture
Part 2. How to Download Music Off Hype Machine
Having exhausted its abilities, we will look at how to download music from Hype Machine using DRmare Audio Capture. Here is the detailed guide! Check it out.
Step 1

Download, install and launch DRmare on your PC

After downloading and installing DRmare on your PC, proceed to click on the icon shortcut to start the software. On the new interface, DRmare features Chrome, iTunes, IE Explorer, and WMPlayer as its default media sources. Here you can use Chrome to access the Hype Machine, which is our media source in this case.
Step 2

Change output parameters for Hype Machine music

Using its built-in audio editing function, users can easily fine-tune music audio files to their preferred formats and alter a few basic music specs. For instance, you choose MP3, M4A, AAC, WAV, or FLAC as your preferred music output. You can also personalize your music playlist by changing music specifications such as codec, bit rate, channel, and sample rate.
Step 3

Play and download music from Hype Machine

It is now time to play and record your music wish list! Access the Hype Machine platform using Chrome. Go on to find and play the music tracks you want to save for offline playback. DRmare Audio Capture will immediately and automatically start to record the tunes.

Here, you can use its batch recording abilities by opening new tabs with playing songs on Hype Machine. All the selected songs will download in a batch simultaneously.
Step 4

Edit and cut songs from Hype Machine

After downloading music off Hype Machine, you can easily fine-tune your music to your preferred lengths. Access the editing function by clicking on the editing icon. Here, you can cut unwanted music parts, trim, merge and rearrange music tune to your taste and preference.
Step 5

Save and locate songs on your computer

Finally, click on the "Save" option at the bottom of the interface to save the downloaded and edited songs. Access the main DRmare Audio Capture interface and click on the history icon to locate the songs. Go on to click on the "Search" icon to locate the songs folder on your computer. You can now transfer your songs to a portable device for offline playback.
Part 3. To Sum Up
Courtesy of its easy-to-use interface, downloading music tracks for any media source is easy. More precisely, in this article, we featured DRmare Audio Capture features and provided a detailed guide on how to download music from Hype Machine. All that is need of you now is to simply follow the guide above to enjoy unlimited music playback from your favorite Hype Machine playlist.