Music streaming platforms are gaining massive popularity. These platforms allow music lovers to listen to their favorite songs whenever and wherever they want. There are many music streaming platforms, but one that is immensely popular among hip hop music lovers is DatPiff. DatPiff is essentially a music distribution platform for hip-hop artists. They upload their songs here, and people who love to listen to this genre can go on and download these songs to listen to them easily.
If you regularly visit DatPiff and want to know the ways to learn about the DatPiff music download method, you have come to the right place. This article will tell you how to download music from DatPiff to iPhone, Android and computer. Three ways will be disclosed to you, and you can figure out which one works the best for you and use that method to download DatPiff music to iPhone, Android devices and computer. So, let's get started and figure out the correct ways to download DatPiff songs to any device.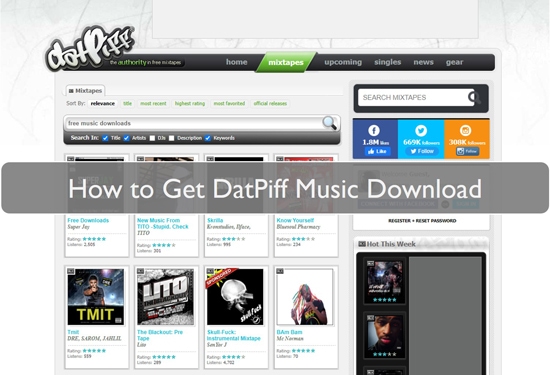 Part 1. How to Download DatPiff Music - Official Way
DatPiff allows both non-registered and registered users to download their songs. But, just like many other music streaming platforms, DatPiff puts some restrictions on who can download what type of music on DatPiff. non-registered users, for example, are free to download sponsored songs. However, if a member is registered but not a premium member, they will be able to download non-sponsored songs.
Then comes the premium members, who can download unlimited songs along with mixtapes. So, as you can see, it's the premium members who get the most privilege. So, if you are a free user or a non-registered user, the downloading option is pretty less. Nevertheless, you will still be able to download DatPiff music by following the official way. Here's how to download music from DatPiff directly:
Step 1: Visit the DatPiff website. Once you are there, you need to click on the login option to log in it by using your credentials.
Step 2: Listen to a song on DatPiff, and if you like it, simply click on the "Download" option. The song will be then downloaded in a few seconds.
Step 3: Go to the "Download" folder and locate the downloaded zip file. Unzip the file, and you can begin listening to DatPiff music whenever you want.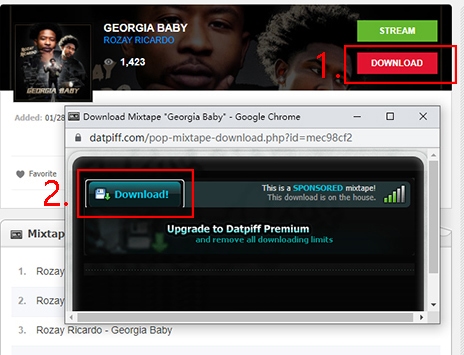 Part 2. How to Get DatPiff Music Download - DatPiff Downloader
Sometimes, you may encounter issues while trying to download DatPiff songs. As we said, it's a music distribution platform, and some distributors may not make the download option available.
When this happens, you are left with only the listening feature. Moreover, non-registered and non-premium users have fewer downloading options, which is why you should think of finding a trustworthy DatPiff downloader that will eliminate all the restrictions and allow you to download any DatPiff songs that you want. So, whether you want to go for DatPiff mixtape download, or other types of songs, with a DatPiff downloader, you are free to download any song you want.
And the recommended tool to use is DRmare Audio Capture. This is a professional tool that lets you effortlessly record and convert songs from DatPiff to MP3. All you need to do is download the DRmare Audio Capture on your Windows or Mac computer and start using it. Using the DRmare Audio Capture is easy. There are just three simple steps, and you will be all done downloading the songs in no time.
This professional tool lets you download DatPiff music at high speed, convert the music files into different audio formats, and listen to DatPiff music offline whenever you want to.
DRmare Audio Capture for DatPiff Music
Here you will learn how to use DRmare Audio Capture to download music from DatPiff to plain audio files. Please follow and learn more.
Step 1

Launch DRmare Audio Capture and set audio parameters for DatPiff music

First, launch the tool and customize the audio parameters for DatPiff songs. Find and click on the 'format' icon. Then you can begin to set the audio output format, such as MP3, FLAC, WAV, etc. Along with that, you can also set the channel, sample rate, and bit rate as you want for the music from DatPiff. Once done, click on the "OK" button.
Step 2

Play DatPiff songs and start recording

Now, open a web browser and visit the DatPiff website. Once you log in, locate the song and start playing it. When you do that, DRmare Audio Capture will detect the song and will begin to record music from website of DatPiff automatically. If you want to record multiple DatPiff songs, keep playing songs one after another, and the tool will continue to record the songs for you.
Step 3

Go on and edit the recorded songs from DatPiff

You can edit the DatPiff songs you have recorded using this tool if you wish. Click on the "Edit" option and trim or cut a few parts that you don't need. The editing feature also allows you to rearrange the songs.
Step 4

Save the DatPiff music on your computer

For the last step, simply click on the "Save" option, and the DatPiff music tracks will be saved to the local folder on your computer. You can go to the "History" tab to locate all the recorded DatPiff songs.
Part 3. How to Download Music from DatPiff to iPhone/Android?
You now know how to download DatPiff songs to your computer. Now, let's find out how to download music from DatPiff to Android/iPhone. The good thing about DatPiff is that it has an Android/iOS app as well, which allows you to play the songs directly through the app and even download them. Here are the steps that you need to follow:
Step 1: If you have an Android phone, you need to go to the Play Store. If you are an iPhone user, go to the App Store.
Step 2: Now, search for DatPiff and click on the download option. Once the app is downloaded, install it on your mobile device at once.
Step 3: After the DatPiff app is installed, click on the app to launch it. You will see the app icon on your mobile screen.
Step 4: Finally, search for the song you want to download. You will see the download icon. Then hit it to download the song.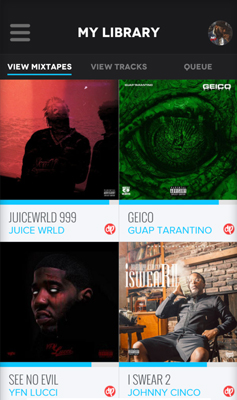 And that's it. Go to the "Library" option to play the songs. Yyou will find all the downloaded DatPiff songs there. Click on any downloaded song and start listening to it.
Part 4. Conclusion
We have shared three easy ways that explain how to download DatPiff mixtapes. Even though DatPiff allows you to download the songs for offline listening, you will encounter limitations when you don't have a premium subscription. So, to overcome these limitations, the best thing to do is get an MP3 recorder software, such as DRmare Audio Capture. This professional tool lets you download as many DatPiff mixtapes as you want, even if you are not a premium subscriber.
You just need to launch the DRmare tool, and it will automatically download the songs for you. Moreover, using DRmare Audio Capture is exceptionally easy. So, go on and download DRmare Audio Capture today to download DatPiff music!