What browser do you use for surfing online everyday? Google Chrome, Firefox, IE or Safari? As the fastest and most powerful browser, Chrome is used widely across differnet platforms. with it, we can find different wonderful resources pictures, music, videos time from time easily when we playing web games, holiding online conferences, relaxing and so on. If you are a Chrome user like me, you may wonder if there is a way to save the resources expecially audio offline for enjoying later or backup.
Fortunately, it is not difficult to difficult to record audio from Chrome at all. You can use a free audio recorder or a commercial professional audio capture to do that. Following are the two best ways you should not miss. They will help you save a lot of time and energy.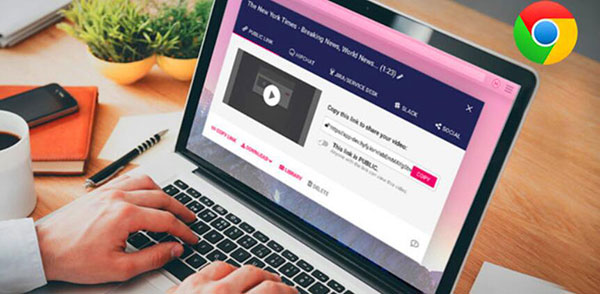 Part 1. Best Free Way to Record Music with Chrome Audio Capture
If you search free audio recorder from Google, you will see a lot of tools available to download for free online such as Apowersoft, audacity, NCH. These free tools are required to be installed to your computer and then you can use them to record any sound/voice/music from your computer.
Of course some freewares may come with adwares and so on. If you'd rather not risk any trouble on your computer, there is another best choice here to go to the Chrome Web Store to install any audio recorder plugin called Chrome Audio Capture.
This is a great Chrome extension which can capture audio playing your current tab losslessly and save it to MP3 or WAV file. You can follow the steps to use it: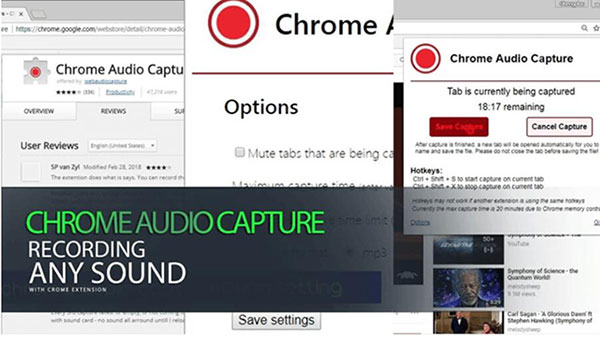 Step 1. Logon Chrome Web Store and search the extention tool "Chrome Audio Capture" from the search box.
Step 2. On the showed up results, hit "Add to Chrome", the plugin will start to be added to your browser.
Step 3. When it is done, you will see a red record icon show up on the tool bar of your Chrome.
Step 4. You can click the record icon and then click "Start Capture", it will start to capture audio from the Chrome browser. Please just play the music you like. If you want to record multiple songs, you just need to repeat the actions on other tabs.
Step 5. Finally, you can click "Save Capture" to save the caputre songs to MP3 on your local computer.
Overall
Chrome Audio Capture is totally free and with lossless quality. The small disadvantage is that it is limited to record 20 minutes and you need to start the recording process manully.
Part 2. Best Tool to Record Any Music Automatically on Chrome Browser
As a free audio recorder, Chrome Audio Capture is best. But it is still not perfect. Because it doesn't have the auto recording feature, it will be a pain if you have a lot of songs to record.
In addition, Chrome Audio Capture may not be working well sometimes because it takes a lot of memory to run. I have seen that it is not loading on my computer if open too many tabs.
If you don't care about spending a few dollars, you can try the perfect tool called DRmare Audio Capture for Windows/Mac. This tool use the same technology to capture any music from your Chrome browser. But it is much easy to use and has a lot of new features. Although it charges you some money, it is totally worth to get it for its advanced features let alone its lifetime free update and technical support.
DRmare Chrome Audio Capture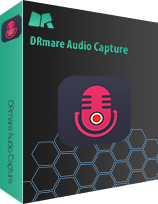 Record any sound playing on your Chrome Browser automatically and smartly
Trim and edit your audio to new formats M4A, M4B, AAC, WAV, FLAC, MP3
Supports to record songs from any websites such as Spotify, Deezer, Pandora
Besides Chrome, you can record songs from other browsers such as Firefox
DRmare Audio Capture is a terrific commercial tool for monitoring your browser voice activity and record the songs automatically, which will save your a lot of time. Are you curious how does it work exactly before buying? If so, you can try it out first. The trial version is free.
Step 1

Download and run DRmare Audio Capture

After launching DRmare, you will see the main screen with a list of supported browsers and apps which are supported to record music from. Please make sure Chrome is on the list. If not, you can simply click "+" to add it.
Step 2

Customize output format (optional)

You don't have to change this option generally. But if you do want to do that, you can go ahead to open the format settins window by clicking the icon from the bottom right. Here I will choose the original MP3 format.
Step 3

Launch Chrome browser to play music

Just click the "Chrome" icon from your DRmare and your can use it to play any songs from any websites, DRmare software will detect the music and reord it accordingly. What is better is that mutiple tabs are supported. You can play as many songs together as you want from the tabs and they won't be mixed. That is amazing, right?
Step 4

Edit new music (optional)

You can trim your new audio to make it meet your requriement better. If you don't need to edit it, please just skip this step.
Step 5

Save the songs to your computer

Now you can click "Save" to save all the MP3 songs to your computer. To find them, just go to the default output folder. If you have no idea about it, you can click top "Help" menu and choose "Preferences", then you can check the output path and change it if you like.
Video Tutorial

For your convenience, you can also visit this video tutorial:
Overall
DRmare software contains all the features of free Chrome Auto Capture and with a lot of powerful automatic features. It makes it easiest to record music from browser. The small shortming is that you need to pay to get a full license.
Part 3. More Chrome Audio Recorders Recommended
Want to record audio and screen from from Chrome? Don't worry. For your convenience, we will recommend you some free screen recorder.
Hippo video - Screen Video Recorder
This is an all-in-one screen recorder for Chrome to create, edit and share your videos. It is free, quick and easy to install. Besides, it works well with Chromebooks too.
Loom
This is another Chrome extension to quickly capture audio and screen from the browser. It supports to record a region or full screen. And what is important is that it is also free.
Screencastify
It is a well-known screen video recorder which has perfect compatibility. You can use it to record both video and audio from Mac, Windows and Linux.