Audible, the world's largest online audiobook store, offers a vast collection of digital audiobooks for paid listening. However, these audiobooks come with a limitation - they are protected by Audible's Digital Rights Management system. This DRM protection restricts the use of Audible's AA and AAX files to specific devices or players supported by Audible, limiting the user's freedom to enjoy their purchased audiobooks on their preferred devices or platforms. So this article will guide you through various Audible DRM removals to remove Audible DRM for free, online, Windows and Mac.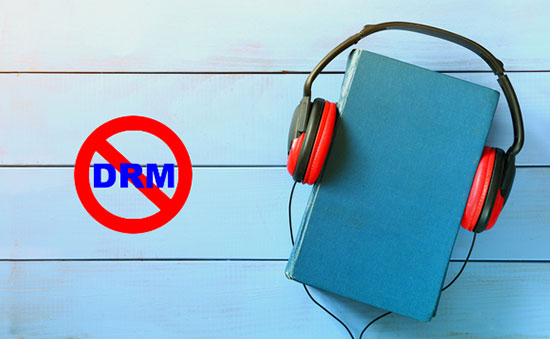 Part 1. More about Audible DRM
What Is Audible AA/AAX DRM
Audible uses a proprietary format called AA/AAX for its audiobooks, which is protected by DRM. DRM, or Digital Rights Management, is a technology designed to protect copyrighted content by restricting its use and distribution. It is widely used in popular streaming services, such as Audible, iTunes, Apple Music, Spotify, etc. However, it can be limiting for users who want to enjoy their purchased Audible books on multiple devices or share them with others.
Benefits of Removing DRM from Audible Books
✅ Enjoy Audible Audiobooks on Any Device and Platform
After breaking Audible DRM, you can put Audible audiobooks on any device and platform. Then you can listen to Audible books on your desired device and platform with ease.
✅ Keep Audible Books on Computer Forever
Once you strip Audible DRM, you can download Audible books to computer as local files. At last, you can keep the Audible books forever on your device for use.
✅ Listen to Audible Audiobooks without the Internet and the Audible App
If you remove DRM from Audible books, you can use Audible books anywhere offline without the Audible app.
✅ Save Audible Books to External Drive or Cloud Services
When finished removing Audible DRM, you can move them to a USB drive, Google Drive and more. Then you can enjoy the books on your portable devices with ease.
Part 2. Best Audible DRM Removal for Mac/Windows
DRmare Audible Converter is a smart Audible audiobook DRM removal for you to break Audible DRM. It supports the latest audiobook decryption technology to strip DRM from Audible. And it can output Audible AA/AAX to MP3, AAC, M4A, FLAC, etc. It not only can keep the lossless quality but also batch convert Audible files at a 30X faster speed.
Moreover, it can split large Audible books into small parts. So, you can manage your Audible audiobooks with ease. Also, before converting, you can adjust the pitch, volume and more for your books. Besides, this tool supports Apple Music, iTunes songs and other common audio files. Thus, you can use it to remove DRM from any audio file you want.
DRmare Audible Audiobook Converter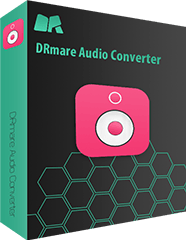 Remove DRM from Audible AA/AAX books, iTunes music, Apple Music, etc.
Supports to convert Audible AA/AAX to MP3, AAC, M4A, FLAC, WAV, and M4B
Split large audiobooks, change the playback speed, volume, pitch and other settings
30X faster speed, takes only a few minutes to convert couples of files
How to Remove Audible AA/AAX DRM Protection Losslessly via DRmare Audible Converter
Step 1

Load your Audible audiobooks to DRmare

Go head to download and install the DRmare Audiobook Converter to your computer. Also, make sure that you had downloaded the Audible books to your computer. Then open the DRmare program. Click the two 'Add Files' buttons from the bottom left to add your books from iTunes library or computer folder.
Step 2

Customize the output settings of Audible books

To crack DRM from Audible audiobooks, you don't have to do any setting. You might just leave the default output format as 'MP3'. It is a universal format for almost any device. But if you want to make the output files more personalized, you can click 'Audio' icon to select other output formats. And you can change the playback parameters such as speed, volume and pitch.
Step 3

Remove DRM from Audible AA/AAX losslessly

At last, you can click 'Convert' button from the DRmare Audio Converter screen to batch convert Audible books. When it is done, all the books will be DRM free. You can find them via the 'Converted' icon on DRmare program. Then you can listen to Audible books offline on your desired device freely.
Part 3. How to Remove Audible DRM by Recording
Here is another excellent Audible AAX DRM removal to help strip Audible DRM. It is DRmare Audio Capture, a powerful and versatile audio recording software for Windows and Mac that can capture and download music from various streaming audio and video websites losslessly. So you can use it to record your protected Audible audiobooks and save them as DRM-free audiobooks without any quality loss. Additionally, all the metadata info such as ID3 tags, title, artist, album cover, and genre are included in the Audible recordings.
How to Break Audible DRM via DRmare Audio Capture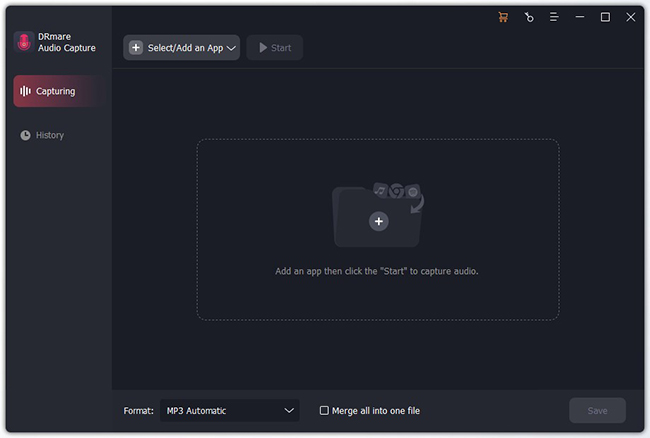 Step 1. Download, install, and open DRmare Audio Capture from the computer desktop, then click the "+' icon to add the Audible programs you want to play audio from.
Step 2. Click the 'Format' icon to choose the output audio format for the Audible books you want to record. You can also tweak other Audible settings of codec, bit rate, sample rate, and channel.
Step 3. Start playing the Audible audiobook you want to record and crack DRM. DRmare tool will detect and begin capturing the sounds you are playing.
Step 4. Once the audio files are recorded, you can click on the 'Edit' icon to trim or cut the recorded Audible files as you want. Then click 'Save' to save all the DRM free Audible books on your computer locally.
Part 4. Audible DRM Removal Free
AAX Audio Converter
If you want to remove DRM from Audible books free, then you can try AAX Audio Converter. It is a free and open-source program on GitHub. It can help convert Audible books to plain MP3, M4A and M4B formats. By the way, it can only work on Windows 7 and above. Now, let's see how to use this free Audible DRM removal tool to strip protection from Audible.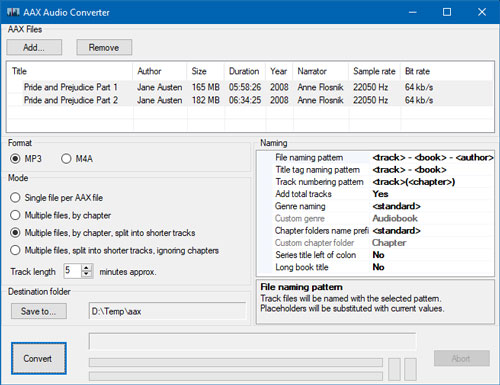 Step 1. Download and install AAX Audio Converter from GitHub on your computer.
Step 2. Click on the 'Add...' button to browse and import Audible books to the tool.
Step 3. Choose MP3 as the output audio format and select the mode of the conversion.
Step 4. Hit on the 'Convert' to start to remove Audible books DRM and convert Audible books.
inAudible is also a free, open-source software that converts encrypted Amazon Audible AAX files to MP3 or M4B format. It is available for Mac and Windows. However, inAudible can only be downloaded from torrenting sites. Torrenting is a way of distributing files, but it has a bad reputation for being a popular method of pirating media and software. Remember to always download inAudible software from trusted sources to ensure the security of your computer and files.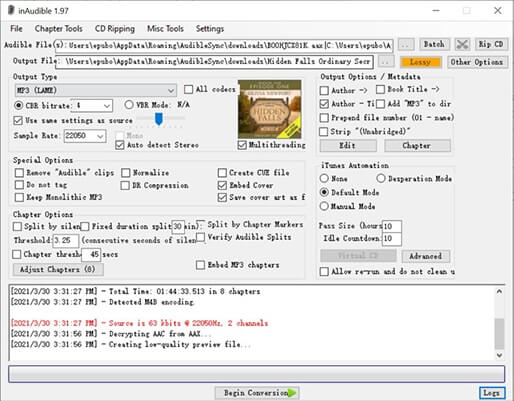 Step 1. Download the inAudible software on your computer from a trusted source.
Step 2. After installation, open the inAudible software and tap "File" to locate and add the Audible file you want to remove DRM from.
Step 3. Select the output format for the converted Audible file.
Step 4. Initiate the conversion process by clicking the "Begin Conversion" button.
Part 5. How to Remove DRM from Audible Online
Is there any online Audible DRM remover? Yes, there is. Online Audio Converter is such a tool that can help break DRM from Audible. It is easy to use and it can convert audio files to several audio formats. Now, follow the steps below and learn how to use it.

Step 1. Access your web browser and open the Online Audio Converter website.
Step 2. Hit on the 'Open files' button to add your Audible audiobooks to it.
Step 3. Choose the output audio formats and other parameters you want.
Step 4. Press the 'Convert' button to make Audible remove DRM and convert the books.
Part 6. Remove DRM Audible by Burning to CD
Another Audible DRM removal tool is iTunes. This method involves burning the audiobook to a CD and then ripping it back to the computer as an MP3 file. While it is technically possible to burn Audible files to a CD using iTunes and then rip the CD to remove the DRM, this process is cumbersome and may result in a loss of audio quality. Additionally, each Audible file can only be burnt to CD once due to DRM restrictions.
How to Remove Audible Books DRM via iTunes
Step 1. Open iTunes on your computer and import the Audible files into the iTunes library.
Step 2. Create a new playlist in iTunes for the Audible files you want to burn to CD.
Step 3. Customize the burning settings, including the burn speed and disc format. For example, set the preferred speed to 8x, choose "Audio CD" as the disc format, and set the gap between songs to "None".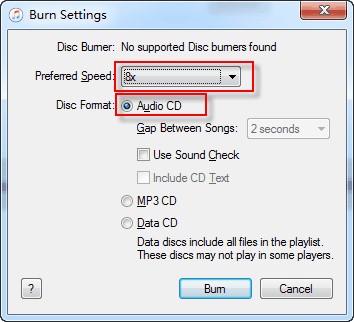 Step 4. Click the "Burn" button to start burning the Audible files to the CD. If the playlist is longer than 80 minutes, iTunes will prompt you to add a new CD.
Part 7. Which Is the Best Audible DRM Removal
Removing DRM from Audible audiobooks can be a daunting task, but fortunately, there are 6 tools available to help users accomplish this. Now, we will take a closer look at these Audible DRM removal tools based on their features, compatibility, and ease of use, etc. to help users choose the best tool for their needs.
DRmare Audio Converter
DRmare Audio Capture
AAX Audio Converter
inAudible
Online Audio Converter
iTunes
Price
Free trial; $14.95/month; $29.95/quarter; $69.95/lifetime
Free trial; $14.95/month; $29.95/quarter; $34.95/lifetime
Free
Free
Free
Free
Supported Platforms
Windows/Mac
Windows/Mac
Windows
Windows/Mac
Windows/Mac
Windows/Mac
Output Formats
MP3/FLAC/AAC/
M4A/M4B/WAV
MP3/FLAC/AAC/
M4A/M4B/WAV
MP3/M4A/M4B
MP3/M4B/AAC/WAV
MP3/WAV/M4A/
FLAC/OGG/AMR/
MP2/M4R
AAC
Input Formats
Audio from Apple Music, iTunes, Audible, etc.
Any audio from the computer
Audible AA/AAX files
AA, AAX, ADH
Any audio from the computer
Audible audiobooks, Apple Music
Output Quality
Lossless
High-quality
Common quality
Common quality
Common quality
Common quality
Conversion Speed
30X
Real-time
1X
1X
1X
1X
ID3 Tags Kept
✔
✔
✔
✘
✔
✔
Batch Conversion
✔
✘
✘
✘
✘
✘
Split Audiobooks
✔
✔
✘
✘
✘
✘
Recommends
⭐️⭐️⭐⭐
⭐️⭐️⭐
⭐️⭐️
⭐️⭐️
⭐️⭐️⭐
⭐️⭐️
Based on the comparison, it is clear that DRmare Audible Converter stands out as the best option due to its support for multiple output formats, preservation of ID3 tags, and high conversion speed. While it is not free, it offers a free trial version for users to evaluate its functionality. If you want free and online ways to remove Audible DRM, you can go for the other tools above but with some drawbacks. Hope you can strip DRM from Audible books and enjoy them without any limit.