Streaming music is the in-thing nowadays. It's fun, thrilling, and allows you to tap into a local collection of music and just pull out what you want for the moment. All you need is an internet connection. However, offline listening is also achievable from streaming subscriptions. Among the popular music apps is Soundcloud service.
Unlike some streaming apps, you need to convert your music into other formats. Sounds a tricky process, right? Worry not because, with Soundcloud music downloader, you can easily download any track to your devices. Perhaps settling on the best downloader is a tussle. We have gathered the top 6 best Soundcloud downloaders to take you through.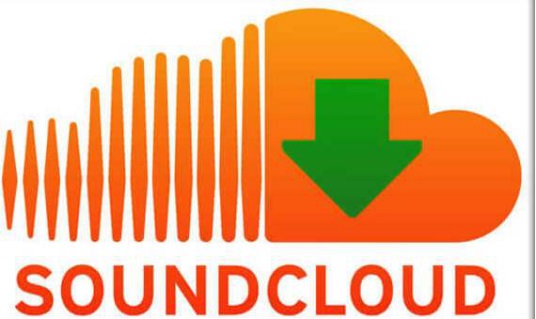 1) DRmare Audio Capture
The first Soundcloud playlist downloader on our list is DRmare Audio Capture. This app is an all-around downloader with the ability to record and edit sound in high quality. It also comes with a built-in innovation recording technology that can capture music, share it to sites, and save it in any format of choice.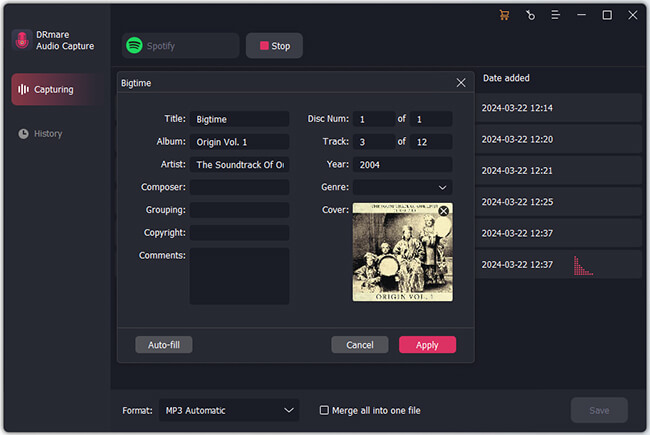 Features
This tool works as a comprehensive audio editing app that can split, merge and trim your recordings.
It's a multifunction downloader with an ID3 Tag editor and an intelligent multi-track audio capture that can grab different tracks simultaneously.
Use this tool to record audio tracks from other music streaming services like Spotify and Pandora.
DRmare Audio Capture also works best to record background music from sharing sites like YouTube, Facebook, and other local media players like iTunes and QuickTime.
2) iMusic downloader
Doubling up as a music manager and downloader, iMusic online Soundcloud downloader doesn't even need you to find the URL. It comes with an inbuilt download capacity to handle any music format to enable you to play on any device. Furthermore, it supports over 3000 online music sites from where you can directly download your music. And when it comes to the transfer of music between devices, iMusic does it best between iPhones, iPad, and other platforms like iTunes and Mac among many more.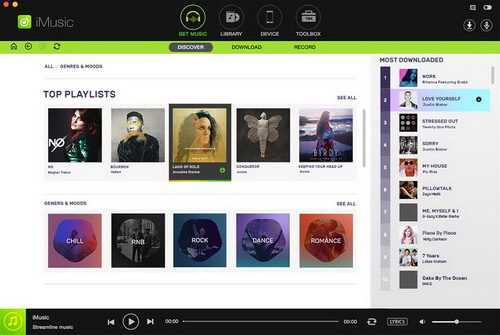 Features
Use iMusic to manage your music as you wish; be it backing up and recovering the iTunes library or cleaning up your library and removing duplicate tracks.
It is easy to transfer music between devices and iTunes.
This app has a well built-in music library that displays all the tracks and plays them automatically.
It works smart by removing music DRM protection and converting your music to any format.
You can also use this app to burn music to other CDs and other external devices in simple steps.
3) KeepVid downloader
This all-in-one online video toolkit is another handy downloader that works pretty fast. Use it to convert video and audio to any format from MP3, MP4, among other formats. This app also supports downloading videos and music from numerous online sites like Vimeo, YouTube, Facebook, Instagram, and many more. Besides, this online Soundcloud downloader is powerful when it comes to downloading music. It covers high quality of up to 320kbps.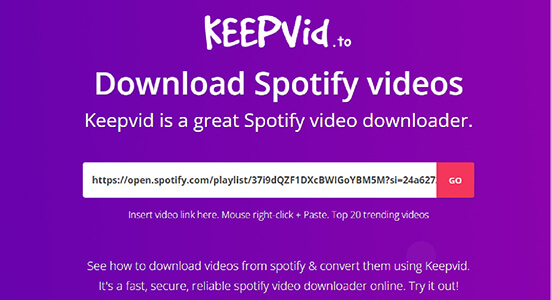 Features
Use KeepVid to convert and edit videos by encompassing features of trimming, cropping, merging and many more.
Engage the Music Tag Editor to fix any lost music information just in a simple click.
This app supports download of videos from over 1000 video sharing websites.
4) Sound Hound
This Soundcloud downloader incorporates an intelligent song search mechanism. Once you search for your favorite song, you'll listen and download SoundCloud music directly to your device. Good enough, Sound Hound will also keep your discoverable songs and lyrics in your personal history of song collection. Furthermore, you can connect your Soundcloud account and build a heap of playlists.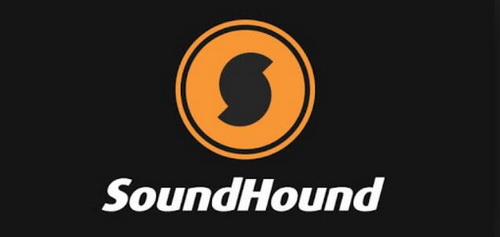 Features
Discover your favorite songs by humming or looking up the title, lyrics or the album.
You can automatically transfer your discovered songs to your Soundcloud playlist.
It can also convert your music to various formats like MP3 for offline listening.
5) DoremiZone
DoremiZone is another Soundcloud MP3 downloader that supports numerous music sites for MP3 download. Besides Soundcloud, it supports YouTube, Jamendo, TikTok, and much more. And when bucks become a hindrance, you can enjoy the free download that DoremiZone offers. It even becomes better when to upgrade to DoremiZone Pro and download MP3 music of different qualities of up to 320kbps. Remember that you'll get a better listening experience with a higher kbps of your MP3 audio.
Features
This app helps you to download many songs at the same time.
It also encompasses a 'Smart Mode' section that helps you discover over 1000 sites from where to download your music.
Besides downloading music, this app also works smartly to convert your songs from any format to MP3.
6) Audacity
This multi-track Soundcloud playlist downloader is loaded with useful features to help you download and convert your music. Among many uses, Audcacity can record any live audio via a mixer or other media. It also comes with a high resampling mechanism to convert sample rates and formats.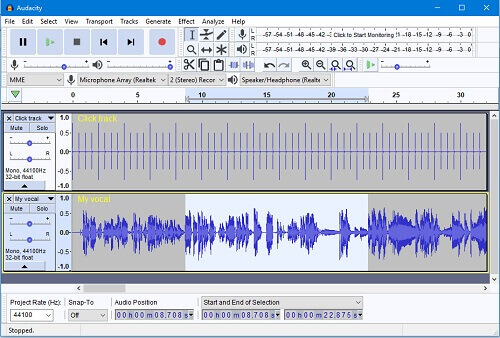 Features
You can import, edit and combine sound effects and export them in other formats.
Before conversion, you can also preview your audio units and perform any necessary needed effects additions or removals.
Editing functions like cut, paste, delete, and copy make it necessary to come up with a quality output.
Conclusion
This collection has brought you some of the best Soundcloud music downloaders in the market. They make it easy to grab that very song and download it to your device. And when the guessing gets tough, Sound Hound does the magic; simply say 'OK Hound… what's that song?' and it will automatically search and show you the right song.
However, every app has a unique feature and it depends on what you prefer. But if you want to retain the originality of your music, settle for DRmare Audio Capture. It's smart to grab any audio clip from numerous applications and convert it to any format.