Apple ID is the key thing to use all the Apple service, contents, apps like iCloud, iTunes, App Store, iBooks on IOS or Mac devices. Each Apple ID is related to one unique email address. And the items you bought or service you subscribed are tied to the same Apple ID you used.
But we may not use the same Apple ID for a lifetime. There are times when we want to change the Apple ID. For example, the original email which is related to the Apple ID is old and you just want to get a new email address which looks more professional. Hence it is required to change Apple ID.
If you are a new user, you may go ahead to sign up a new Apple ID directly. Else if you are an iTunes long time user, you surely don't want to ditch the original Apple ID. Here I will show you how to simply change your Apple ID on Mac and iPhone without pulling your hair out.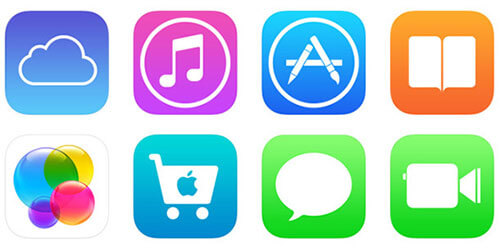 Part 1. Step by Step Tutorial to Change Apple ID on Yours Devices
In general, there are two ways to change the Apple ID either from Apple Account page on your Windows/Mac computers or from the settings of your devices such as iPhone, iPad and iPod Touch. Let me show you how it works.
How to Change Apple ID on iPhone
1. Log out of your Apple ID from other devices. Please make sure all the other devices which use the same Apple ID are already logout except the iPhone where you want to change Apple ID from.
2. Change the Email Address. Go to Settings > [your name] > Name, Phone Numbers, Email. Beside the email address, please click 'Edit' > 'Delete' > you can follow the screen wizard to input another email address. Normally, it will prompt you a Window to answer the security questions, please just input the answers to continue.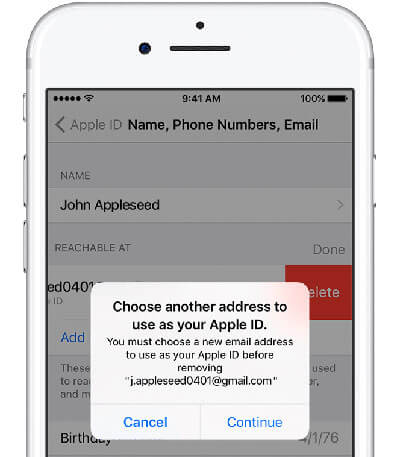 3. Verify the new email address. After setting the new email address, it won't take effect unless you sign in the email to confirm it. Please just find the verification code and then input it into the fields provided.
How to Change Apple ID on Mac
Step 1. Go to appleid.apple.com website and sign in.
Step 2. You can click "Edit" under account section and then click "Change Apple ID" under your Apple ID.
Step 3. Then you can change the Apple ID as a email address you want. The supports email platforms are @icloud.com, @me.co, or @mac.com.
Step 4. Click "Continue" to get the job done.
Note: After changing the Apple ID, you might need to reauthorize the digital media contents such as the iTunes movies, TV show, Extras etc. to make them playable again on all the devices since they are DRM protected. Else there maybe conflicts which cause the videos failed to play well. If you don't want this annoyance, there is also another better solution to convert all the DRM media files to DRM free video files by a dedicated software DRmare M4V Converter for Mac/Windows. It takes only a few clicks to batch convert all your videos while keep 100% original quality. In addition, the free trial version is available any time.
Part 2. Change Apple ID to an Email Address That Is in Use
Sometimes if you encounter the warning 'Email address is already an Apple ID' or 'Email address is not available' when changed the Apple ID, that is most likely that the email address let's say [email2]@gmail.com is already connected to an Apple ID even if you don't remember creating it. What can you do if you still want to change your Apple ID to that Email address? I will show you how to do that via the Apple account page.
1. Sign up another free temporary email address such as '[email3]@gmail.com' from Google email.
2. Sign in the [email2]@gmail.com which is in use on the Apple account page appleid.apple.com and change that email address to the '[emai3]@gmail.com' by following the similar instruction of part 1 above. When it is done, that email address [email2]@gmail.com won't be in use any more.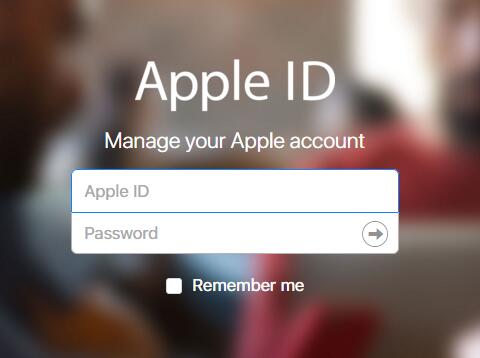 3. Finally you can try again to change the original Apple ID to the email address [email2]@gmail.com you want, it won't prompt you the info that the 'Email address is already an Apple ID' etc.
Part 3. Tips Related to Changing Your Apple Account
If you encounter any other issues during the process of resetting your Apple ID, you can also refer to the following FAQ to see if you can find the answer first.
Q1: Can I still change my Apple ID if I forget the Apple account password?
A1: Yes, as long as you still have access to the original email, then you can go to the Apple account website appleid.apple.com and click 'Forgot Apple ID or password' button to follow the screen instruction to get a email to reset your password.
Q2: Why there is not an option for changing my Apple ID on my IOS devices?
A2: If your Apple ID is connected to an Apple domain email address ends with @icloud.com, @me.com, or @mac.com etc., Apple don't allow to change it officially.
Q3: My Apple ID is related to US region only, how can I access the digital contents from other countries?
A3: You just need to sign out from your account and then sign in with another account that is related to the other countries or regions.
Q4: I can't login my Apple ID, it keeps asking for Apple ID password after changing the Apple ID?
A4: There maybe some conflicts in the device. You can reboot your device or you can go to the settings to restore the settings to fix it directly.