As one of the largest online digital media stores in the world, iTunes is no doubt a great place to purchase and orgnize digital content, including movies, music, books, etc. If you like to buy movies or TV shows from iTunes, you must have a very large iTunes library by far. In order to free up the space of your device, you may need to manage the iTunes purchases regularly by deleting some old ones.
However, there would always be a time when you want to redownload the old purchases for some reason. So if you are not familiar with the process to see the previous iTunes purchase history, you can read on the following guide to find out two popular and easy ways to view iTunes purchases on Mac, or PC, or iOS devices, like iPhone or iPad.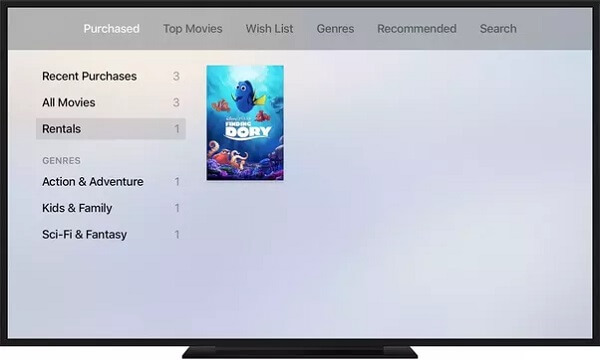 Part 1. How to See iTunes Purchase History on Computer
The first way we provide here is to let you view the full iTunes purchase history on your Mac or Windows PC.
Step 1

Open and log in iTunes

Click on iTunes icon on the screen of your computer and log in the iTunes account with your Apple ID and pass word.
Step 2

View iTunes account info

Click "Account" > "View My Account" from the menu bar of iTunes. Then input your password to enter your account. You will see the account information page then.
Step 3

Access to iTunes purchase history

Now roll down to buying history and tap "See All", you will then be able to see all the previous items that you have purchased before. Also, the arrow switch which on the left of the order date is to display the details of the transactions.
Tips: Depending on how many purchases you have made, this might take a while to load. Once loaded, you should see everything you have bought including every application, audio, TV show, movie, or anything else since you began using iTunes. You should note that the latest iTunes purchases will be displayed on the top of the screen whereas, the past purchases will be listed according to their dates.
Part 2. How to See iTunes Purchase History on iOS Devices
If you prefer to use iPhone or iPad to buy the iTunes content, then it would be more easier to view the iTunes purchases on the iOS devices. The following guide will show you the steps to find iTunes purchase history on iPhone or iPad easily. But you should know that the billing list from iPhone, iPad or iPod touch is not complete but just a part of it.
Step 1

Sign into iTunes account

Tap iTunes Store app on your iPhone or iPad and press "Sign In" button to log in iTunes account with your Apple ID.
Step 2

View purchased iTunes items

Now click on the "More" option on the bottom of the screen and you will see "Purchased". It will take you to choose the "Music", "Movies" or "TV Shows". Moving on you can find "Recent Purchases". Simply click on that option and you will get the 50 purchases or transactions you've made in the past. Meanwhile, you can choose "All" or "Not on This iPhone" to limit the list.
Note: For users from certain countries, you might be not able to view the details in iTunes Store, because of the region limitation restricted by Apple. In this case, you can see a last 90 days purchase history by click the official site via http://reportaproblem.apple.com.
More Tips: How to Share iTunes Purchases to Other Accounts
You should know that due to the DRM protection, iTunes doesn't allow you to freely share your iTunes purchases to other accounts unless you use iTunes Home Sharing. However, if you can remove the DRM protection from the iTunes movies or TV shows, you can easily transfer the purchased videos to other iTunes accounts without any limit. In this case, DRmare M4V Converter could be a great option for you to completely delete DRM lock from iTunes movie purchases (rentals included as well) and convert the iTunes videos to commonly used MP4, MOV, AVI, etc. To find out the details in sharing iTunes videos, visit this post: Best Ways to Share iTunes Videos to Other Accounts.