Bladley Cooper's "A Star Is Born" 2018 film stars himeself and Lady Gaga. It doesn't tell a new story. But this remake has enhance the original musical drama. I was moved by the beautiful love story and attracted by the soundtracks. It is a movie I really want to watch repeatedly. And the new soundtracks I'd like to keep forever.
No matter if you have watched the previous versions or not, you will love this movie A Star Is Born. Here I'd glad to tell more details about it and offer the best way to download the great songs.
View also: Top 10 Best Halloween Music Videos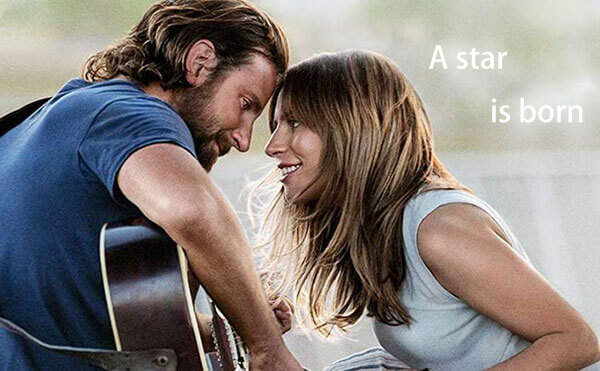 Part 1. Cast, Trailer and Plot
Cast
Directed by Bradley Cooper and stars himself, Lady Gaga, Sam Elliott, Andrew Dice Clay, Dave Chappelle, Rafi Gavron, Michael Harney, Rebecca Field
Trailer and Plot
Jackson Maine, starred by Bradley Copper, is an alcoholic rock star. One day after playing a concert on a bar, he met Ally, a struggling rising star played by Lady Gaga. Amazed by Ally's talent, Jackson quickly fall in love with Ally and invites her to his next show. With the rising of Ally's musicial career, Jackson gradually sinks. The trailer is vailable from YouTube.
Part 2. What Is Good In A Star Is Born 2018
A New Star IS Born premiered at the 75th Venice International Film Festival on August 31, 2018. And it is released in USA on October 5, 2018 by Warner Bros. It is fouth remkae of the original 1937 film of the same name.
What makes this remake special is the wonderful direction by the 4 times Oscar nominees Bradley Cooper and the leading role performed by Lady Gaga. After its release, it is quickly rumored to win awards like Oscar best picture. The concept of "A star will fall once a new star is born" has been seen multiple times in Hollywood, is still loved by many movie lovers. Bradley Cooper and Lady Gaga delivers their best performance to show us a musical romantic drama. In this movie, they also work together to compose many unforgetable songs such as the lead album song Shallow.
Part 3. A Star Is Born Soundtracks
Together with the movie, a soundtrack album with the same name is also released on October 5, 2018 by Interscope records. Gaga and Cooper collaborated on the soundtrack albume with an assortment of Lukas Nelson, DJ White Shadow, Jason Isbell, Mark Ronson, Diane Warren.
Billboard described the soundtrack as "integral to the plotline". And this album debuts at No. 1 on the Billboard 200. The main songs on the track listing are as follows:
"Black Eyes", "Somewhere Over the Rainbow", "I'll Wait for You", Parking Lot", "Out of Time", "Trust Me", "Shallow", "Music to My Eyes", "I Love You", "Unbelievable", "Look What I Found", "Heal Me", "I'll Never Love Again"
Part 4: Top 3 Fun Facts about A Start Is Born
1. This is the foruth version of A Star Is Born. Previous versions starred Janet Gaynor(1937), Judy Garland(1954), and Barbra Streisand (1976).
2. "Shallow" is the first song to be released from the soundtrack. It was co-written by Lady Gaga, Mark Ronson, Andrew Wyatt, and Anthony Rossomando.
3. Greg Grunberg plays Jackson Maine's limo driver and Rebecca Field plays Maine's tour assistant. Previous they played husband and wife in the 2012 TV show The Client List.
Part 5: Where to Watch the Movie
A Star Is Born is still on show on some theatres. If you'd like to watch it, just check your local theatres. You will definitely won't regret watching it.
Or alternativelly you can buy the drama from iTunes. It is more convenient and will save you some money. In addition, if you'd like to backup iTunes movies, you just need to use a DRM M4V Converter for Mac/Windows to get rid of the DRM protection. For more info: How to Remove DRM from iTunes M4V Movies.
Part 6: Listen and Download A Star Is Born Soundtrack Album
The songs from the musical drama are so beautiful. I just can't resist listen to them for times. They are available for free from YouTube, Spotify and other streaming audio service platforms. You can listen to them for free online.
But if you want to download A Star Is Born album offline, you have to use DRmare Spotify Music Converter. The trial vesion is totally free. So why not download to try it out yourself?
View also: How to Convert Spotify to MP3
Part 6: Download A Star Is Born from Spotify for Free Video Tutorial