The LII NFL Super Bowl Championship game was held on February 4, 2018. Philadelphia Eagles won the Vince Lombardi Trophy. The event marked the end of a regular season. And the new 2018 ~ 2019 NFL season is started on September 6, 2018.
Have you watched the Super Bowl 2018? Are you looking forward to the 2019 NFL Champion contest? Want to be the smartest person in the room every year's Super Bowl party? Here in this article, we will introduce the top things you care about and offer the best tips to download and watch NFL game videos.
View Also: Top 8 Best Thanksgiving Movies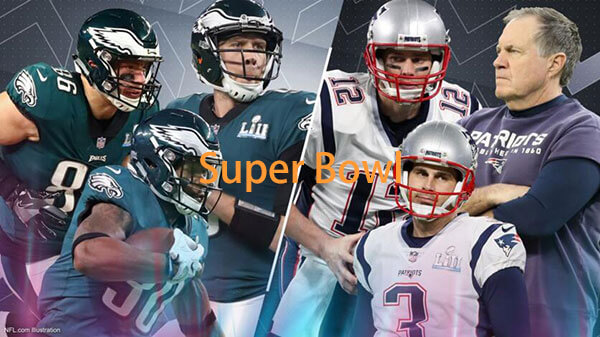 Part 1. Everything You Need to Know about the Big Game
What Is NFL Super Bowl
The Super Bowl is the the annual championship game of the National Football League. It was created as part of the merger agreement the NFL and the American Football League. The day on which the Super Bowl is played, is called "Super Bowl Sunday". During this day, people in US consumes largest volumes of food following Thanksgiving. As a most-watched television broadcast, the fee to display commercial ads on that time was amazedly high.
Top 5 Latest Super Bowl champions
| Super Bowl Game | Time | Winner | Location | City |
| --- | --- | --- | --- | --- |
| XLVIII | February 2, 2014 | Seattle Seahawks | MetLife Stadium | East Rutherford, New Jersey |
| XLIX | February 1, 2015 | New England Patriots | University of Phoenix Stadium | Glendale, Arizona |
| 50 | February 7, 2016 | Denver Broncos | Levi's Stadium | Santa Clara, California |
| LI | February 5, 2017 | Atlanta Falcons | NRG Stadium | Houston, Texas |
| LII | February 4, 2018 | Philadelphia Eagles | U.S. Bank Stadium | Minneapolis, Minnesota |
Top 5 Facts You Should Know on a Super Bowl Party
1. The National Football Conference leads the league with 27 wins to 25 wins for the American Football Conference.
2. The Pittsburgh Steelers have the most Super Bowl championship titles, with 6.
3. The price for Super Bowl ads have gone up 76% in the last decade.
4. Last year, 114 million people watched the Super Bowl. That is a third of the country's population.
5. Peyton Manning is the only starting quarterback to win a Super Bowl with two different teams: the Indianapolis Colts in 2007 and the Denver Broncos in 2016.
Top 5 Best Things to do During the Big Game Day
1. Enjoy the food Nachos, wings, pizza, Tostitos and salsa. Need I say more?
2. Watch the halftime show.
3. Being with your family and friends together.
4. Celebrate the touchdown for your supported team.
5. Parade after your team won the trophy.
Where to Stream the Live NFL Contests
You can watch NFL on many devices. Such as live cable TVs, Apple TV, Amazon Fire TV, Xbox game system and so on. The apps that play NFL games most are CBS Sports, ESPN and Fox Sports.
If you just want to listen to NFL Super Bowl, you can use the WestwoodOne, SirusXM, Tunein.
Part 2. Tips on Backing Up All NFL Super Bowl Replays Forever
The 2018 NFL Super Bowl Championship game is over. If you missed the live streaming, you can buy or rent the NFL football videos. Either from iTunes or local digital DVD shop.
Personally I'd recommend to purchase movies via iTunes as the price is much lower. You can pay only a few dollars to rent or buy the digital copy. Take the 2018 LII Super Bowl for example. You can buy the movie at $9.99 or rent it at only $3.99. Besides, there are a lot of TV seasons, episodes, replays for ordering too.
There is one thing you need to pay attention to though that your downloaded iTunes NFT videos clips are all DRM protected. If you rent the videos, you only have 48 hours to watch after starting. This means you will lose the NFL videos. If you want to backup the NFL replays forever, you need DRmare iTunes Media Converter for Windows/Mac to help.
Best iTunes NFL Video Downloader of 2018
Step 1

Import NFL football videos from iTunes

After renting, you can download NFL videos to your iTunes media library first. And then you can drag and drop the items from iTunes to the DRmare software main screen.
Step 2

Choose the output video format

To save your movies forever, we'd recommend you to choose a universal video format. MP4 not only has high quality but also has low file size. So it is highly recommended. But you won't go wrong if you just want other formats such as MKV, AVI, WMV, MOV, MPG and so on.
Step 3

Get rid of the DRM protection

At last, you can click the "Convert" button from the bottom right of the software. DRmare software will start to convert NFL videos to MP4 quickly. When it is done, your rental movies won't be affected by the 48 hours watching limitation. This means you can keep all your iTunes rental NFL games video clips forever.