Shaken by the 2009 police shooting of Oscar Grant, Angie Thomas developed and expanded the short story into a novel. It was titled after the "THUG LIFE" concept: "The Hate U Give Little Infants Fucks Everybody." This book was published on February 28, 2017 and debuted at number 1 on the New York Times young adult best-seller list. It also won a 2018 Coretta Scott King Author Honor, a Michael L. Printz Honor.
The Hate You Give is a best selling book that will definitely worth your time to read. Or you can listen to the audiobook or watch the film adaption. Now please read on to find out more details.
View also: A Star Is Born Movie Review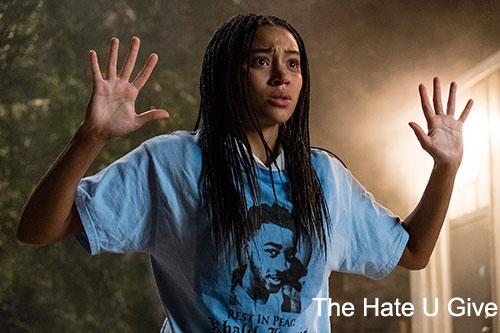 Part 1. How to Watch The Hate U Give Movie
This is one of the best movies in 2018 that everyone should watch. CinemaScore gave the film an average grade of "A+". On Rotten Tomatoes, it received 96% approval ratings based on 176 reviews.
Release Date
The Hate U Give premiered at the 2018 Toronto International Film Festival on September 7, 2018 and was released in some limited areas in the United States on October 5, 2018. And then go wide on October 19th.
Cast
Directed by George Tillman Jr., Screenplay by Audrey Wells, star Amandla Stenberg as Starr Carter, Regina Hall as Lisa Carter, Russell Hornsby as Maverick Carter, Algee Smith as Khalil Harris, KJ Apa as Chris.
Plot
In the film The Hate U Give, Starr Carter is a teen from the black community in Garden Height. When she was 9 years old, her stern-voice father also teach the children what to do if stopped by a police: put their hands on the dashboard and do what the police say. Her parents send her to the white private prep school in the wealthy Williamson neighborhood for better education.
One day after a gun goes off at a party, Starr is driven home by her childhood best friend Khalil. On the way home, they are stopped by a while police officer. Khalil was killed because the policy mistakenly thought Khalil was picking up a gun.
Khalil's death goes viral and many black people help some protesting activities in the street. Caught in the middle between the protesters and her friends at school, Starr has to decide if she will stand out to tell the world what happened that night.
The Hate You Give Trailer
The official trailer is available on YouTube, watch it below.
Download and Watch The Hate U Give Movie
The movie is still on Cinema, so you can check if it is available on your location. If it doesn't, you don't need to worry either. Just buy or rent it from the iTunes store which is one of the best places for buying digital media files.
One thing you need to note is that if you rent it, you only have 48 hours to watch it after starting playing. If you'd like to keep the iTunes rental forever or distribute the movie to other devices, you can use the DRmare iTunes Movie Converter for Windows/Mac to help you convert iTunes M4V to MP4.
Part 2. Download The Hate You Give Audiobook
The audiobook won the Oddysey Award for best audiobook for kids and teens. It is one of the best audiobooks of 2018. Last 11.5 hours, read by Bahni Turpin.
A routine traffic stop turns tragic for two African American teens. Starr Carter is a teen girl who study in the private white school and lived in the black community. One day she was driving home by his best childhood friend Khalil. Unfortunately Khalil was shot by the police. This irrevocably changed everything, causing race riots, legal battles, survivor's guilt. Angie Thomas's story about black lives matter movement is powerful, narrator Turpin's best performance makes it even more attracting.
The Hate You Give audioobook is available from many platforms such as iTunes, Audible and more. You can buy and download them to play on the specific player.
But you may not distribute it elsewhere due to the digital rights management (DRM) protection. If you'd like to copy the audiobooks like common MP3 files, you can use a special DRmare Audio Converter for Windows/Mac to convert the format of your audiobook files.
Part 3. Conclusion
The Hate You Give is funny, painful and endearing. It offers a deep look into a fairly typical teen girl's life, the brutality of police, the black life and much more. It reflects the realities of American. Although we live in the modern time. Racism still exists in the world.
The characters in this novel are rich and fully developed. They fill like family, friends. It is really a great entertainment to watch this drama while lettings us think more about the complex social issue. It is highly recommend you to listen to the audiobook or watch the movie of The Hate U Give.
Still have more questions? Please just leave your comments below.