There are plenty of music streaming services such as Spotify, Tidal, Rhapsody(Napster), Apple Music and More. They all have excellent features that loved by people who like playing music. As for Rhapsody, maybe you aren't familiar with it. And compare to Spotify, does it work better? With this question, today, we are going to show you the differences and comparison between Spotify and Rhapsody. You could follow this passage and take a look of them.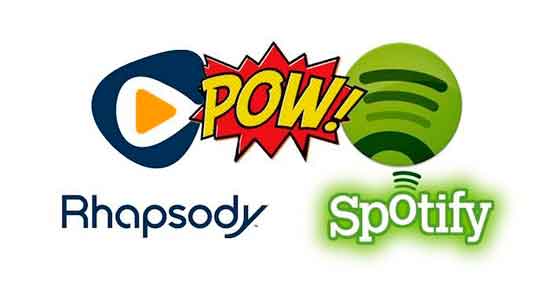 Part 1. Overview: Spotify and Rhapsody(Napster)
About Spotify
Spotify is a well-known and popular music streaming service, which is launched in October 2008. It offers music, podcast and videos and all of the contents are in DRM protection. Until now, it has more than 40 million songs, and its active users and paying subscribers are increasing in a rapid speed. Moreover, the music discovery function of it is worth to mention, which can recommend songs for you according to your listening data.
About Rhapsody(Napster)
Rhapsody, founded in 2001, is the first streaming on-demand music subscription service to offer lots of digital music to people for a flat monthly fee. In 2016, Rhapsody acquired Napster and renamed itself as Napster. It also houses over 40 million songs and it allows you to download songs for enjoying them offline on three different devices.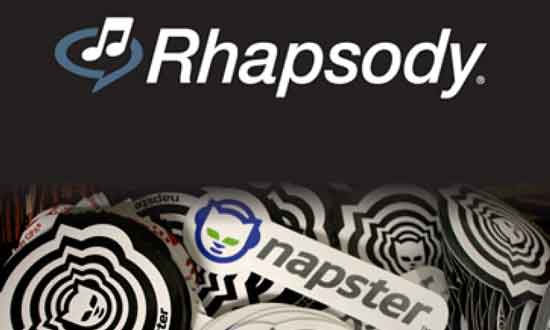 Part 2. Spotify vs Rhapsody: Differences and Comparison
In this part, we will compare Spotify and Rhapsody in several aspects to show you the differences between them, now please check the detailed differences and learn more about them.
Compatibility
Spotify is available on Windows, Mac, iOS, Android, Blackberry and other devices, while Rhapsody can be played on all these devices as well as MP3 player.
Sound Quality
As for the sound quality of Spotify, it offers better sound quality for its paid subscribers with a 320kbps bitrate.
However, the sound quality of Rhapsody is not so good as Spotify. Thus, its users are not satisfied with that and complain about this issue.
Price
Spotify offers free and premium plan for users. With Spotify free tier, you can access to all the Spotify songs, podcasts and videos. For the Spotify premium, it costs $9.99/month for individual and $14.99/month for a family license for up to 5 users. And it provides ad-free and better sound quality for its premium users.
As for Rhapsody, it doesn't offer free service. It only offers free trial for people, when the trial ends, you will need to pay for it if you want to continue. For its unRadio plan, it offers 14-day free trial, which will cost you $4.99/month after free trial, you can personalize your radio and skip as many songs as you want. For its premier service, it costs $9.99/month and provides 30-day free trial, you can download songs to listen offline on your devices.
Spotify vs Rhapsody: Pros and Cons
Pros:
Spotify's homepage design looks energetic and its interface is clean. It enables you to discover more songs and offers better sound quality for the premium users.
Rhapsody allows you to download songs to enjoy offline on three different devices. You can copy Spotify or Deezer playlists to Rhapsody(Napster) easily and you could customize the playlists according to the genres and artists you like.
Cons:
In Spotify, songs can neither be downloaded nor listen offline without the premium account. And it is quite difficulty to combine music files on different devices.
As for Rhapsody, its sound quality is a little bit lower than Spotify. And there is no obvious interface to check the trending songs and albums.
Extra Tip
If you don't want to pay for Spotify and Rhapsody, you can use Spotify free service. However, Spotify free service will have audio ads, which will interrupt you to listen music.
Here we would like to introduce a smart program to you to remove ads from Spotify music. You can use DRmare Spotify Music Converter for Mac to help you remove ads and download Spotify music for offline listening.
Part 3. Spotify or Rhapsody: Which is Better
According to the differences and comparison between Spotify and Rhapsody we show you above, now you have learned more about this two music streaming services. Then you could select the one which meets your requirements.
If you don't care about the money, you could go for Rhapsody to listen music and you can play music on other devices.
If you want to save money, you should choose Spotify free service and use DRmare Spotify Music Converter together to help you listen music.
Hope this post will help you. Still have any questions? Please feel free to leave your comments below, we will do our best to help you.