Spotify is the world's most famous and loved music streaming service. It offers two tiers of services, free and premium. Everyone can sign up a free account to listen to it. Until now, it has over 40 million songs and 170 million active users. Compared to other streaming music such as Apple Music, Google Play, Amazon Unlimited, Spotify has a easier and more beautiful interface. So it is not difficult to use. However, even if you are a long time listener, there may still be some hidden features and tips you don't know.
To help you get best use of Spotify music, here I will put the top Spotify tips and features together to help you become a Spotify pro. It works well for both free and premium account users.
View also: Top 10 iTunes Tips and Tricks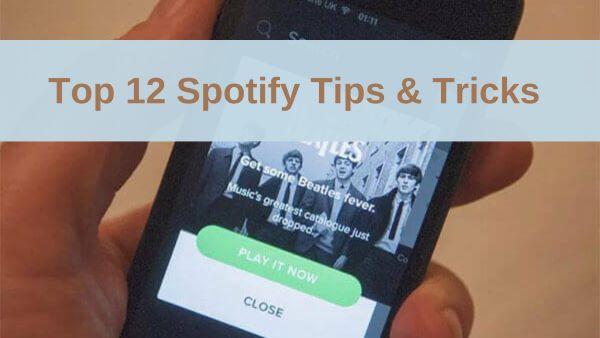 Top 1. Discover Spotify Daily Mixes
Most users are familiar with the "Discover Weekly", which is an automatically generated playlist from Spotify to help to find your favorite songs. But you may not know that there are also multiple "Daily Mixes" playlists created based on your music taste everyday. You just need to listen to the music you like, the Spotify system will detect the songs you played and then create the similar songs from the same genre or category. Compared to "Spotify Discover Weekly", you can get your favorite music in a faster way.
View also: Top 8 Tips to Discover Spotify New Music
Top 2. Add Local Music to Spotify
Spotify has a biggest music library, generally you can get almost any songs you want. But what if you have some favorite home music or some special songs you can't find there? No worries, to improve the listening experience, you can add your local files to Spotify. Take the desktop version for example, the songs from "iTunes", "Downloads", "Music Library" will be added automatically. If your songs are stored on a different folder, you just need to click the button "Add A SOURCE" to add it.
View also: How to Import Apple Music to Spotify
Top 3. Recover Deleted Playlists
Do you spend much time on creating your personalize playlists? When happened when you delete some of them by accident ? Do you have to start creating them from scratch? No worries. Spotify understands this kind of error users may make often and make the deleted playlist pending before it is removed completely. All you have to do is log in to Spotify official website and click "Recover Playlists" menu. Then you can check and select the playlist you like and click "Restore" button to all your devices.
Top 4. Choose Music Quality on Spotify
On the Spotify desktop version, it supports standard quality and high quality (Premium only), you should definitely select the best quality up to 320Kbps music if you have subscribed to Spotify Premium membership. Just go to the "Settings" panel and then toggle the option under the "Music Quality" tab. But if you are using a mobile phone, you may not always want want best quality. Because higher bit rate will cost more cellular data usage. In this case, you can do the settings on your phone to choose among normal quality 96Kbps, high quality 160Kbps or extreme quality 320Kbps.
View also: Comparison: Spotify Free vs Spotify Premium
Top 5. Share Spotify Playlists
Sharing doubles happiness. If you find a playlists interesting, you can directly share it by using the embeded Html code, Spotify link or social media buttons. Just right click the playlist > Click "Share" > then you can manually copy the link to send to your friend or embed the Html code to your blog or click the social button to post it to your Facebook page. Besides, if you want to cooperate with your friends to generate a perfect playlist, you can also choose the option "Collaborative Playlist" so that your friends can add their own songs to it as well.
Top 6. Use Your Phone as a Remote for Spotify
Spotify music supports to a lot of device including computers, tablets, mobile phones, game consoles, streaming boxes, smart TVs, smart speakers and much more. Do you find it inconvenient to control the playback for some devices? If so, why not give the "Spotify Connect" feature a try? It is not difficult at all, you need to setup Spotify to the same account and Wifi connection on your playback devices first. Then they should show up on the "Connect to" options on your phone, you can select the destination device and then control the stream from your phone including shuffling, next, previous, adjusting volume and so on.
View also: How to Download Spotify Music to iPhone
Top 7. Listen to Your Own Music Offline
This is another feature for Spotify Premium users. It turns out to be helpful when you are on a plane or at any places without internet connection. To enable the offline mode on your Android phone/iPhone, you can go to the library > Click "Settings" > Tap "Playback" > Switch the button to "Offline", then it is OK. However, one thing you need to note is that Spotify music are DRM protected, it requires you to put your phone online at least once every 30 days to make sure you are a legit premium user.
View also: Download Spotify Songs with Free Account
Top 8. Organize Your Playlists into Folders
If you are a new user with only a few playlists, then this feature maybe not necessary. However, if you are a regular listener who plans to listen to Spotify songs for months or years, your library should become bigger and bigger. To make it easier for management, you can simply create folders to sort songs with different genres and categories. On the desktop app, you can click "File" menu > "Create Playlist Folder" and then move the playlists you want into it. After that, clicking on the name of the folder will enable you to select all the songs and playlists.
Top 9. Play Spotify with Alexa
Amazon Echo is most Known smart speakers in the market. It has the native support for Spotify. If you enjoy Spotify songs and want to experience the smart home features, you can get an Amazon Echo to help you play Spotify songs. The setup is not difficult, basically you can go to the Alexa official website or use the Alexa app on your phone to connect Spotify by inserting the account name and password. When it is done, you can use the commands like "Alexa, play XXX" to control the Spotify playback.
View also: How to Listen to Spotify Songs on Echo
Top 10. View Spotify Lyrics
Spotify work with Genius to offer lyrics for some songs and playlists. Currently it is available in English for mobile devices. You can start playing music from your mobile phone. If there is no lyrics show up, you just need to tap the "Now Playing" bar at the bottom of the screen, you should see the song's lyrics and their story. This is extremely useful if you are having a party with your friends/family. Beside this way, you can also download the SoundHound app if you want to get lyrics for more songs.
Top 11. Create Your Own Radio Station
The competitors like Apple Music and Pandora offer great radio stations. As for Spotify, you can listen to radio station you want too. And of course you can generate your own personalized radio. How? From the side menu "Stations" > Click "CREATE NEW STATION" > After that you can add your songs, playlists, artists. You can also use the thumbs up or thumbs down button to help Spotify algorithm to find the songs meets your requirements better.
Top 12. Advanced Search Qualifier Functions
You should have already know that Spotify has powerful search functions, usually you can type your keywords to find your tracks, playlists. But sometimes it will comes up too many results. To make the search more accurate and narrow the search results, you can input the qualifiers such as artist: Westlife, Year: 2008, General: Rock and so on. You can also combine all these qualifiers into one search and use the conjunction words "and", "or", "not" etc.
View also: Best Office Appropriate Music Playlists from Spotify
Summary
Spotify is a powerful music platform instead of being only a music provider. It combines a lot of useful features of which most are not recognized by some users. Perhaps there are much more other tips and features we didn't list here, but above are the top 12 best Spotify tips that we use frequently and turn out to be most helpful. No matter if you are a new user or an long-time Spotify music lover, you should pay attention to them to get the best out of Spotify.
Do you know other tips which you want to share? Just let's know by typing on the comment section below.