"I have bought and downloaded some FLAC lossless songs from HDtracks website online. One of my requirement is to play these music on my portable MP3 player but it turns out that it is not compatible. Is there a way to convert FLAC to MP3?" - Question from Reddit
FLAC, known as Free Lossless Audio Codec, is a compressed format that offers CD-like Hifi audio quality. As a result, it is beloved by audiophiles. However, it is not perfect. This format is not compatible with some common MP3 players. And usually to get the most out of FLAC, you need to have pretty expensive Hifi speakers. Finally, this format is difficult to distribute online due to its large size.
Today, I'd glad to recommend the top 5 best FLAC to MP3 converters in 2018 to help you solve this problem. They cover the free and paid tools on Windows and Mac computers.
View also: How to Convert Spotify Music to FLAC
Top 1. DRmare Audio Converter (Windows, Mac)
DRmare is a media solution provider which focuses on media encoding technology for years. This software is an all-in-one tool to convert both DRM-free and DRM-protected files such as Audible audiobooks, Apple Music. The formats it supports to convert are MP3, FLAC, WAV, AAC, AC3, OGG, RAW, AA, AAX, M4P, M4B,M4A, M4R. It is probably the best FLAC to MP3 converter you can find in the market. Compared to other freeware, it has much better performance and some unique features which can't be found elsewhere. For example, you can preview the songs during editing. Converting FLAC songs to MP3 has never been easier.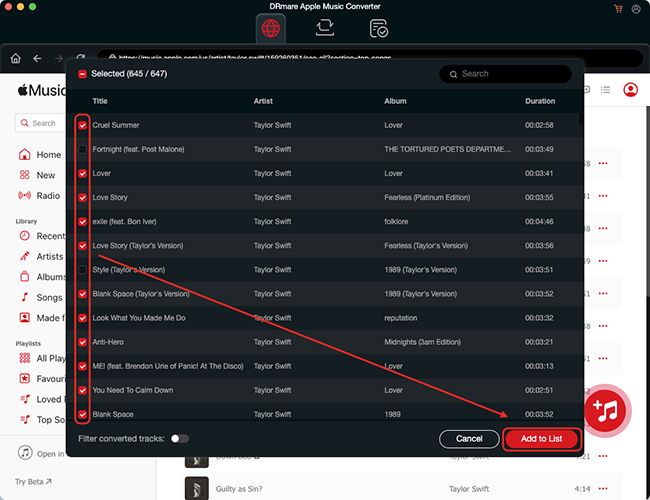 Pros: 1. 30X faster speed. 2. Lossless output quality. 3. A lot of options to customize your audio files. 4. Lifetime free update and support.
Cons: 1. It costs $39.95 for a lifetime license. Anyway, you can try it out for free.
Top 2. FlacSquisher (Windows)
FlacSquisher is a very easy-to-use music library converter. You can select a folder or directory of FLAC music to start converting directly. It takes advantages of multi-core processors to encode audio files in parallel. So the converting speed is fast. It also offers the option to set the output files but honestly it is very limited. Besides, if you only just need to convert a few files like 1 audio file, FlacSquisher may be not so convenient for you.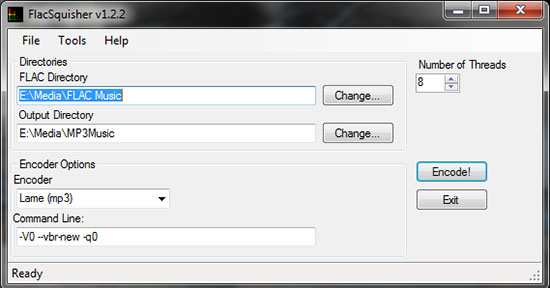 Pros: 1. It is a freeware, you don't need to pay for it. 2. It supports batch converting quickly. 3. Pretty easy to use.
Cons: 1. The supported input and out formats are very limited.
Top 3. FLAC to MP3 Converter Online
This online FLAC Converter supports to convert a variety of video and audio files online directly. It supports almost any devices including Windows, Mac, Linux, Android, iOS, Linux. You don't need to install any package into your device. The audio formats it supports include MP3, WAV, WMA, M4A, FLAC, AC3, AIFF, M4R, M4B. To convert FLAC to MP3 online, just upload it and then click "Convert" button. But it also has some limitations too. So don't expect it work with as high performance as other commercial shareware.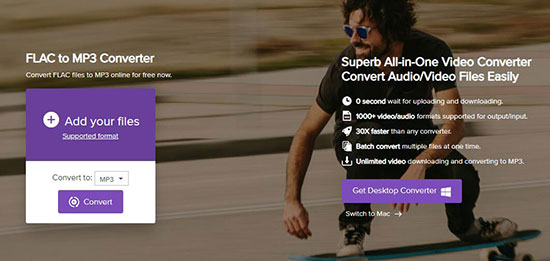 Pros: 1. Support to run on any devices like iPhone, iPad, Android phone. 2. Convert both audio and video files. 3. It is free and you don't need to download to use it.
Cons: 1. It takes a longer time to convert audio files. 2. It is not as safe as other offline software.
Top 4. Audacity (Windows, Mac)
Audacity is a free open-source FLAC music converting tool with powerful feature. It has the feature to record almost any sound that comes out of your computer and then cut and edit it into new music. Also, it can import a range of audio formats FLAC, AIFF, WAV, OGG and encode to new files. This software is available on both Windows and Mac computers for free. You can download it for free from SourceForge simply to encode your FLAC song to MP3 for free. One thing you need to note is that since this software has so many features, you may have to spend some time before you can fully understand it.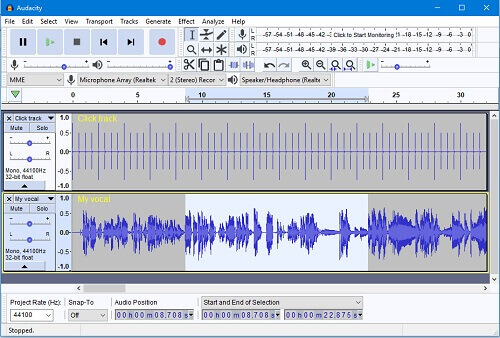 Pros: 1. Multiple options to edit and customize FLAC files. 2. Run stable without any problems. 3. It is an open-source freeware.
Cons: 1. Kind of difficult to use for beginning users.
Top 5. VLC Media Player(Windows, Mac, Linux)
VLC is commonly known as a media player. You can use it as a FLAC player. But you may not know it is actually a powerful FLAC to MP3 converter freeware. VLC can transcode container formats AVI, ASF, FLAC, MP4, FLV, MPEG, OGG, TV, WAV, WebM and audio coding formats AAC, AC3, MP3. It is not difficult to change FLAC file to MP3. Just click "Media" menu > "Convert/Save" menu to import the file and start converting. But honestly it is not so intuitive that few people know it has such a feature.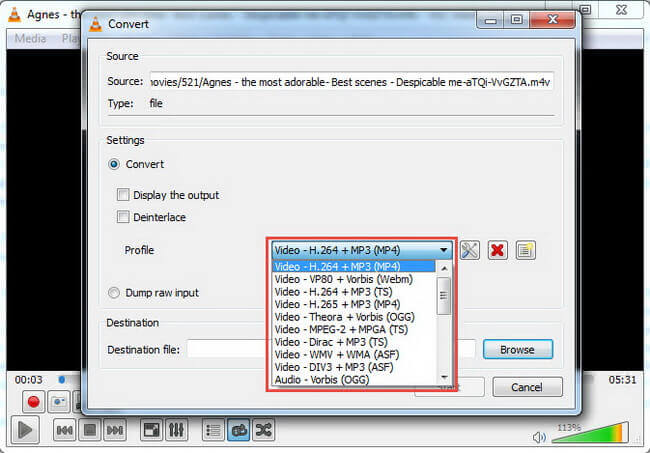 Pros: 1. Support to play FLAC files perfectly. 2. It is a well-known tool which has been crafted for years. 3. Support various audio and video formats.
Cons: 1. As a converter, it is not to friendly to use.
How to Pick Up a Best FLAC to MP3 Converting Software
To sum up, all of the 5 tools we listed above can help you convert FLAC music to MP3 songs without problem. But with a great audio converting tool, it can help you retain the best audio quality as well as save your precious time. To choose a best one, generally, you need to consider the price, features, usability and so on.
As a leading software in the market, DRmare Audio Converter for Windows/Mac is undoubtedly the best FLAC converter. It is proper for users who has enjoy media files from many platforms like iTunes store, Audible and so on. If you don't mind paying for a few dollars for it, DRmare software is highly recommended.
On the other hand, if you only need to convert a few FLAC files, the other 4 FLAC to MP3 freeware FlacSquisher, VLC, Audacity, Media.io can help you get the job done. Just pick up the one you want.