Do you feel annoyed that you have no idea of which music player is suitable for you, because nowadays there are various of music players, such as Deezer, Spotify, and so on. Maybe each of the music software has its own advantages. If you want to choose one of them for you, and you don't know which is better, you could check this post to find the answer. In this post, we will take Deezer and Spotify to do a comparison in the following aspects, we hope it can help you to make a final decision.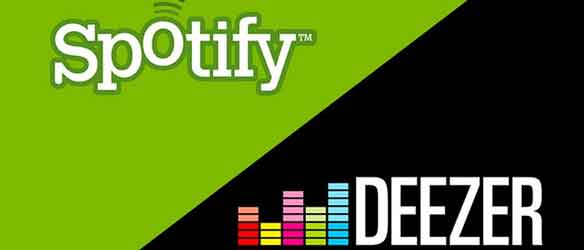 1. Basic Introduction of Deezer and Spotify
Deezer is a French music streaming service, which is launched in 2007. It has more than 53 million music tracks and covers 180 countries. Until now, it has more than 14 million monthly active users and 6 million paid subscribers. The service is compatible with Android, iOS, Windows, Mac OS and others.
Spotify is a music streaming platform, which is founded in Sweden in 2006. As free users, you also can enjoy listening to music freely with advertisements. But if you are being a paid subscriber, you can listen to music online or offline with ad-free. Spotify owns about 40 million songs and it reaches 78 countries, but it now already had 217 million monthly active users, including 100 million paid users. The software is available for Windows, Mac OS, iOS, Android, etc.
2. User Interface
The user interface of Deezer is very easy, you could look at the lists on the left and then look for your songs.
New is the music the software provides to you according to your listening preferences.
Radio Channel includes various kinds music that you can listen to.
Search is to let you explore the entire Deezer music by typing the artist, album or others.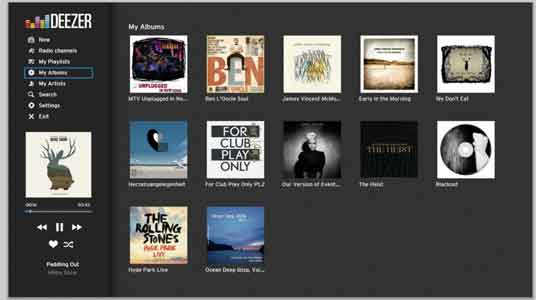 While Spotify's interface is more detailed than Deezer, though it's similar to Deezer. There are some differences between them. When you launch the software, the lists are also on the left of the interface, but Spotify shows you more, such as home, browse, radio, your library and other lists, which let you easily find your music files.
Home is where you can see what new in Spotify and the recommended music for you.
Browse is to search songs through according to the artist, genre, etc.
Radio is like Deezer, which plays music randomly for you.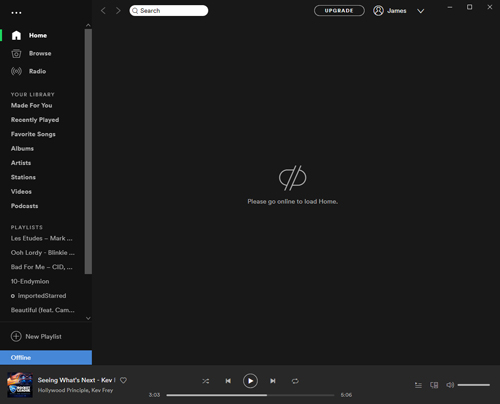 3. How Much Does It Cost?
Deezer and Spotify both has free and premium and their payment plan is as the same, because most of the functions of this two music streaming services are similar. The price of this two software is $9.99 for monthly for individual. For 6 family members, the price is $14.99. If one of them increase the price, the other part will get the edge of the price. No matter which plan you would like to subscribe, you can enjoy ad-free and listen to music offline on Deezer and Spotify.
If you want other particular plans, Deezer has other three plans for you. To get a year Deezer premium, you could select Annual Plan, which is for $99.90. If you want to stream music in lossless quality, Deezer HIFI is your best choice, it is at the price of $19.99 per month. If you are a student, you can get a cheaper premium price, it's only for $4.99 per month.
4. Connectivity
As for connectivity, Deezer allows you to connect to various devices, such as desktops, speakers, cars, etc., but you cannot connect more than three devices at once. If you want to add the fourth one, you need to remove one of the connected devices first, but for Family Plan subscribers, you don't need to worry about this.
Spotify also has the ability to communicate with almost every device hooked to the internet: Linux desktops, smart TV's, X-BOX, sound systems and others. Under the help of Spotify connect, you can use your main device as a remote for other devices. It also has great communication with external apps, like navigation apps. This will allow you to play Spotify without having to minimize the map while driving.
5. Sound Quality
For Deezer free users, you can only enjoy 128kbps music, while paid users can get either 320kbps for the standard subscription or FLAC quality for HIFI plan. This compression streams 16 Bit / 44.1 kHz of FLAC quality which is the closest to analogue recording you'll get today. This is a huge advantage for Deezer.
Spotify provides 320kbps Ogg Vorbis high-quality streaming for its Premium users and 128kbps for free-plan users. If you are using sensitive sound equipment then the difference will be evident, otherwise, not so much.
6. Comparison Table
Deezer
Spotify
Founded
2007
2006
Price

Free service: no offline mode, ad-supported

Monthly fee: $9.99/month

Family plan: $14.99 for 6 family members

Annual Plan: $99.90

Deezer HIFI: $19.99/month

Deezer Student: $4.99 per month

Free service: no offline mode, ad-supported

Monthly fee: $9.99/month

Family plan: $14.99 for 6 family members

Free trial period
1 month
trails and promos vary
Number of monthly active users
over 14 millions
217 millions, including 100 millions paid users
Audio quality
320kbit/s MP3 quality for Premium / 128kbit/s MP3 quality for Free / CD-quality for Deezer Elite
320 Kbps in Ogg for Premium / 192 Kbps in Ogg for Free
Music library
over 53 millions
about 40 millions
Connectivity
desktops, speakers, cars
Linux desktops, smart TV's, X-BOX, sound systems
Supported platforms
Android, iOS, Windows, Mac OS
Windows, Mac OS, iOS, Android
7. The Verdict: Deezer or Spotify
In general, both Deezer and Spotify are outstanding music streaming services, it's difficult to choose which is better, so the option is up to you according to your own requirements.
Are you a sound fanatic? Do you want to listen to high quality music? If so, Deezer is a best choice for you, you should go with it.
If you just want to get as accurate results as possible within time, Spotify maybe the right pick for you.
So, which do you prefer? Deezer or Spotify? Let me know in the comments.
Extra Tips: How to Move Playlists from Spotify to Deezer
If you want to listen to the songs which are available on Spotify but not on Deezer, we have a best tool to help you solve this problem. You could try DRmare Music Converter for Spotify to download music files to MP3, AAC, etc. and stream them to Deezer for playback.
For more details, you can see How to Stream Spotify to Deezer and follow the post to transfer Spotify music.