A few months ago, I have made a full collection of the top 8 best media players for iOS users for their reference. Recently, I have discovered that many people also can't make the right decision on choosing which media player for using on computers.
Today, I will introduce two of most excellent media players, VLC Media Player and QuickTime Player for the purpose of playing digital entertainment on computer more enjoyable. There is the detailed comparison between VLC Media Player and QuickTime Player in the following article. Please read on this review, and you will find out the best media player to install on your computer.
View also: Top 8 Video Players for iOS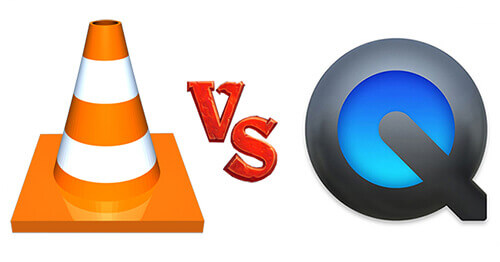 Part 1. What Is VLC & What Is QuickTime
VLC Media Player
VLC also common known as VLC media player, is one of the best free and open-source media players. And now, it's also the streaming media service developed by the VideoLAN project, meaning that you are able to use VLC video player as the streaming device to share music and videos with the same Wi-Fi connection. VLC media player is available for Mac, Windows and Linux operating system as well as mobile platform, like Android, Ios, Windows phone, etc. Beyond doubt, VLC is capable of playing video and music files with the support of a wide variety of audio and video formats.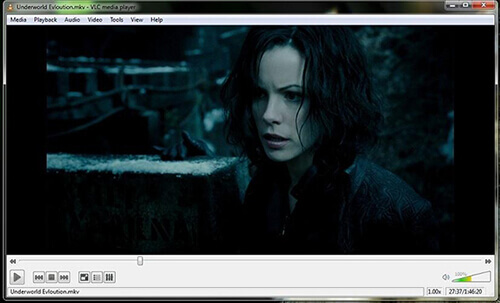 QuickTime Player
QuickTime Player is an extensible software framework developed by Apple Inc. Unlike VLC media player that can support cross platforms, QuickTime is the bundled with Mac operating system, which is as the default movie player as Mac. And the Windows version of QuickTime 7 is not available to use in 2016. Of course, as the awesome media player, QuickTime player is capable of supporting various formats of videos, music, images, and other media files. Besides, it's also able to encode and transcode your digital files to other formats directly.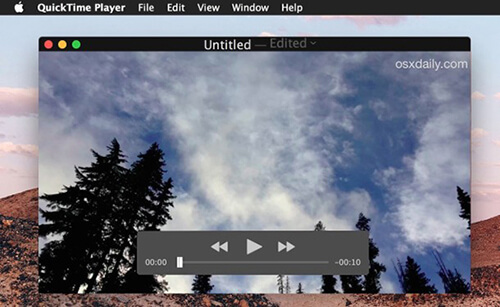 Part 2. Main Features: VLC Media Player vs QuickTime Player
Up to now, we have a simple overview of VLC and QuickTime media player. But it is not enough for you to choose the best media player from VLC and QuickTime. Now, let's have detailed feature comparison to these professional video players.
Operating System Support
As mentioned above, we have already known that VLC media player is a cross-platform media player from Windows to Linux to Mac operating system. But QuickTime player in some versions is only available for Mac OS. Obviously, in this part, VLC is better than QuickTime player. As consequence, if you are running non-Mac operating system, VLC media player is the first choice to enjoy music, movies, TV shows and any digital file.
Audio and Video Format Support
VLC and QuickTime both can read almost all video and audio formats. So here, let's have a clear format comparison in the following aspects, supported audio formats and supported video formats.
Formats Compatible with VLC
Supported video formats: 3GP, ASF, AVI, DVR-MS, FLV, MKV, MP4, Ogg, OGM, WAV, MPEG-2, VOB, RM, DVD-Video, VCD, SVCD, CD Audio and more
Supported audio formats: AAC, AC3, ALAC, AMR, DTS, DV Audio, XM, FLAC, It, MACE, MOD, Monkey's Audio, MP3, Opus, PLS, QCP, QDM2/QDMC, WMA, and more
Formats Compatible with QuickTime
Supported video formats: AVI, M4V, DV Stream, MPEG-2, MPEG-4, QuickTime Movie, MOV, etc.
Supported audio formats: AAC, AIFF (AIFC), Audio CD Data, MP3, Sound Designer II, System 7 Sound, uLaw, WAVE, etc.
Have your found wanted video and audio formats existing in one media player, VLC media player or QuickTime player? According to my guess, the answer might be VLC. If you have some media files that can't be recognized by QuickTime, please try VLC and it will play your files without giving you an error message. But if you own tons of iTunes movies and TV shows, you might prefer to choose QuickTime that can directly play iTunes M4V files.
Other Features of VLC and QuickTime
VLC: It supports advanced subtitle, such as multi-track audio and enables you to customize the playback speed. Apart from a media player, VLC is also used to record Internet radio so that you won't miss any wonderful radio show. With the use-to-use UI, VLC supports screen capture and you can add logo watermarks in personal videos.
QuickTime: Just like VLC media player, QuickTime player lets you record what's occurring on your Mac's screen with ease and customize the videos by trimming rotating, splitting or combing video clips, etc. With built-in QuickTime Broadcaster, you are ablet o stream live video to a QuickTime server. The most unique feature of QuickTime is that you can upload QuickTime movies to social networking and video sharing websites, like YouTube, Facebook, Vimeo, etc.
Part 3. QuickTime vs VLC: Which One Is Better
From what we mentioned above, QuickTime is the perfectly adequate media player for playing movies, videos and music on a Mac. In fact, many Mac users actually use QuickTime on their Mac. For Windows users, it seems the better choice to download VLC as the media player for enjoying digital files.
However, if you would like to use VLC media player on Mac or play iTunes movies and TV shows using VLC player on Windows, you will keep the key point in mind that iTunes videos can be recognized by QuickTime player while VLC media player is not able to be compatible with iTunes M4V files, since M4V format is not included in the list of VLC supported formats and iTunes movies and TV shows are encrypted with FairPlay DRM technology. In order to make iTunes videos playable on VLC media player, you'd better to bypass DRM protection from iTunes purchases and rentals with third-party iTunes DRM remover.
DRmare M4V Converter is such software to help you decrypt DRM technology from iTunes video files. DRmare Studio provides the free trial version for users to test its performance before purchasing. So you can download and install it to evaluate it and this smart software is available for Mac and Windows operating system. As for playing iTunes movies and TV shows on VLC, you can refer to this simple tutorial: How to Play iTunes Videos on VLC Media Player.