Nowadays, we had watched lots of videos in short video apps, such as Instagram, YouTude or others, and you may be curious at their wonderful videos of why their videos with background music. Especially for Spotify Music user, you may be eager to put your loved Spotify Music to your Instagram Story, but you have no idea on how to do that. In this post, I will show you how to add Spotify Music to Instagram Story step by step.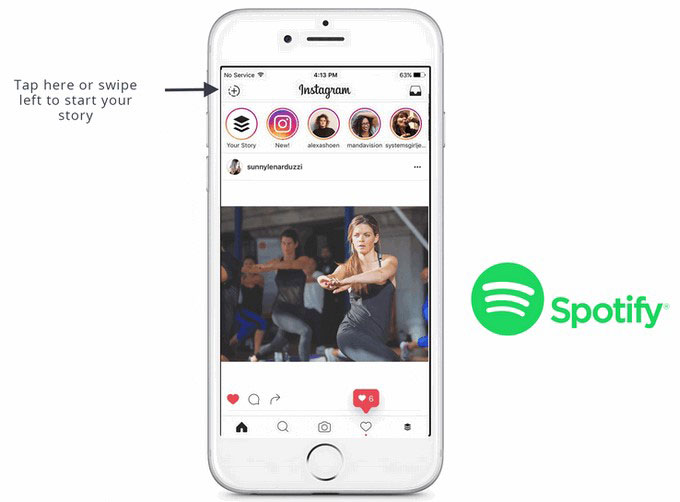 In general, there are two methods for you to add background music to Instagram Story from Spotify Music. They are the followings:
Method 1: Add Background Music to Instagram Story by Instagram App
As Instagram app can record sounds itself from your smartphone, you can add any music tracks to Instagram Story by playing it with Spotify when you are capturing your story.
Step 1: Open the Spotify app on your smartphone and find the song you want to add to your Instagram story.
Step 2: Tap on the song you want to add to Instagram Story and play it. Then use the time bar to choose the section you want. Then, pause the song.
Step 3: Open Instagram app and log into your account.
Step 4: Play the song on Spotify and simultaneously start to record your video by tapping the Camera button in the upper left corner of Instagram.
Step 5: Once you have finished recording your Instagram story, tap on the "+" button at the bottom to upload your story to Instagram with the Spotify music playing in background.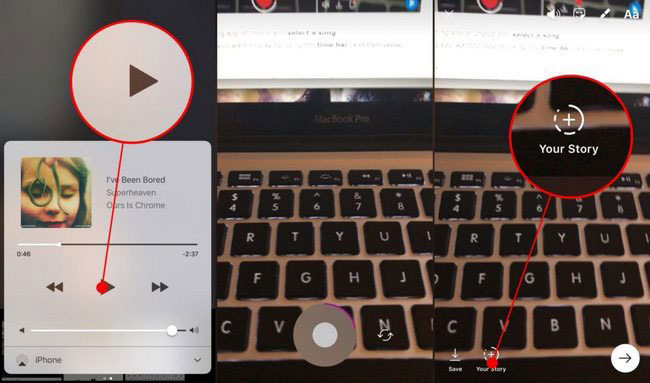 The first method I show is suitable for you while you are shooting instant video as your Instagram Story. So here comes the question--how to do with the videos I shot before? Don't worry. There is another solution I'm going to let you know.
Method 2: Add Background Music to Previous Videos by 3rd-party App
As for putting background music on the previous videos, you need to download a third-party app such as InShot Video Editor, which is available on iOS and Android OS.
Step 1: Launch InShot Video Editor app and open the previous video through the app.
Step 2: Trim the video according to your need.
Step 3: Tap on the Music icon at the toolbar and choose the song. You can select the featured songs within the app or get the Spotify music from your internal storage.
Note: To add tracks from Spotify to InShot video, make sure that you had completely downloaded and saved the songs onto your device. Otherwise you'll need to login Spotify account and download the songs offline, but this is just for premium user. The free users are not allowed to download any Spotify music for offline listening.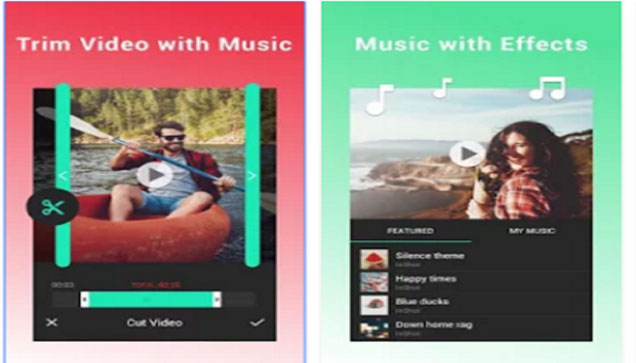 More Tips: Convert and Download Spotify Music to MP3 Freely
If you are a free user of Spotify Music and you still want to put Spotify songs on your Instagram Story, there is another way for you to download and listen to Spotify Music freely without upgrading your account. That is another third-party software I want to recommend to you. This software is called DRmare Spotify Music Converter, which is a smart Spotify music tool help you extract and convert Spotify tracks to MP3, AAC, WAV, FLAC, etc. for both free and premium users. And then you can convert and download Spotify Music to MP3 music to any of your devices for adding the songs to your Instagram Story.
Now you can download the free trial version and follow the quick steps on how to use DRmare Spotify Music Converter to convert and download Spotify Music for free.
DRmare Spotify Music Converter
Step 1

Import Spotify playlist

After launching the software, you can choose to drag and drop your Spotify playlists directly to the software interface or paste the link to the search box on the top of the software and press the "Add Files" button to add your files.
Step 2

Set output format (optional)

When you are setting the formats, you just can keep the default settings as "MP3" as you are a standard DRmare user. If you want other requirements, you can go to the "Preferences" and change the settings you like.
Step 3

Convert and Export Spotify Music

And then, click "Convert" button at the bottom of the software, it will start to convert and save all the Spotify playlists to MP3 on your local computer. The software can convert lots of songs at the same time and its conversion speed is fast, but if you have a big playlist, you may need some time to wait for it to complete the whole conversion process.
After that, you can transfer your songs to any devices, such as your smartphone or others. Then you can put the Spotify songs on your Instagram Story as background music.

In Summary

Above are the tips to guide you how to add songs from Spotify Music to your Instagram Story as background music, as well as tell you the way to convert and download Spotify Music whether you are premium user of Spotify Music or not. Hope you use these cool tips and make your Instagram Story more interesting and wonderful.