"Can you play Spotify on Discord?" Discord is not new for game users. It is a free chat message tool for sending text, images, videos and audio. Also, it has integrated with third-party streaming services like Spotify and Apple Music to provide music playback and sharing options.
In this case, this makes gamers easy enough to listen to Spotify songs on Discord as a group together. Also, they can find out what Spotify songs other users are playing at the same time. That is a great feature, isn't it? But how to connect Spotify to Discord to listen along? Now follow me to find out how to use Spotify on Discord.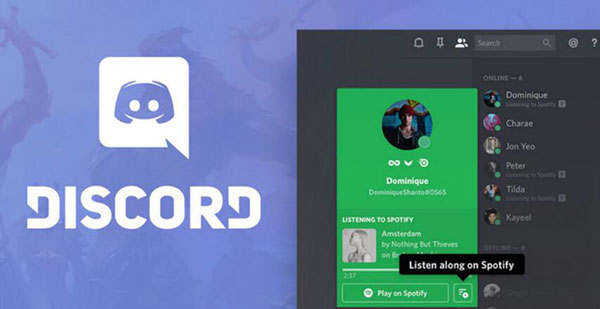 Part 1. How to Connect Spotify to Discord on Desktop and Mobile
Discord and Spotify had integrated and you can share what Spotify songs you are listening to with your friends. Then your friends can play the song you are listening to and listen along with you on Discord.
All you need to do is to link your account of Spotify to Discord and a Spotify premium account. Now please check the steps below.
For Desktop:
Step 1. On a computer, you can go to the Discord official website with a web browser you like.
Step 2. Log in with your Discord account. If you don't have one, you can sign up for one for free.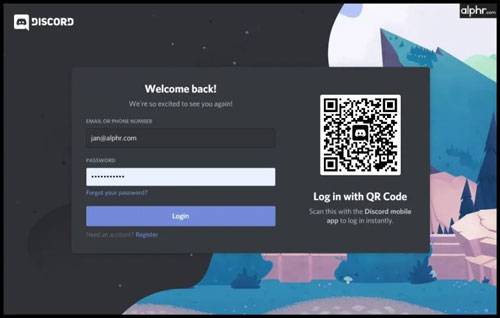 Step 3. Click the 'User Settings' icon which looks like a gear from the lower left. Then click 'Connections' from the left menu.

Step 4. Click the 'Spotify' icon and then log in with your Spotify account via the Facebook button. Or enter your Spotify username and password to sign in.

After linking, Spotify will appear as a connected service.
On Mobile:
Step 1. Download and install the Discord app on your Android or iOS device. Then open it and log in to your account.
Step 2. Click on the 'three lines' icon in the upper-left corner.
Step 3. Touch your profile icon at the bottom bar on the screen.
Step 4. Select and hit on the 'Connections' option.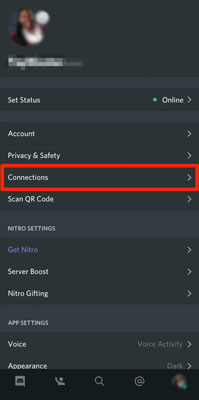 Step 5. Click on the 'Add' option at the top-right.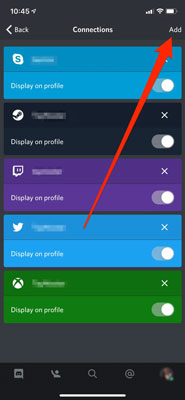 Step 6. Pick up 'Spotify' from the list and go to log in to your account.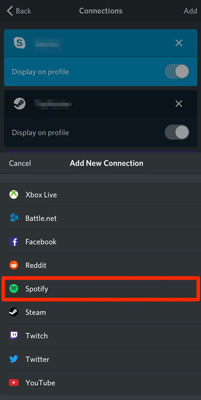 Step 7. Press 'Done' to finish to connect Discord Spotify.
Part 2. How to Listen to Spotify with Friends on Discord by Listen Along
After connecting to Spotify Discord, the music that you are playing on Spotify will appear on your Discord profile. This is the same for your friends on Discord. You can check what your friends are listening to and click the "Listen Along" button to play Spotify playlists together. If you don't want to display Spotify on Discord, you can also switch the options "Display on profile" and "Display Spotify as your status" off.
And you can invite your friends and share Spotify on Discord with them. Below are the steps on how to do that.
Step 1. Launch the Discord app on your device. Then play a song from Spotify.
Step 2. Open a Chat window on Discord. Then hit on the '+' button to choose and invite your friends.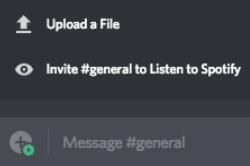 Step 3. Then you will get a preview window of your listen along invite and you can choose to add a comment or not. After that, click on the 'Send Invite' button.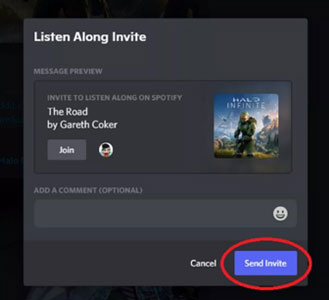 Step 4. Your friends then can choose to join and listen to Spotify music along with you by hitting the 'Join' button.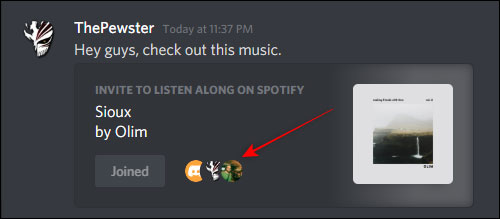 Note: To play Spotify on Discord together, you and your friends all need a Spotify Premium membership.
Part 3. How to Stream Spotify on Discord via Groovy Bot
If you'd like to activate more Spotify features on Discord, you can install a Spotify Discord Bot called Groovy Bot. This feature enables you to change the audio volume, audio effects bass boost, and so on. Also, it allows all Spotify users to listen along with others. In my opinion, it is the best music bot for Discord.
Here are the steps on how to connect a Discord Spotify bot.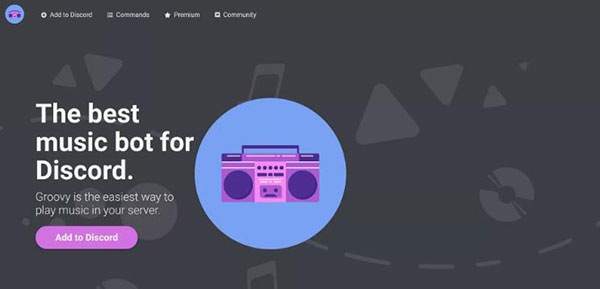 Go to the Groovy website and click the menu "Add to Discord".
Click the menu "Select a Server". Then choose the Discord server you want to install the bot on.
Click "Authorize" and check the box "I'm not a robot box".
After that, the Groovy Discord Spotify bot will be installed on your selected server.
Part 4. How to Share Spotify on Discord without Premium
For Spotify free users, there is another way for you to listen to Spotify on Discord. That is, you can download and convert Spotify music by using the DRmare Spotify Music Converter. Then you can share and distribute Spotify songs with your friends via the Discord chat window with ease.
This software outputs lossless quality and runs at a 5X converting speed. And it can save Spotify audio files to common MP3, FLAC and more formats. Also, you can set the bit rate, sample rate and more for Spotify files if you want. And then, you can get the local Spotify music on your computer for use anywhere.
DRmare Spotify Music Downloader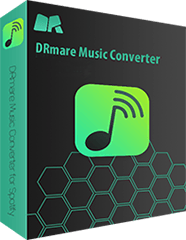 Download Spotify podcasts, tracks, albums, playlists, and so on
Batch convert Spotify to M4A, MP3, AAC, FLAC, M4B, and WAV
Keep the original quality and metadata of Spotify audio tracks
Support to connect Spotify to Discord for listening without any limits
How to Convert Spotify Music for Use on Discord
Now, you can check how to download Spotify music by DRmare Spotify Music Converter below. And then you can head to play Spotify in Discord with your friends.
Step 1

Install DRmare Music Converter and add Spotify songs

Install and start DRmare Music Converter on your computer. Head to the pop-up Spotify music app and search for songs you like to convert. Then locate them and drag them to the DRmare program one by one. If you have a playlist, you can drag it in one click.
Step 2

Choose output parameters for Spotify Discord

Click on the Menu icon > choose 'Preferences' to show the Preferences window. There you need to touch the 'Convert' tab. And then you can start to reset the audio format, sample rate and more for Spotify music tracks. To use Spotify on Discord, you can choose to convert Spotify to MP3. After setting, hit 'OK' to confirm and apply.
Step 3

Convert Spotify music to local files

Now, click the 'Convert' button on the DRmare Music Converter. It will then start to download and convert Spotify songs for Discord. After that, you can check them via the 'converted' section on the DRmare tool.

How to Add Spotify to Discord for Listening without Premium

Step 1. Open the Discord program on your computer.

Step 2. Find the friend you want to share Spotify songs with. Then hit on the '+' button next to the message box.

Step 3. Choose the 'Upload a File' option and select the local Spotify files.

Step 4. At last, touch 'Send' and your friends can listen to Spotify on Discord via the link they received.
Part 5. How to Fix Spotify Not Working on Discord
Sometimes, you may face some issues while using Spotify Discord. So, in this part, we will share solutions with you to solve problems with Spotify on Discord. Please check them out below.
How to Fix Discord Spotify Listen Along Not Working
When you meet Discord listening to Spotify not working issue, then you can try the tips below.
Fix 1. Confirm that both you and your friends have a Spotify premium membership.
Fix 2. Try to turn off all voice activity on Discord.
Please go to the User Settings > Voice Video option on Discord. Then on the right side and under Voice Settings, choose 'Voice Activity' in 'INPUT MODE'.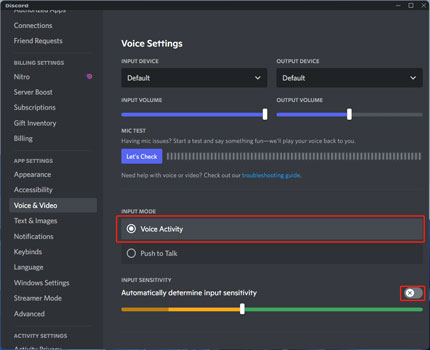 Fix 3. Disable the Crossfade feature on Spotify.
You can go to the advanced setting section on the Spotify app. Then go to turn off the 'Crossfading' option under the 'Playback' section.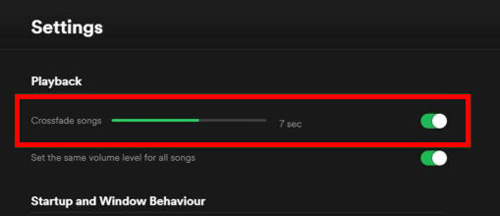 Fix 4. Try to disconnect and re-connect your Spotify account to Discord.
Fix 5. Try to use a third-party Spotify music bot on Discord.
How to Fix Spotify Not Showing on Discord
If you can't find Spotify on Discord, then you can try the solutions here to resolve it.
Fix 1. Check the internet connection on your device is stable or not.
Fix 2. Check the status of Spotify and Discord are Online or not.
Fix 3. Try to turn off the game status on Discord.
Fix 4. Uninstall and reinstall both Spotify and Discord apps.
Fix 5. Try to clear the browser cache on your Discord.
Fix 6. Update both the Spotify app and Discord app to the latest version.
Fix 7. Turn on the Device Broadcast status on your Spotify.
Part 6. In Conclusion
In this post, you know how to connect Spotify to Discord. And you know how to listen to Spotify with friends on Discord. Also, you get tips on how to share Spotify on Discord without a Spotify Premium account. You can do that via a third-party Spotify bot Discord.
And you can get help from DRmare Spotify Music Converter. With this tool, you can keep Spotify songs as local audio files on your computer. Then you can upload Spotify files to Discord to listen along with your friends. Besides that, you get solutions to fix Spotify not showing/working on Discord in detail. So, follow the tips above and start using Spotify Discord with ease.